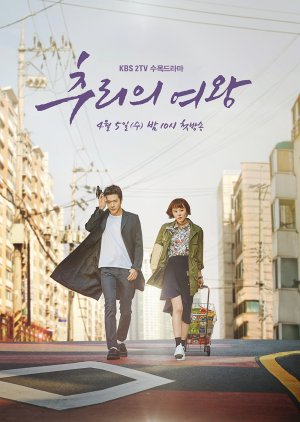 This review may contain spoilers
Queen of Mystery (Mystery Queen) is a mixed genre Korean drama with slice of life/mystery/thriller/comedic elements that overall I found to be a satisfying though sometimes uneven drama. If you want something a little different and romance isn't a must, give it a go. But first the Cons: Pacing: After one of the most satisfying first episodes, I found the next two to be in okay territory. This ends up kind of being a cycle with some very enjoyable episodes followed by satisfactory episodes. I did do some skipping here and there but it was limited. Also, one particular mystery in the first half of the drama goes on too long. Too Much: This drama has solid actors but too many of them and a solid story to tell but they glutted it with more more more. I actually wished the drama had focused less on Inspector Woo, the chaebol characters and really would have been ok never meeting Seol Ok's husband. This is nothing against any of the actors but, rather, the lead actors and the neighborhood crew were so good, it didn't need all those other characters and story lines. Suspending Reality: Various times there are things left hanging or one particular instance in particular where the audience has to suspend all sense of reality. I will leave it there to avoid spoiler territory but it involves the sister-in-law. Also, like many k-dramas there are some coincidental connections that are just too much to believe but again, this is kind of standard. The Pros: Actors: They are all great and a shout out to the leads. I am not as familiar with the actor's dramas, but he has the charisma and timing to pull off comedy without a problem. It actually took me several episodes to realize that the actress was the same one from Heart to Heart. She is lovely. All the co-stars are great as well, and the drama has one of the best, most honest representations of a mother-in-law. I loved that the actress is the same that plays the opposite type in Secret Garden, Heirs and Mask. Direction Etc: Directions was quite good and music was solid though no OST songs really stuck with me. Story: Flawed but overall enjoyable and quite honestly something different than a thriller or rom/com. The idea is nothing knew (Scarecrow & Mrs. King - a US show from the 80s - was a housewife and a spy), but I like seeing Korean dramas expand out into other avenues and it gets a little extra love from me for that. As you can tell I really liked but didn't love this drama. I took a point off for pacing issues and a point off for the uneven story, plot holes and problematic ending. It still gets an 8 from me because this drama made me care about these characters and they grew as the drama went on in honest, realistic ways. Complaint Other Viewers Have: Now overall I didn't have issues with the ending because I knew going in everything was not going to be tied up with a red bow. However, there are some unhappy viewers regarding the ending. I felt that I knew where the characters were going so, at the end of the day, I was happy enough with that. At the same time, I understand why others were not. It has now come out that the production team is hoping for a Season 2 so they did this on purpose. Shame on them. I hope they get a second season because they could totally do a fun drama and close up some story lines, but I think the fans deserved better because second seasons are hard to come by in k-dramaland.
Was this review helpful to you?