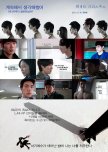 I was kinda hesitant to start it but I'm glad I did. A perfect mix of suspense and thrill. I read the comments here and was surprised how many people dropped this.
But don't bother that, give it a try, you'll might end up loving it.
The story was really interesting. It's about how a group of students in between betrayals and danger, learns to trust each other.
The school setting was great.
The cast, don't even get me started. Give the casting director an award. I loved them together.
The villian was really refreshing.
The music although not my taste, was really fitting for the story.
Definitely give this a try.
Was this review helpful to you?