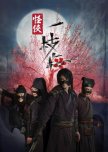 I have to start with mentioning that I've only saw 3 or 4 Chinese dramas/movies.This one was exactly what I needed 2 weeeks ago when I was is a drama slump.
Story: Well maybe for many the story is very "Robin Hood" like but it isn't like that at all.I don't know how to describe it but I haven't watched such a good drama in ages.The story was so beautiful developed....each character had her/his own episodes where their pasts was revelied which was very good in my opinion.I really loved the bond between the 4 main characters, which gets stronger and stonger with every episode.
Acting/Cast: The acting was amazing.It succeded in bringing me laughter and tears every time.The chemistry (which is very important for me) was always there between Huo Wallace and Lu Cecilia.I really think that they did a great job portraiting their characters feelings and such.I really loved the fact that here the main girl wasn't some lady who needed to be taken care of and could figt and protect herself without any help.Anyway the actor who really got to me was Siu Edwin...even if he was the bad guy...he really got under your skin making you hate him but at the same time pity him.
Music: I can't say much about it because it wasn't the main point in the drama but the OST was very beautiful and refreshing.
Rewatch Value: Even if this drama has 30 episodes I would definetely watch it again!I really think that by rewatching it the viewer will be able to underestand the story and the actions of the characters better than the first time.
Overall: In my opinion this drama is somethig you shoudn't miss, especially if you are in a drama slump because it helps oneself to regain the taste and joy for dramas...reminding you why you started loving them.
Was this review helpful to you?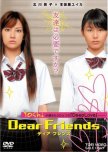 This was such a deep drama.It really makes you think about the bad things that happens in this world.The acting was great and it made me cry many times.I sugest you watch it if you have the mood of something sad and serious,not a romancom.Keiko did her role very well and she made me believe in how much suffer have to endure the people who have cancer and how others judge for the looks not the inside.
Was this review helpful to you?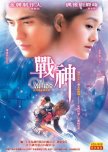 MARS
13 people found this review helpful
In my opinion MARS is a really hard drama to watch...if you want to watch something light right now please don't bother with this one.MARS is my favorite drama out there and I think that it suceded in overlaping even the korean dramas and japanase ones.
Story: It's the most developed one that I've seen until today.It's the full package of romance, action, drama and mistery.It made me fall off my chair from laughing sometimes, but on the other hand it made me use so many many tissues most of the time.Is a very serious story which touches ideas and problems that were never touched once before.
Acting/Cast: What can I say about this....I really loved the chemestry between Barbie Hsu and Vic Zhou since Meteor Garden, but here was really outstanding.I love Brbie Hsu..she is my favorite TW actress, not only she is beautiful but also has great talent.It always seemed to me that she and Vic were soulmates because of their interection and underestanding with each other.The characters were so well portraid that it made the story come alive.
Music: It was really beautiful.Trust me..I don't like TW music..I really find it annoying most of the time but this one was so beautiful that I don't know what to say.The song Ling/Zero described so well the drama that only listenig to it brought my tears.
Rewatch Value: I really don't rewatch dramas often because it's boring for me to know what happens next and so on...but I would definetely rewatch this one..I don't know why but only rewatching some scenes or listenig to the songs makes me shed tears of sadness.For me this drama is one in 5 years or so.
Overall: For me a drama can get 10 points only if it can remain in my head for a long period of time and it can make me compare it with others.This one succeded in this and it also made me to open my eyes and to be happy for what I have because their are many more people more unhappy and with more problems out there than me.
So I think that when you are in a state of mind of watching a REAL love story not a "fantazy" one you should give this try and let it get into your heart
Was this review helpful to you?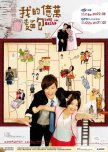 Ok....it was dissapointing.I really expected much from this drama because it had the main cast of It started with a kiss,but I I was dissapointed.The story isn't bad but not really extrordanary.Ariel Lin and Cheng Joe were rally funy but it wasn't so catchy as the firs drama they did together.If you are a fan of tsose two I think you'll enjoy it,but otherwise...
Was this review helpful to you?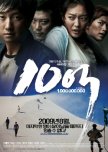 I decided watching this movie because of Lee Min Ki and Shin Min Ah...they were the only ones I knew from the cast list.I wasn't expecting much.
The STORY isn't something new...some unbeliveble survival contest with 8 people who love money or need it desperately.I really didn't think much of it...just a movie so I an make time move faster.
This is were The CAST enters.The acting was great in my opinion.Park Hee Soon was amazing....he made me tremble for 55 minutes.The actors did a great thing in entering their characters feelings and emotions and I was really caught in Lee Min Ki and Jung Yu Mi relethionship.It was so twisted and heartbreaking...once again you discover how important your own life is.
The MUSIC was nothing special...I barely remember it...but this kind of film doesn't need movie because the scenes are strange and complicated enough.So I really didn't need any kind of music to enjoy it.
I would totally REWATCH this movie!It was so interesting and emotional that I'm sure I won't get bored from it.
This movie tells a story that uncoveres the fact that anyone, I mean ANYONE, can turn crazy because of things that happened in his life.
I can't say that this is one of my favorite movies but I can assure you that is worth watching...if you want something phisological and action packed.
Was this review helpful to you?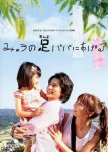 Well at first I have to say that I'm a big fan of Karina and Matsumoto Jun, so I watched this because of them...didn't expect much of it, but oh boy that was so wrong!I'm a really sucker for sad and real life movies so I just couldn't "walk" over this one.
Story: It's really heartbreaking.Thinking that this illness it really exist and their are people who have to support it and live with it for their entire life.The story was very deep...reaching the importance of trust and love between a family from the middle clas.
Acting/Cast: Without a doubt little Myu-chan surpressed Matsumoto Jun and Karina making me realise how stong a child could be and underestanding of the difficulties that surrounds her.The actors did a great job portaiting their characters and bringing me to tears almost for the entire movie.It was so touching how the bond of the three members of the family got even stonger after the discovery of the disses.
Music: I really don't remember anything about the music but that isn't important at all because the story and the acting overtook the whole time.
Rewatch Value: To be truthful I wouldn't rewatch this movie again...it's just to sad to beare with it...and it makes me think how egoistic I can be and how I should be thankfull for being healty and be able to walk without any help.
Overall: This is a very hard movie to watch.Don't watch it if you want to take a look in a romantic couple life or some braty man with lots of money...it's really serious and it can touch ones heart making you a better and a stonger person.
Was this review helpful to you?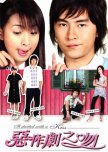 A funny thing about TW dramas is that I don't usualy like them (I find them to whiny) but the ones that I love..man there are good!!!!
Story: It was so funny and romantic.Thinking that the person that annoys you the most moves right in your house may be a little annoying at first but you can't help but fall in love with that person.The story was so beautiful made that I forgot it was so cliche
Was this review helpful to you?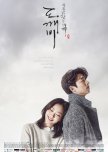 Goblin
4 people found this review helpful
There are some things you need to know before giving this drama a go - it's slow paced but not really - confusing right? What I mean is that the loveline itself is progressing rather normally, except that you don't have the typical love-rival that tends to get on your nerves or gives you second-lead syndrome. Its slowness comes in the developing of the story, as the conflict appears pretty late. But, if you were to ask me, I kind of enjoyed the way it was structured, it gave me time to process everything and really immerse myself in the plot.
Also, I was quite surprised with the characters. In spite of the hate that the main couple receives because of their 12 year difference, I kind of get where the writer was going. Also I didn't find the relationship between the 2 awkward, and I loved the fact that Eun Tak acted as her age and didn't try to be more mature, despite of what she has gone through in her life. I was a big fan of her character and her positive and brave personality, the fact that she didn't hide her feelings for the Goblin was quite fresh and helped in avoiding not needed drama to the series.
In my case, I love the Grim Reaper the most. Also his character is the most interesting one in whole bunch. Lee Dong Wook is such a talented actor, especially when it comes to emotional scenes, he has one of the best crying faces in the industry. I love the complex story that surrounded his character and how he comes in term with it.
Goblin is really a beautiful drama. It deals with reincarnation, a theme that is not really used, and if it is, usually is some kind of subplot. It's interesting to see how souls can recognize each other, and how there stories can tangle up again and again. It will make you curious of your own world, our world, and make you think of moments that maybe you felt and instant connection with someone. It may be fantasy but who really knows, reality is that we ourselves don't know the mysteries that are attached to life and death or what is beyond it.
I recommend you to watch this drama with an open heart, ready to be surprised and question it. Truth is we all like some miracles in our life, and this drama is good in that aspect, it is full of miracles and topics that weren't discussed before.
So enjoy the ride and let it make you fall in love with it and its characters!
Was this review helpful to you?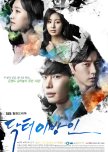 This is my first review in 2 years, but I just couldn't help myself but feel like writing one. I've been in kind of a slump lately and Doctor Stranger helped me out of it. Now, don't get me wrong, it wasn't the best drama I've ever watched, not even in my favorites, but somehow I ended up watching all 20 episodes in two days. It just made me curious on how things will develop. Now going on with the review...
Story: As you must have read in the previous reviews Doctor Stranger started of really good and promising. I still remember the first 3 episodes, which in my opinion, were the best in the drama. The idea wasn't something original, but the setting was. I loved how they focused on his life in the North and the hardships he had to go through. Now, many people said that those were the only good episodes in the drama, but for me everything was fine till episode 10. After watching that episode it seemed that everything I knew till then wasn't true, the story was rushed, feelings reviled out of nowhere, it seemed as an entire different show for me. Anyway, I still kept watching because I was eager to find out how it will end. By the last episodes it seemed that they tried to save what could be saved only to blow everything off with the final episode.
Acting/Cast: If there is someone to thank for saving the show it should be the cast, except for one. Their story arcs were interesting to watch and they did a good job with their characters even with the huge burden of such a chaotic storyline.
Park Hoon(Lee Jong Suk) - I really think that Lee Jong Suk gets better and better with every role he plays.He really didn't disappoint me on how he he played Park Hoon. But that doesn't mean that I was totally satisfied on his character. I think that the writers made him too of a "love fool" than it was necessary. As the drama progressed I began to notice that he was more obsessed with Jae Hee(or the idea of her) than actually being in love with her. They made him be someone that doesn't care for anything in the world than her, and that is pretty bad in my opinion. Apart from that I actually love "Doctor Park Hoon" more that "Lover Hoon".
Jae Hee(Jin Se Yeon) - I don't know if it was the actress or the character but I just couldn't make myself like her. As many people said, Jin Se Yeon is still young and has time to learn and develop as an actress, but I really disliked her in every character she played. The pity is that Jae Hee could have been a really interesting and challenging character if played by the right person, but instead she made me frustrated in every episode...this girl has only 2 faces: a forced smile and a blank "what are you talking about, I don't understand" face. I'm really sorry about her fans but she ruined it for me.
Jae Joon(Park Hae Jin) - I've just found myself a new crush with this show and that is actor Park Hae Jin. He is the character I loved the most in the entire drama because he seemed to me the most human and realistic one. A man with desires, ego but at the same time rational thinking that knew when to give up because something more important came in his life. Also I love the bro-romance he shared with Park Hoon.
Soo Hyun(Kang So Ra) - I wasn't a big fan of Kang Sora till this drama, but after watching her here I really came to like her, she came a long way since her Dream High days. Soo Hyun was a really interesting character to watch who changed during the drama. Starting as an insecure doctor that wasn't confident in her skills she ended up being someone trustworthy that gave hope to other people.
Music: The main song "Stranger" by Bobby Kim was really good to hear, but the other weren't mindblowing, at least in my case. But this is really a subjective matter that depends on the listener preferences.
Rewatch Value: I can say for sure that I won't rewatch this, because I wouldn't be able to go through with the story again, it was enough one time.
This to be said I can't say that his is a must-watch but I still encourage you to give it a try if you are curious, it wasn't so bad as many people say if you can "play blind" for a couple of moments, at least in my opinion.
Was this review helpful to you?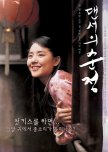 Ok, so let me mention something first.I didn't like Moon Geun Young AT ALL before watching this.It's my first time seeing her act...I know why didn't you like her, right?Well I have to be completely hoest...her looks let me down a bit, and seeing 2 episodes of Marry stayed out all night really made me almost hate her....how wrong I was!!
Story: It was so beautiful.The idea wasn't reallyso unique but the way they made it look was beautiful.I fell in love with it and haven't fast-forward it at all.It was so innocent and well pictured that I've found myself crying at the end(it's not a sad movie)!
The way their relathionship developed was mesmerazing and I loved the fact that dancing really took a major part of the movie.
Acting/Cast: As I said I really didn't fancy Moon Geun Young at first.I watched this only because of Park Gun Hyung whom I adore and consider a great actor.When I saw they were almost 10 years apart I was almost sure I would dislike this...I was so wrong.Their age difference made the story even more charming and beautiful.The chemestry between them was breathtaking and it made me fall in love with Moon Geun Young.Thinking she was only 18 when this movie was made, I was simply starstruck...she is really talented.I don't have to say anything about Park Gun Hyung, because he was extrordinary as always.Both leads succeded in portraiting their character almost to perfection.
Music: It was a dance themed movie so it's obvious that msic played a big part.I can't say that it was the best I ever heard, I saw many more dramas with better OSTs, but it was just fitting so well with the film, making it so much more enjoyable.
Rewatch: This is definetely a rewatchable movie...it was just too inspiring and cte for me not to see it again!
People go and watch this because it's really worth you time, trust me!
Was this review helpful to you?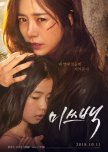 The first 5 minutes are crucial for Han Ji Min's character. I was pleasantly surprised by the details that her character had. The way her hair was bleached that you could still see her natural color at the roots, how she has a really rough personality, always squatting down when smoking and spitting. It's the first time I've seen her with this kind of image and she really pulled it of.
Miss Baek is the result of an abused child. She always has a haunted look on her face and her guard up. She portrays a very aggressive woman that seems to want to go mostly unnoticed by society. Her life shows what a great impact abusive behavior on a child has. How what happens in your younger years shapes you as a human and cuts your chances in the world. It's a very sad reality. I think that Ji Eun, the child that Miss Baek takes under her wing, shows what can happens if a person decides to pay attention and not turn a blind eye. The relationship between them in heartwarming and the trust that the little girl has in Miss Baek is scary. In her eyes she is the only person that decided to look at her and actually see what is done to her. Most of the time I was furious with the other characters. How they choose to ignore the obvious only because it was easier and going against parents on a child abuse case is very sensitive. The truth is that this happens in real life as well. It always seems that the evidence isn't enough and makes you think what should actually happen for them to take a stand!
It's a very well done movie. I truly think that those kind of stories need to be told. And not only from the perspective of the aggressor or the victim but also from the bystanders who do nothing when they must. It's true that this movie is sensitive and scenes are quite realistic but I really think you should give it a try. It's not overly dramatic and stays true to the massage with which it was made!
Was this review helpful to you?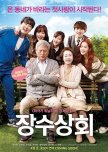 While watching this I was reminded by another movie called 'A man called Ove'. I strongly recommend it to anyone who enjoyed Salute D'Amour. It's been a long time since I've watched something so beautiful. I didn't know what to expect. At first, I was excited because I thought I would be watching a cute love story between 2 elders. I was really curious how it would be shown on the screen and how the actors would play their parts.
This is so much more then what I was expecting. The story is really beautiful. I felt as if someone was reading it to me by a cozy fire on a winter night. Sung Chil (the ill-tempered man) and Geum Nim (the lovable woman) were just so believable as a couple that have fallen in love at an age when most people give up on those "trivial matters of the heart". I don't think I felt so many butterflies from a movie before. It was a joy watching their relationship develop and their feelings growing. I've been a long time fan of actress Yoon Yeo Jung but I was beyond impressed by Park Geun Hyung. He made me think "This is what a veteran actor looks like. This is how he can transcend his life experiences into art". He shined the brightest in this role. His experience really came through. From facial expressions to his shaking hands, everything was spot on.
Thinking back, I think what I enjoyed the most was how delicate this movie was. It was the life story of a great man. No special effects or unnecessary characters. Everything was kept as simple as possible and for me it couldn't have been better. You go into this movie expecting one thing, and for some time you get that, but in one moment you find yourself watching something completely different but because the transition is so smoothly done you get utterly immersed without a second thought.
This is a hidden gem people. You will feel joy, amazement and sadness, but most of all and warmth and love. It made me want to be in love as well because those 2 people seemed so real,nothing about them screamed scripted. Do yourself a favor and give this one a try, I am almost sure you won't regret it.
Was this review helpful to you?