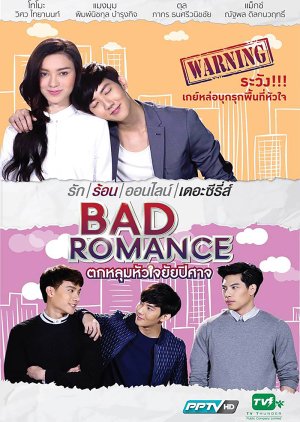 I've just finished watching this series so let me do a review about it. The setting of the story is in a university and sometimes in the condominium where the students are living and since it was a University so basically the characters are University Students. This series is all about LOVE in so many forms. And since this is a Thai Series, BL genre is somehow ordinary so just bear with it.
I love the main characters, actually this series does not focus on one story only there are more than one couples but base on my observation there are two main couples in here. The first main couple is Cho and Yihwa (Opposite Sex Relationship) and the second couple is Knock and Korn (both boys).
It was Yihwa who was narrating the story. The series started when she attended the anniversary celebration of Korn and Knock. Yihwa and Korn are very close. Yihwa calls Knock as "son" and Knock calls Yihwa as "mom". It was even emphasized in the series how willing Yihwa is in helping Korn in saving his relationship with Knock and on the process of doing so she got to know Cho who will soon become her Boyfriend.
Hehehe sorry, instead of doing a review I am already narrating it to you. Don't you worry I am just giving you a short overview.
Yihwa has two close friends, namely; Being or Be and Dewey or Dew. Cho on the other hand also have two close friends, namely; Martin or Tin and Tanguy or Tan. Their friends will fall for each other respectively. Being with Martin and Dewey with Tanguy.
BUT...
It was the story plot and twist that you should look for. The storyline was magnanimously done matched with professional actors and actresses, I must say that this was the best Series I've watched ever (but I can't really recall how many times I've already said this just add it up to the best series checklist of mine ?). I was literally shouting while watching because of the twist in the story, you wouldn't know who did this and that and why. Amazing.!
If I were to rate it I will give a 10/10 rating. Again this is a Subjective Review so it is base on my own liking and opinion. You must watch it I guess.
Hands Up to the Director, Writes (but I guess it was based in a book or novel), actors and actresses and all the persons behind this wonderful series.

©?Bad Romance the Series

Was this review helpful to you?