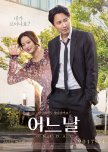 One Day
1 people found this review helpful
One Day was truly a cinematic masterpiece that will touch you right in the heart. I don't know what it is about Korean movies that make you live every emotion from start to finish.
One Day is a movie that makes you in some way appreciate all you have in life, especially when the main female character said that the "last moments are more memorable than the first" and seeing her reaction to finally being able to see after being 'visually impaired' most of her life touched me.
Also, when the male lead asked the female character whether she was happy that she could see, she replied by saying that she "can see, but not touch" (by the way she is a spirit, that's why). However, this really got deep and stuck with me through out, as I can say I am fully grateful to have all my 5 senses.
The acting of both the main lead actors was superb. At the start I did not understand why the male character was unable to face reality. However, as the story continued I started to sympathises with him more and more. I got to understand his fragile character and how much his wife meant to him. The relationship between the male character and the female spirit was fantastic. It also allowed the male character to understand why his wife choose to do what she did ( I don't want to spoil it) and based on this he was able to grant the spirit the same wish his wife had.
I have to say the ending was UNEXPECTED, deep down I was a bit upset at the ending. However I had to step down from Lalaland and come back to reality. And when I did this I understood the ending better and also appreciated what the male lead done.
Overall, I would ABSOLUTELY recommend everyone to watch this movie. It is a great cinematography with amazing instrumentals and a great message about love and life.
Was this review helpful to you?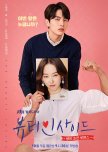 This review may contain spoilers
For those who don't know what the word hype means in simple terms hype= excitement.
I started watching the Beauty Inside (TBI) once it came out because of all the excitement over it, if you haven't watched the TBI (drama series) before, it is a Remake of the Parent story Movie (2015) with the same name. The story focuses on the main character who has a disease that leads to them changing identities (face/body) on a daily basis…however the drama series added a twist by adding a male lead who has Prosopagnosia (the inability to recognise faces). The mix of both added a nice mash- up but no matter how much I tried to enjoy it I just couldn't… And here is why.
1. Too slow
The plot lost me, it was as if the writers were stretching this drama to its optimum level, with no twists or actions. I would say that the first 7 episodes were good, but once the main characters became a couple, everything was just crumbling down. I am sure that whatever happened in the last 4 episodes could have been compressed into only 12 episodes rather than 16 episodes, because even the ending did not feel like a final episode to me.
2. Random events- SPOILER!!
Ok, how do I put this into simple words… when Han Se Gye's mother passed away I was a bit shocked, not because she died BUT because it was such a random occurring event in the middle of the drama, for some reason I felt as if I was watching a different drama. And to be honest it was also unnecessary, I did say I wanted a twist but by twist I deffo did not mean this
3. Male lead character
The main reason I remember Lee Min Ki is because of his great acting in 'This is my first Life'…BUT I just failed to connect with his character in TBI maybe because to me he resembles a 'quirky, awkward, nerdy' character. And seeing him in TBI as a rich chaebol didn't do it for me.
4. Focus
Although the plot focused on two different disorders I felt as if the focus on 'face blindness' was greater than that of the main female character. To be honest I had no problem with that because to me this was waaaaayyy more interesting, therefore I would've loved to see more scenes showing what people with face blindness see.
Was this review helpful to you?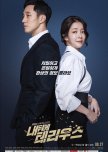 I will keep this sweet and simple. When the poster for this drama came out i was expecting a dark spy/ political drama . HOWEVER this drama went beyond my expectations, with the perfect touch of comedy, action and drama it really deserves a Thank you. The whole cast did a great job, such a great job that I even fell in love with the villains. I would Absolutely recommend this drama to anyone who feels like laughing and feeling anxious at the same time.
Story:
I will not spoil it but the spy story mixed with the nanny story was a nice twist..... I personally would have like to see more spy action scenes e.g. fighting scenes.
Acting/Cast:
10/10 not a single person was lacking in their role, all portrayed their character in such a way that you will either love them or hate them.
Music:
Personally I can not remember much about the OST...maybe because I did not focus on this.. so I can't say much.
Overall:
Recommended
Was this review helpful to you?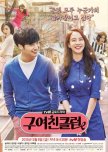 Where to start and where to end...
Ex - girlfriend club was actually a good drama can't fault it but the plot was not making any progress, and so I had to drop it at episode 6.
I absolutely applaud the cast as they did an AMAZING job at portraying each character. There wasn't an episode that failed to make me laugh and in some cases relate.
HOWEVER...
The story wasn't going anywhere, 6 episodes in and we were still going around in circles with the ex's and the director.. I felt as if the story was stuck in a loop.
And also, I would have liked more flashbacks showing each relationship individually, which didn't happen (maybe it will happen in later episodes I don't know) but to me that would have been left for too late.
Overall, this drama is a lighthearted romcom which I do recommend for anyone with interest in this genre.
Was this review helpful to you?