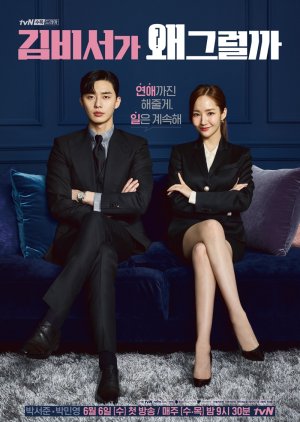 This review may contain spoilers
I don't know what it is about this drama, but I keep coming back to it. I finished it the first time because of the secondary characters that are not only very well cast, but have very sweet stories and plots. But I rewatched some of the episodes before bed (I have trouble falling asleep, sometimes it's best for me to put something into background and slowly drift off) and I totally fell for all of it.

Yes, the male lead is insanely narcissistic and a bit of a twat but when you know where the story leads you can retrospectively understand his behaviour and actions perfectly. Park Seo Joon is excellent and Park Min Young performs to her usual high standard. Their chemistry almost lit my screen on fire several times. The real charm of this drama, though, lies in the great combination of secondary characters that you just have to root for.

There is not much story to talk about, it's a character driven drama. I can totally see that if you don't fall for one of them, the appeal goes rapidly down. For me this the type of drama, that you come home to (especially during the summer months when all of your colleagues are on vacation and you work for them as well) and switch your brain off to watch it. And sometimes that's just all you need.

I loved how colourful and quite happy go lucky it is. The music is also there, at least three songs of the OST are so catchy that I still mumble them in a dull moment. There is also one, let's say, darker storyline, which I found quite underdeveloped and just a bit silly. It existed just to work a well known cliche into the drama so I get why they used it.

Other than that I really have nothing negative to say about WWWSK. It's one of my guilty pleasures and it warms me up even in cold weather.
Was this review helpful to you?