Most people get turned off by the goofy name, but seriously don't be one of those people >.< It's an amazing drama, It's so unique. This is right up there with other incredible tw dramas like Mars.
Firstly the story is amazing, I give a 9 though instead of a 10 because the stories at the beginning are quite slow but improve as the drama progresses, but I warn anyone watching that there are a lot of heavy topics covered... but these stories really open up your eyes to the struggles that teenagers go through (not all are universal) and the music is great ! One of my favorite OST and it adds an eery tone to the drama.
Also, the cast is outstanding ! In particular Serena Fang who plays Du/Death Girl stands out, I can't believe I haven't seen her in anything else before this drama... she is the perfect death girl giving off a melancholy, mysterious exterior. Aaron Yan is is great to, but I wouldn't say his performance is that strong, Jiro Wang could have done it better and his character isn't as memorable as Xiao Lin and Da Dong where both of these actors give a lot of emotion. Also I couldn't take Wang Zi seriously as the 'bad boy' in the beginning, but other than that, an amazing cast !
Definitely watch this drama ! You'd be crazy to miss it :P
Was this review helpful to you?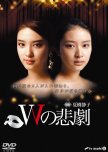 I know it's a bit early to write a review since so far there's only been 6 episodes but I couldn't resist since its so good :)
There are a few slow bits here and there but everything else makes up for it ! Very good cast, you really sympathize with both Mako and Satsuki... Takei Emi does an outstanding job portraying them. I really like the intensity Kiritani Kenta brings to his character to.
The music is also really good, it enlightens the melancholy atmosphere throughout the drama ! I'm not that good at reviews but hope this encourages anyone reading to watch this drama :)
Was this review helpful to you?