And secondly, we are finally seeing action with opponents that have equal strength. Not that we haven't seen anything. But I have a feeling the next episode is going to be a blast. Can't wait.
Was this review helpful to you?
First off, I can't stop laughing when i see Count and Countess together. Seriously they act foolishly, but in the end they are very likable characters. Especially Count. Dancing around the room.... With the son listening quietly that he is going to join koshokai. Great things should come out, out of this.
Shunjin is becoming lot smarter.
I am going to miss the yobo yobo family.They were begging to live so much, I feel very awful for them. Kishokai leader is getting annoying!!!!
Lee Kang To should have planned better the plan to steal armory. He left unconscious guards outside. Now he is discovered by comrades. I can't stand to see him like this. He is being tortured. It was portraited well the scene where Kang To confessed everything- the truth that shunjin was after, but in the end- it was something you did not want to hear. The feeling that it does not belong to you- something like this.
Oh WOW he needs so many officers to guard him. But what happened to them in the end?
the nail cage is seriously creepy! I think this is too much!!!
I still hope that Shunjin will become a good guy in the end. Hope this drama is going to have a good ending!!!!!!!!!!!
Was this review helpful to you?
OMG Hae Seok killed himself???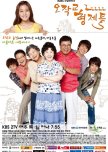 I absolutely adore the Bromance. And the fierce balloon competition. Go Tae Hee!!!!!!
Was this review helpful to you?
I totally agree with MeiLi's comment Tae Hee is very cute, especially when he give's that smile. I think i'm melting by Jon Woo's acting.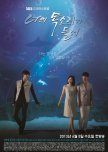 But I know that mind-reader boy will bring her to the right path.
BTW Oska's (lawyer) new hairstyle makes him resemble the guy who killed the mind-readers father. ~ just my opinion
Anyways this is the begging to a great drama!!!!
Was this review helpful to you?
what bothers me the most is that the main girl, who was once accused lost her way of life. I hope that she can find her right path!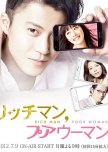 I have to say I never enjoyed a japanese drama as much as this, only exception is Hana Kimi. It is on a more mature level and i like that.
Was this review helpful to you?
I am glad that Sawako Chihiro the truth surfaced early- so there will be more time for romance. I was waiting for her to tell that she isn't who she said she is. I wanted to see his reaction, but I think he pushed her too far. It's going to get only better!!!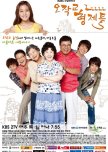 And how Tae Hee is trying to ignore Ja Eun, but in the end. It's impossible. You need to see what i mean, trust me!!!!
Was this review helpful to you?
"Hold on, Let me just laugh"- Tae Pil- So hilarious. I was laughing so hard at the Cha family when they just woke up with their hair messed up and major headache's from dinner with the Hwan Family. You just have to see this for yourself.
Was this review helpful to you?
I feel like this drama differs from the rest of the dramas, mainly because it shows the restoration of a relationship. However, in the beginning of the show i was hoping that she will end up with the second lead, but as the show went on I realized that it was impossible :( The director made the first lead more distant to the audience, which decreased my appreciation towards him. While the second lead will be left heartbroken....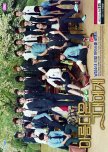 Just to many aww moments. And yes I'm going to miss that cute dog, sangchu- seriously with one look the dog says it all. tooo adorable.
In the middle it began to drag- too many tears, everything is discovered, but she had great people to support Jae Hee. Which I wish existed in real life.
Its too sad that the end has approached. I'm going to miss that one big brotherly family.
I seriously begin to detest hugs....
Was this review helpful to you?
I'm supposed to do some studying for school, but instead what i'm i doing finishing up the last 3 eps of this drama. All because of that preview aigoooo...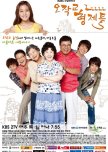 Was this review helpful to you?
It's interesting to see how the news is being recorded. I am so happy for the family- now everyone is together. The father son relationship between Guk Su and Tae Shik is getting stronger. I am very happy for them.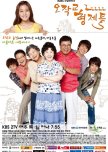 I wish that the writers will ease the tension between Ja Eun and Mother. I can't stand why Baek Ja Eun is doing. I just want the whole family together that means Ja Eun included!!!
I feel little by litte the family will be restored.
Team Leader Cha and Tae Bum look adorable together.
Was this review helpful to you?
I have a feeling the drama is going in a good direction.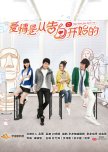 I really liked the how she jumped on him on their first meeting. I am really curious how the story will go...
Was this review helpful to you?
I watched it started with a kiss, and I endured. Maybe it's been a while, but now all i can think about is how annoying this girl can be. Regardless, I have to admit she is quite brave. It brought all good memories of It started with a kiss and playful kiss.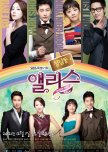 As for the manager (from glowing she, heartstrings) I have mixed feelings because I am not sure about her intentions for giving Han Se Kyung a job. What is she trying to pull off- is it that she tries to prove the point that she became more successful due to cheating her way into success? Or she wants to make fun of her? probably both - I just hope it won't turn into a dramatic scenario!!!!!!! We'll wait and see
And lastly Han Se Kyung, she is a designer. Yet, she is criticized for not having the insight or the fashion style. But can't she make her own designs and show them off - that can be the best way to become famous. Right?
Was this review helpful to you?
Right now with exams on the way I am trying to stay away from dramas, but I couldn't resist taking a glimpse or should I say the whole first episode. Actors in this one have earned my respect. They have a lot of experience I think it will be heading in the right direction. Park Shi Hoo new side is unpredictable, you never know where he will take you. Although I am not used to it right now, I hope will get into it.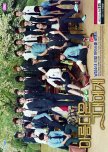 As for the rest- everything is going smoothly for Min couple. In fact too smoothly- holding hands in public not scared to be caught as 'gay' which they are not- but still there is a rumor going around that there is a girl in the school. That is why they should be careful.
There are still funny moments that guy with his joke book- althought i don't understand the jokes, but I love the facial expressions I see. ~Confusion and just walk away~
Was this review helpful to you?
Everything is going quite well, only exception is Eun Gyeol. It makes me sad to see him turn off his happy side, I mean I loved him for the cheerful, enthusiastic and sometimes too imaginative sides. With that off, whenever he pops on the screen I just feel depressed. I wish he could find someone who he will truly love and she will return the same. This is off topic but he is so cute, his smile - I'm dying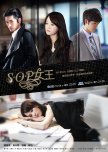 Was this review helpful to you?
Seriously, she is making me so mad!!!!!!! That I can't stand it. Well, let look on the bright side, we have Gao Zi Qi back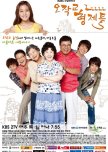 Was this review helpful to you?
Oh thank you Loan sharks for bringing Tae Hui and Ja Eun a bit closer than before. I absolutely love the ending of the ep.