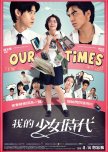 Our Times
10 people found this review helpful
Lately I've been really into asian rom com movies (i'm european for the record) so I've been googling all sorts of movies in japanese, filipino, taiwaneese, thai and when I found this movie I thought it sounded sooooooooooo cliche. To be honest it reminded me a little of A crazy little thing called love. But i watched the trailer and decided to give it a go anyway. And Oh. My. Freaking. God. THIS IS ONE OF THE BEST MOVIES. EVER!!!
Like normally these kind of movies are very cheesy and too predictable and frankly the acting usually aint that good either. But man this movie really blew my mind! Not to mention how hot Darren Wang is but his acting skills were BOSS! And his cute little smirks and face expressions literally took my breath away. The way Hsu tai-yu looks at Lin is probably how every girl dreams to be looked at by a boy even I found myself smiling whenever he looked at her with those dazzling eyes.
And yes this might seem like a cliche story which you have seen in other dramas but it really isn't and this one definetely takes home the first price. I'm not even joking!!!
Vivian Sung did quite a good job as well with her acting, unlike from other movies her awkwardness isn't too much and she isn't overly clingy with her emotions and shit or like over dramatic like most girls are when they have crushes!
I cried and laughed and cried and laughed through the whole movie it fckn touched my soul! I've always liked those kind of movies where the main character is some sort of bad boy but deep inside he's the sweetest guy ever. And it really got to my feels when he did all those cute little things for Lin in the movie. It made me want to have a guy friend like that too!! It didn't feel like a cliche love story, it went in its own pace and it felt like a real life love story. It didn't go too fast and it didn't feel fake at all. Their feelings towards each other felt very relateable so overall it was a FANTASTIC love story!
So if you like romantic/comedy/friendship stories then this is something you MUST watch! I'm gonna rewatch it 9848493 times cuz it's THAT awesome.
PS- this is my first review so don't judge XD thanks :*
Was this review helpful to you?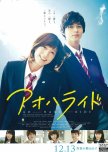 I've always loved rom-com anime, but live action movies based on anime/mangas usually aren't good, after my own experience the actors in those kind of movies mostly are over dramatic or just do a shitty acting. Ao haru ride was one of my favorite anime series and when I found out they were gonna make a live action movie of it I went crazy XD It was awful to wait months until I could watch it with english sub, it almost killed me hehe. But to cut to the chase the movie actually surpassed my expectations! It wasn't at all like live action movies in general and the acting was quite impressive!!
The story was great, even if it's a typical romance between a boy and a girl it was still very emotional and relatable. It also shows that nobody is perfect, even if Futaba was a pretty girl who a lot of guys would want to date her, she didn't want that kind of attention which most girls would kill to have. And Kou's story made me cry, his whole family situation was heartbreaking and the way he acted as if he didn't care about anything at all just made me feel even more sorry for him. To show off that strong can't be easy especially when there's someone like Futaba who keeps pushing to the limits.
This is the first time I watch a movie with Higashide, and of course I fell in love with him immediately. You can really see how he goes into his role as Kou. All the feelings he stubbornly hides, his face expressions are close to perfection and his sad eyes made me come close to tears several times. And the scenes where he cried or got mad were so powerful and they actually gave me goose bumps. And that my friends is some good ass acting!
Tsubasa Honda on the other hand didn't really impress me at all. Sometimes she was annoyingly dramatic and her face expressions felt a little too fake. They felt more like theatre acting than real emotions. But she did quite a good job in general, she isn't the worst actress I've seen. It's just a shame she didn't reach Higashide's level cause I think the movie would've been a lot better and their chemistry would have been stronger.
I love the music, especially the theme music, I can't stop listening to it. It's so cute and romantic and sad at the same time which fits perfectly to this movie.
Overall it was an awesome movie, I've watched it like 10 times now and I'm not even tired of it. So it's totally something you can rewatch several times :3
Was this review helpful to you?