Well I was blown away.
I watched this movie because it played at the cinema when it was the world movies festival. It was the only Korean movie so I didn't chose to watch this movie because the trailer was good or because I've hear it's good.
One moment there was a smile on my face, the other moment my eyes were teary. It's a story that hits the hart.
In the beginning the writer doesn't give us all the information we need to know what's Han Gong-Ju's mystery story and background. The flashbacks tell us what we wanted, or maybe didn't want to know.
This movie is a little different. It's not the average Korean movie. What I like the most about the movie is the feeling I get from it. The movie/story feels 'real'. In Korean drama we often get a lot of lovey-dovy dramas and a lot of cry-with-buckets movies. But most of them are unreal and we let them go when finishing the story. Sometimes the truth is harsh. This one still stays in my mind, even if it's a few day ago that I watched it.
The actors don't get a lot of make-up which shows the real beautiful Korean beauty. It's Chun Woo Hee second main role, I have never seen her act before but I'm totally convinced of her great acting skills. You'll see that she's very talented. The supporting roles were also really good. I'm looking forward to more of these good actors and other works of the director. I'm definitely a fan!
The rewatch score is only a 4 because I think the movie is at it's best watching it for the first time because of the stepwise construction of the story.
I think the director, the writer and the actors did a great job. I really recommend this movie.
Was this review helpful to you?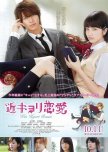 I don't know. It's cute yes but hmmn, the feeling was just not there. Not a movie to remember. The first part was fun but it just flowed forward into boring scenes.
I'm totally not convinced by the main roles Yamashita Tomohisa and Komatsu Nana in this movie. The acting was just soso. It could have had lot's of more feeling. If you're watching this movie for Yamashita Tomohisa's appearance then you should watch this, handsome in every scene. Yamamoto Mizuki did a great job as a supporting character! I want to see more of her.
Also a very very cliché story..Don't expect something unique. A typical manga love story.
I liked the music!
Watch this if you're bored and don't expect much, then maybe it's good for you!
Was this review helpful to you?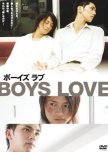 Boys Love
15 people found this review helpful
This review may contain spoilers
It started out well and then it just went downhill. It was such a disappointment in the end.
The acting was really unnatural, especially the two male leads. When they cried and laughed it was so forced. Some scenes were also very fake. They were handsome and that's about it. You can't survive on eye candy alone. Even the side characters acted better.
The whole idea of the plot was good, when you read about it. But when you watch it you're like "what's happening?". They rush from one scene in the other. The story was really mixed up.
I hated the ending. The story ended when it just began. I want to complain more about the ending but I don't want to add any spoilers.
Totally wasted my time. It was my first boys love movie and I really regret watching it. I'm not recommending this to anyone, really.
Btw: I'm an artist and they really ridiculed a real artist :(.
Was this review helpful to you?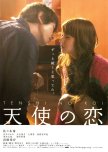 Whaaa I really liked watching this. I watched it because there was an article written on mydramalist about memorable kisses. So, I though it was a cute kiss and liked the student-teacher love plot. I decided to watch in because I was bored, not really caring about watching a trailer or whatsoever.
Surprisingly it was not one of those stereotypical teacher-student love stories. The movie was really interesting. Right from the start it grasped my attention.
The main role Ozawa Rio (Sasaki Nozomi) is really pretty like a doll and her character is just great. No wonder she has been modeling for so many years. She makes a grand evolution in her character. I like it when love changes people hihi. Also her acting skills awesome.
Trough at the movie there is a message that you'll definitely catch and will let you think about your own lifestyle.
If you doubt watching this, just do so! You wont regret it.
This is my first review I'm writing so that should say something. If you still are not convinced, watch a preview and check out the high rankings for this movie.
Was this review helpful to you?