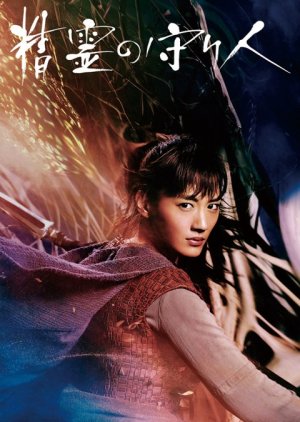 Behold! A wonderfully filmed piece of art! Watch as a talented bodyguard takes on her most challenging job yet... I was sucked into this story from the very first scene and that wonderful opening music...

Story (9.0):
I found that the setting for this story was really intriguing, despite some, in my opinion, overly weirdly portrayed elements, and this is coming from someone who neither saw the anime or read any form of the books, so I'm crediting this merely from its own merits.
For a four episode season, it would be hard to get bogged down and there is no way you'll find this season even slightly boring.
All the action scenes with Balsa and her spear were very rewarding, and the last episode especially made her look very awesome! :D
Throughout the show, you were able to see as characters progressed and grew and saw the rewards of their labors and the results of hard work. I felt some of the characters were barely fleshed out at all, but I'm sure we'll see more of them in the second season, since this was just 4 episodes anyway. Keep in mind though, our main characters are by no means 2-dimensional.

Acting/Cast (9.0):
Most of the acting was good.
I'd only ever seen Ayase (Balsa) in a feature film where she had a much different character and I wasn't very impressed with the movie, but she really pulls this off and I found her acting to be mostly very impeccable.

Music (10.0):
An incredible soundtrack! From the moment that opening piece played, I was in love with the music. I would call it orchestral with Asian elements throw in, which is definitely right up my alley. I have this soundtrack on my phone and it is my most listened to Asian drama OST, with many of the tracks being in my all time favorites. I'd rank some of the tracks equal with pieces by John Williams, Ennio Morricone and Hans Zimmer. In fact, track 8 (of the top of my head) transports me right into Zimmer's score for Interstellar. I'd watch this whole thing again just for the music.

Rewatch Value (8.0):
I really am not a rewatcher, as I've stated in some of my other review. I only watch productions more than once if I really, really, enjoyed them or if plenty of time has passed. I really enjoyed this, but it wasn't per se an all time favorite; that being said, I can definitely see myself rewatching this in a few months.

Overall (9.0):
Highly Recommended! Be prepared for some awesome fighting scenes, some weird looking creatures, a vibrant world, real characters, unrealistic Kings, more awesome fighting, an amaaazing soundtrack... Oh and there might be a minor cliffhanger, but it's okay because it's not the main story of this season... However, it will still have you rushing to season 2!
P.S. I found some of the cinematography a bit... questionable, but it doesn't detract and certainly has it's own place I guess...
Was this review helpful to you?