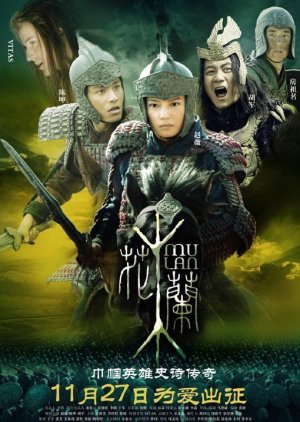 Welcome to the real world, Disney fans!
I originally started watching this when I first heard that the Disney live action was going to be, and finally finished watching it today after seeing the first trailer for Mulan 2020.
Wow. Don't embarrass yourself Disney. You've already got outcry from China on your historical inaccuracies just from the trailer alone...

Story (9.5):
Quite unlike the Disney animated version, this story follows more closely the original poem. In that version, Mulan was already skilled in fighting when she took her father's place in the army, and she didn't leave the army until 12 years later.
To start with, the setup here is done really well. There's a brief introduction to important characters through snapshots of daily life before we jump right into the army recruitment with a well handled segue into Mulan taking her father's place.
Since Mulan is already well trained, there's little room for a "Make a man out of you" scene, but don't worry, it's replaced by a beat up the bully type of scene showing off her awesomeness.
From here there's little to the story that resembles the Disney version. Instead of singing and fun and flashy fighting, we jump into gritty battlefields and Mulan's inner turmoil as she wrestles with her humanity and failings and emotional pain. It was really fulfilling to see the character arc of Mulan; she's not perfect (please don't make a Mary Sue Mulan Disney) and it's painfully obvious in some scenes where she's at her lowest point. But she overcomes her weaknesses with the help of her friends and even rises to greatness.
If you're looking for a sweeping romance with stolen kisses and a white picket fence ending to the movie, you're going to be disappointed. I'll say that much without spoiling anything, but don't worry too much. It's not a major downer or anything. Instead, this is a beautiful look at humanity and makes you wonder what kind of a person you would become in a battlefield.

Acting/Cast (9.5):
Major props to the actors. It's not the first time I've seen the main actors, but I was particularly impressed with Vicki Zhao as Mulan. From the first few minutes I was a little skeptical (having come from seeing Crystal in the Disney trailer) but she really delivered. I'm not going to get into the whole "oh she doesn't look at all like a boy, how didn't they realize" because I think that's a little pointless; of course she looks like a girl...
But don't tell me she doesn't look like an indefatigable general as she staggers to meet Wen Tai in the middle of the battlefield after the Poison Dragon passes. Very well done especially in the second half.

Music (9.0):
Frankly the music and audio in this movies isn't perfect, but it's like a grainy image of perfection. I wish I could call it perfect because it seemed to do all the right things, it just wasn't able to fully portray what it should have all the time. But it still got the message across beautifully and really helps pull those tears right out of you. Don't even think about skipping the end titles. Are you a savage?

Rewatch Value (8.0):
It's definitely a fairly gritty watch, and usually I'm more the kind of person who rewatches the super fun fan service kind of stuff, but this movie is definitely something I'll be rewatching again. I'll probably watch it side by side with the 2020 movie to see what gives.

Overall (9.0):
Well, I'd say don't watch this if you're looking for a romantic flick... But I do think it's an important movie.
Honestly, I'm really excited for Disney's live action Mulan but I'm terrified they're going to botch the culture or something. Now that I've steeped myself in so many Asian movies and dramas, watching most Western film that tries to be Asian is usually super painful.
However, there's one exception to the rule which is one of my all time favorite movies: The Last Samurai
The highest praise I can give this 2009 version of Mulan is that it reminded me of The Last Samurai. The friendship and brotherhood, the character development, even the way battle is depicted, I kept thinking of The Last Samurai.
What I expect of 2020 is a more flashy film, but this version here is truly an epic portrayal I don't recommend missing.
P.S. Also, major props to this movie on the battle scenes. It did a good job of portraying large scale combat through combinations of lots of people and skillful cuts thus avoiding the pitifully understaffed or obviously fake armies I've seen before...
Was this review helpful to you?