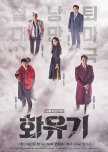 I think it's fair to say that this drama was good overall: the story is intriguing, well written for the first 10 episodes and it made me curious.
If I can say something bad about it, I'd have gone for a shorter version. 20 episodes are too many, since part of the story (expecially from episode 14) was just fillers.
I'd rather watch 10 very good episodes than 20 just for the sake of carrying it on.
The ending it's not that bad, but it's way too predictable: if you're not into open endings, just forget about this drama.
Onto the good stuff:
- Lee Seung Gi is just gold in this series, I cannot think of anybody else for the role of Son Oh Gong. Same goes for Cha Seung Won (Ma Wang) and Sung Hyuk (General Frost).
- Soundtrack is Bomb: "Let me out" is a hit, was stucked in my head for weeks, as well as "If You Were Me" and "When I Saw You".
- I loved the fact that supernatural elements, history and human nature are intertwined in the love story: it makes it really special.
- I don't particularly like Oh Yeon Seo, but i loved the first 5 episodes because of the tension between the two leads.
- Lee El (Secretary Ma) is one of the most underrated character, imho, but I loved her a lot.
I don't think I'd rewatch this, cause it's too painful now (i didn't enjoy the ending) and also because of the dragged out part (13-17), but It was definitely worth my time.
Was this review helpful to you?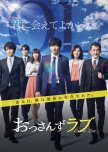 Awww, the feels.
I'm so guttered that it got cut down, because it was a beautiful series and could've been developed a lot more.
Watching the movie, I initially thought it was going to be boring, with no kisses and stuff (I found it kind of odd) [and Ochiai Motoki is so cute]
but this was really a discovery: it's funny, not predictable in any way possible and it's so romantic and well done.
Story: I wish Chief's storyline was a little bit better (the ending is so much painful to watch), but I loved it! It makes sense, it's not boring and there are pretty much no fillers. I liked that Haruta-san didn't actually understand his feelings for men, thinking he was just a kind-hearted person.
All characters have specific roles, they're not just there for decoration or to fill some plot holes. The storylines are not extremely developed, but they're clear enough to let you understand every character's feeling.
Acting: Tanaka Kei is awesome, really, but Hayashi Kento (Maki) surprised me so much. He's really skillful and i think Maki couldn't exist without him.
The kisses are so goood! (I mean, there's no tongue, like in some thai BL or sex scenes, but they're realistic!)
The game with "Haruta" being mixed up as the lead's first name (his first name is Soichi) is HILARIOUS. I couldn't stop laughing. Even Chief, that loves him so much, still thinks Haruta is his first name xDDD
If you're looking for something romantic and funny, in a very sweet BL sauce, this is definetely for you!
Was this review helpful to you?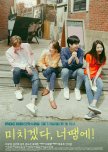 I gave an overall 10, because it's just 4 episode, but it's perfection.
Nothing is dragged or exaggerated, it flows like poetry.
I'm so full of emotions right now.
The story is simple, yet realistic and the chemistry between the two leads is really there.
It started slow, like a joke you tell your friends, and then it became serious.
They really convey this sense of blurred lines between friendship and love and they didn't rush the trasformation of feelings.
When Rae Wan told Eun Seong "I can't get rid of your smell from my body", i started crying. I don't really know why, but i'm sure: Kim Sun Ho did a terrific job.
Lee Yoo Young is new to me, but I instantly fell for her eyes and she's really good. I have no words to describe Kim Sun Ho, as I said earlier. He's just so so so so so professional.
10 out 10. Recommended to every single human on earth.
Was this review helpful to you?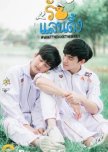 I'll be totally honest: I still enjoyed this show a lot and would definitely watch season 2.
The main reason I got curious about it was all the fuss around MewArt (that I adore so much, as a couple and singles too) and also because of the work of Lazy Subber whose commentary made me laugh like nothing else xD
I will recommend this series if you're into something romantic and intriguing, but at the same time funny and easy (nothing too serious).
Also, this is way more explicit than half of the BL Thai dramas I've seen so far, at least in terms of physical interaction.
The age focus is also different: all the characters are already working and out of school/university.
However...
- the acting is so so. It aches me to say, but some scenes are not believable at all. I love all the cast, but they could have done way better
- the reasoning behind some characters choices is simply stupid and even though I loved the easygoing feeling of the main couple (Pop-Oat), i didn't get some part at all... and it wasn't because of the translation or a cultural barrier... it was just absurd.
- my full and total love goes to some sexy scenes (kisses and stuff), but I agree with some other opinions: it may seems fake. For me it wasn't the case, cause i was really involved and totally enjoying it xD (I sound like a pervert)
- I wish they spent more time on preeBo, analyzing Rambo's behaviour and Pree's one sided love for Pop better (they just threw facts at us, not giving any clear explanation or character analysis)
- I skipped many parts out of boredom (conversations between Pop and Mo)
- I hate Pent so much. I know he's a funny character, but I can't stand it... especially when he's with Rambo.
I must say I loved the bickering between Oat and Pop, and their story is very cute. It made me feel warm and cozy.
I'll not miss season 2, because I really hope the characters would grow and I'm so curious about the 2 couples.
Was this review helpful to you?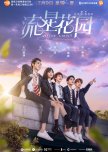 This review may contain spoilers
Before I start rambling about this wonderful drama: I never saw the original Meteor Garden (the chinese version), but I saw a lot of HYD remakes, even the japanese ones, and I have to say this one wins it all for me.
Spoiler alert!
Let's start with the things i didn't like:
- Caina & Meizuo: unnecessary drama, a bit dragged on, didn't feel like Meizuo was really into her (not the way Si is into Shancai for sure) and I admit I skipped many fragments of this storyline cause I found it boring to say the least.
- Unnecessary cringy moments in episode 48. Another filler just to see if they can pull it off and gain some more viewership i think
So-so moments:
- the full force push and pull between the two leads is sometimes too much, expecially approaching the last 20 episodes.
They said goodbye to one another so many times. I get that this is the plot and it's fine, but I wish I could've seen some logical actions going towards the end (i would've prefer they drag a little bit more the mom's debate with Si since London instead of giving us hope it was all over and then hit us during the last 4 episodes).
What I liked:
I must admit this is one of that dramas that I was waiting for every single week. It was thrillin' from the very beginning, and even though they didn't go into much detail with Lei's storyline (i wish they did) I loved every single character.
Dylan Wang is exceptionally good at portraying Daoming Si, he got the sass, the charm and he's adorable.
I knew Shen Yue from "A love so Beautiful" and i'm not surprised by her acting skills (i wish she would kiss with a little bit of emphasys, but it's okay).
Caesar Wu. I LOVEEEED HIM. He's just perfect in my opinion. (I also admire his vocal skills)
Along with Darren Chen, of course. Connor Leong was okay, but didn't blow my mind.
The chemistry between the leads was phenomenal and the main story was never boring.
Overall, I recommend this drama to slice of life and romance's lovers.
You'll not regret this!
Was this review helpful to you?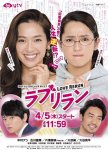 This review may contain spoilers
Well, I had high expectations and I actually enjoyed this series for the most part.
The thing is they made it so simple, yet so bland, I can't even wrap my head around it.
Story: the reasoning behind the concept is interesting! A woman lose her memories about the previous 3 months; she finds out she has completely changed in comparison to what she remembers of herself, personality and outside appearances wise. Everything has changed: from her body to her style and even her apartment is different.
Now she's got an ex-boyfriend/roommate which she knows NOTHING about. Also, the woman has a special friendship with another man (they are childhood friends).
It's a simple triangle story, okay? I don't need to post any spoiler about this, except it's not an actual triangle and even though you're wishing for an happy ending, the last episode is kinda dull.
Acting: first, I love Otani Ryohei ? he can be a tree in the next drama, I'd still love him. The lead actress isn't so bad, but she's a tad annoying, and Yuki, well... i can't hate him, but he's always the same character! I'm kind of tired of this rigid, straight-faced, fish eyed man he has to be in every single drama/movie.
This time around I saw some smiles here and there, but really... I can't feel a thing coming from him. Maybe it's a cultural barrier, but honestly... I watch pretty much ONLY asian dramas and I feel nothing when he acts. I don't hate him, I swear. I wish he was more soulful.
I feel bad to say this was not worthy of my time, since I enjoyed it and didn't drop it, but the ending is so predictable, dull, boring and this ruins pretty much everything. Even though it's not a masterpiece to begin with, it's still a decent drama if you're looking for some romance to pass the time.
Was this review helpful to you?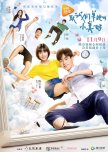 I found this bundle of happiness on Netflix, while renewing my premium to watch 13 reasons why s2.
I can't deny it carries a lot of similarities with Itazura na Kiss, but I found it enjoyable. I finished it in three days, which is pretty unusual for me (since I have little time), but the fact that it was on the Netflix App made it easier.
My fave character is indeed Bosong: his love is so pure and he doesn't sacrifice friendship. I think he was less developed (as a fictional character), but still the cutest of them all.
Overall, they're all great. I wish the kisses were a little deeper, but it's okay.
I didn't really understand some parts (like when Chen asked Xiaoxi to apologize, she did it and he said "it won't happen again". WHAT? xD
I guess it was him being jealous, but i'm not sure.
My final vote is 8.5 because I couldn't find anything bad to say but i'm not satisfied to the fullest.
I recommend watching this if you're looking for something funny and romantic.
Was this review helpful to you?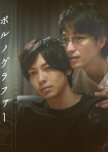 I gave relatively low ratings (at least for my standard) to this one not because it wasn't good, but because it was too short and it was originally going to be longer, which was a disappointment to me.
The story is not your typical BL: it's not bright and funny, nor about teenage boys looking for answers.
It's kinda mature in a sense (the kisses are definitely worth watching), but it doesn't give porno vibes.
Classy in its own way, I wish they could've given us a better ending.
The acting is so so good and all the darkness suits the story very well in my opinion.
I know i may sounds redundant, but the ending and the overall shortness guttered me.
It could've been a masterpiece in my book.
Was this review helpful to you?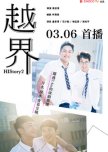 This story is so sweet and delicate, it'll make your heart melt.
I think it's one of the best BL this year (together with "Right Or Wrong") because it's soft but feels real at the same time.
My only issue, at first glance, was the volleyball/sport theme. Once you get the gist of the story, you'll forget about it.
It was like that for me: i started to ignore the part related to sport, even though it was not so bad (I just don't really like sport related series, my bad).
The cast is just amazing. Zach Lu (Zi Xuan) is almost 30 °-° i couldn't believe it. Fandy Fan is just so adorable, his smile is everything.
The two leads are so believable. The kisses are so intense and real... I rewatched episode 4 and 8 so many times just to fully enjoy them.
Tbh, I didn't fully get or like the brothers' storyline: it was a little bit vague and even though it was supposed to be the "difficult" one, i think it just resolved itself without too many issue (which I don't really understand, since they are fr*ckin brothers).
Music: PHENOMENAL. I thoroughly enjoyed it. The opening may sound a bit cheesy, but the overall soundtrack is good (especially during sad moments, the songs are gold).
I would definitely rewatch this (maybe in two or three months), 'cause it's a simple yet cute story, that can make you think and reflect about so many things. And then, again, the kisses are perfection.
Was this review helpful to you?