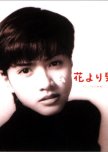 OK so Im sorry but i could only find the french subbed one so if you ask me where i found it can't really help you ...
Story: LOVED it ! well it's just the basic BOF, HYD or LGWMS story except in shorter and simpler, now you have to know that i'm the type of person that hates complicated dramas or movies that drag the story until the very last moment so which is just my luck cause that's like practically ALL Asian dramas -.-
But i do think they focused to much on the fact that she was being bullied when they could have gotten deeper into the love affairs :$
ACTING: WAS SO BAD ! but in a funny why so it was ok to watch seriously sometimes my fingers would curl ! OH and I HAVE to mention Domioji's HORRIFYING word rob times change and so does fashion so maybe his cloth to me seemed a little bit over? i don't know but just didn't feel the pants that are tight around the waist and the vests with nothing under...
MUSIC: Lol the music from my parents age like the 60's or something like that i actually like this type of music :) loved the last song had me "dancing" more like wiggling on my bed :D
RE-WATCH: DEFINITELY ! i had a blast watching this it was funny,cute, short, sometimes embarrassing (acting, weird but entertaining and interesting to see the original BOF where it all started :D
OVER ALL: 9 cause i feel that they didn't show enough love scenes and to much bulling :$
Was this review helpful to you?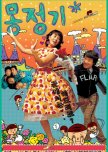 This review may contain spoilers
I'm in love xD
Story:
At first i thought since it's Korean they'll probably like barely talk about sex and it's mostly going to be another story... WRONG ON SO MANY LEVELS! Even I was shocked at how deep they went into the sex theme ok let's not go ever board they go into enough not to make it porn... It felt like some sort of Korean sex ed tape xD but with a romance lots of comedy and touching moments :)
Acting/Cast:
Oh the cast was just perfect I wouldn't change anyone they are all to perfect for the roles they played ESPECIALLY the teen boys...
They're acting was so real at time I was wondering if there weren't "doing it" for real xD
They are all very funny and great guys and you get attached to them by the end of the film :)
Of course MY Kim Sun Ah just priceless acting as always, I love this girl so much cause even if she always plays a sweet character her acting adds a little "je ne sais quoi" to the character and to the movie/drama
Music:
I was to focused on the movie to focus on the music xD
*sorry sorry*
Ah! but the last song I do remember ... NO SPOILERS sorry you'll have to watch it to know xD
Rewatch:
Heck yeah it's just to funny it's one of those movies you can watch when bored on a rainy day when your sad or simply just want a simple but good laugh or with friends (I do not advise you to watch it with family members cause it will be very awkward :S)
Overal:
10 out of 10 it just won my hear I love it so much I'm gonna add it to my fav. movie list right now :D
Was this review helpful to you?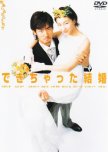 STORY:
It's a simple catchy story :D
nothing very outstanding about it but there is something very sweet going on between the too characters. I liked how since it only ha 11 episodes the story wasn't dragged along till the last minute
ACTING/CAST:
They were all great, and had amazing chemistry it felt really real :D
Loved them all except this girl who only appears in the first few episodes ... well you'll have to see to get it :D
MUSIC:
It was fine... AH! NO! I take it back it was all fine except for this ONE song! At first I thought it was sang iin Japanese and all but as I got deeper into the episodes and into the drama, plus the song kept on being played it turned out the guy was singing it english all along *SHOCKED* it was so horrible!!
Rewatch:
Probably... yeah someday if I'm bored and want a simple drama...
but I'm not the rewatch type really ....
Overall:
I liked it :D
Definitely recommande it for those who are like and are just looking for something simple and quick to watch :)
Was this review helpful to you?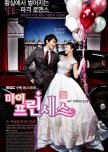 I'm writing this cause i just can't agree with the other reviews ...
STORY:
Ok i agree it's your avrage mushy gushy story about a girl finding out she's a princess. At first i also thought that but the way the writers dilevered the story was just wonderful not one minute was i bored ( and i'm the type of person that skips parts, episodes or sometimes just watch the previews if i'm to bored.
ACTING/CAST:
Well the acting was good for a comedy/romance cause most of the times when watching these kind of things i notice that some lead actresses tend to over act the funny and then it just becomes weird, but of course Kim Tae Hee never disappoints us she was so lovable:D and you could feel this kind of "bond" between the two lead characters. and since it was one of my first k-drama that i watched it was the first time i had seen a man cry for a woman because he loves her so much that he is suffocating (you practically never see this kind of scene in Hollywood). And the forbidden love plot was very nice every time they cried or were in pain i felt it too.
Music:
I thought the music was well fit for every scene and of course should good romantic/comedy drama doesn't play some good old Ricky Roller I was seriously laughing so hard when i first heard it in the drama it was awesome :D And we get to hear some B2st/Beast too :D
REWATCH VALUE:
HECK YEAH ! In fact when i'm finished here i'l got watch it again for like the 3th or 4th time ! (I'm not even kidding i'm doing it)
OVERALL:
Over all i think you go it i loved it and i strongly recomand it. Seriously ! Watch it:) but i do agree with some of the comments about the ending who was a bite disappointing. We were all expecting Big wedding bells, and all that goes with it but after some thinking it like this simple and yet touching ending (specially that kiss). In the end all I want to say is...
Wonderful story
Wonderful Actors and cast
Wonderful mus... well ... yeah the music was good;)
and WONDERFUL DRAMA
Was this review helpful to you?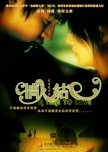 (this is my 1st review so please be kind plus my first language isn't English but french so forgive the grammar and spelling errors please and thank you:D)
I just finished it and i got to say at first i didn't think that they knew each others feelings since they never really spoke about it to me they just looked like really close childhood friends ... but apparently in this movie "feelings don't need to be spoken" seems to be there quote :)
I didn't really get why the two families were fighting over and why they were so against the two leads ... kind of like the really story of romeo and Juliette. And just like in the book there love (even tho they don't express it very much) felt real, pure, sincere and deep. Which is basically due to the Great acting of the actors they had chemistry it felt real.
The ending on the other and left me ... unsatisfied? it was weird it was not a bad or sad ending but it didn't have that "happily ever after" you wish for during the movie :S
To conclude this movie was great except for the disappointing ending that's why u gave it an 8/10
Was this review helpful to you?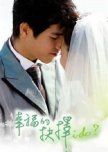 I Do?
2 people found this review helpful
Story:
The story was quite nice actually i got what and where they were trying to go with this but it's just the way they made it out to be that really bugged me :S
Acting/Cast:
Everyone did a pretty good job and since it's a Taiwanese drama i wasn't expecting much from the acting...
BUT the lead actress dear god I never thought that they would cast someone so bad at acting seriously!
Her acting made me want to hide and scream from rage sure she is pretty but that's just not enough of a reason do cast someone ...
She's not like the typical bad actors (who usually it feels like they are reading right out of the script) her bad acting was like... how do i put this you know actor have script and they have to deliver it as naturally as possible make it real well her it just felt like she was just delivering it and her actions felt like they were choreographed she was so stiff ... the only times i felt like she was good actress were during the kissing scenes :D I'm not even kidding the kisses were so real (maybe it was).
Other then her the others did a pretty good job but than again it's not that hard to do better than her just by standing you could do better (I'm sorry i'm usually not this mean but i was so disappointing by her acting i just ...)
Music:
I didn't really pay attention to it except at some moments it felt like they were singing in my native language french xD
Rewatch:
Um... i watched the 6 first episodes and since the lead girl didn't really do much during those episodes i really liked it but than starting episode 7 it just got bad ... so i just went ahead and skipped to the last episode had a hard time holding on and watching it tile the end without skipping my hand was itching to press the skip button so bad :(
I'm so not watching this again maybe... no nope never mind :)
Overall:
I gave it 5 cause I felt like it was kind of mean to bring down everyone when really only one person disturbed me :)
Was this review helpful to you?