Details
Last Online: Aug 17, 2019
Location: LaLaLand (NYC)
Total Edits: 5
Birthday: July 09
Roles:
Join Date: December 7, 2013

Kimcat177
LaLaLand (NYC)
Kimcat177
LaLaLand (NYC)
 Profile Under Construction (Changing Soon) 
(Finished In Green)
New Profile Pic (Enjoy the OLD one for NOW)

ADD Pinterest Account

ADD Tumblr Account

ADD Twitter, Tumblr, and Pininterest Link Icons

ADD Facebook Account AND Link Icon

ADD KakaoTalk Account and LINE (ONLY FOR TEXTING)

Hope to ADD a video (Still TRYING)
ADD some GIFs that I have been COLLECTING
ADD some more Pictures that I have collected
Make a SECTION for MY FAV QUOTES (Optional)

List Explanations for EACH

ADD FINISHED Drama COVERS

Favorite KPOP Bands (Favorite Songs Too) and KPOP Variety/Reality Shows

ETC (Till I THINK of MORE)
---
I Ask for everyone's kind guidance in the future!
Some of my Favorites:

(Will Be Updating Someday In the Future)
 If You want exact Favorites, go on my lists, I have my favorite dramas from each country and the actors and actresses from each. Will be doing movies next, though I haven't watched that many. 
 All The Shows I've Watched (Will Update More Later): 
My Firsts:
First Live Action: Ouran High School Host Club
First Korean Drama: Boys Over Flowers (I know this is really a Live Action, but the feel seems like a Drama)
First Korean Film: Baby & I
First Taiwanese Drama: Autumn's Concerto
First Taiwanese Film: Secret
First Japanese Drama: Starman - This Star's Love
First Japanese Film: Ouran High School Host Club
First Hong Kong Film: Shaolin Soccer
 Explanation for my PTW and On-Hold Lists (Currently Watching & Dropped Too): 
On-Hold
I use my On-Hold for all the dramas I plan to watch, but may be currently airing (I like to Marathon dramas, so I usually wait), I sometimes make exceptions and send them straight to currently watching. The second thing I use the list for is to put shows I really have put On-Hold or even dramas that I am having a hard time watching. The last thing I use it for is a download list, if I can't find where to download or watch it I add it to the list until I find it.
PTW
For my PTW list I mostly just use it as a list of the dramas I'm deciding on. On the other hand I only put airing dramas if they are close to finishing, such as for 16 episode shows I usually wait until 2 episodes are left to air and if 20 episodes I wait until its about 16 or 17 episodes have aired, for everything else it depends on how it airs and how many episodes a week, either way I add it then.
Currently Watching
I only add airing dramas to my Currently Watching list if I really can't wait, which I usually regret because I always want more after I catch up, it happens every time. For a minimum I usually wait until an airing drama is about half done to start it, to at least lessen the torture I inflict on myself.
Dropped
I really don't like dropping dramas, so I don't drop any. Currently I have never dropped one single drama or movie and I am proud of that. If anything I may put a show on hold and finish it when I'm in the mood. So in general I do not use my dropped list.
---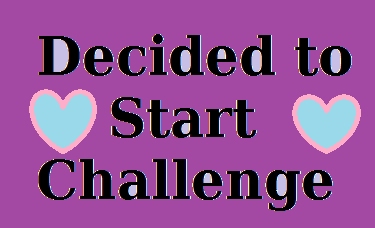 (Started April 7)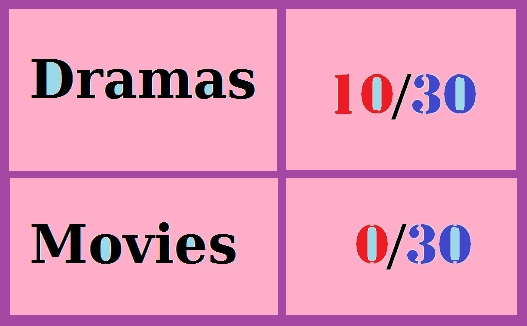 Dramas: 
 1. 

Ho Goo's Love [8.5/10] 


 2. 

Super Daddy Yeol [8/10] 


 3. 

Healer [10/10] 


 4. 

Sensory Couple [9/10] 


 5. 

Falling For Innocence [8.5/10] 


 6. 

New Heart [8/10] 


 7. 

Someone Like You [9.5/10] 


 8. 

EXO Next Door [9/10] 


 9. 

My Unfortunate Boyfriend [8/10] 

 10. 

School 2013 [9/10] 

 11.

Ex-Girlfriend Club [8.5/10] 

 12.

Dream Knight [8/10] 
 

13.

 Mask [9.5/10] 

 14.

Dr. Ian [8/10] 
 

15.

Plus Nine Boys [9.5/10] 

 16.

Who Are You: School 2015 [8.5/16] 
 

17.

I Remember You [9/10] 
 

18.

Oh My Ghost [9.5/10] 
 

19.

Secret [8.5/10] 
 

20.

Ugly Duckling Series: Perfect Match [9/10] 
 21. 

She Was Pretty [9/10] 

 22.

 

D-Day [9.5/10] 

 Blood [Currently Watching] (Struggling to Finish) {17/20} 

 Gu Family Book [Plan to Finish] (Started Never Finished) {20/24} 
 Decided to End the Challenge at 22 Dramas 
 Plan to Watch 
 - Orange Marmalade 
 - High Society 
 - Yong-Pal (Currently Ongoing) 
 Movies: 
 

1.

My Little Bride [7.5/10]

 
 NEED TO START SOME 
---
 Only For dramas that for me have a draggy side or ones that have a few boring scenes I want to skip ^~^ 
---
My Twitter Account, My Tumblr Account, My Facebook Account and My Pinterest Account, exclusively for Asian dramas, along with anime and manga:
Please Follow and I will Follow You. ^_^
Statistics
154d 20h 42m
ALL TIME
3,860 episodes, 342 shows
4d 0h 53m
ALL TIME
54 movies
List Updates
Plan to watch

Jul 31, 2019

Plan to watch

Jul 27, 2019

Plan to watch

Jul 13, 2019

Plan to watch

Jul 13, 2019

Plan to watch

Jul 13, 2019

Currently watching

3

/16

Jul 13, 2019

Plan to watch

Jul 13, 2019