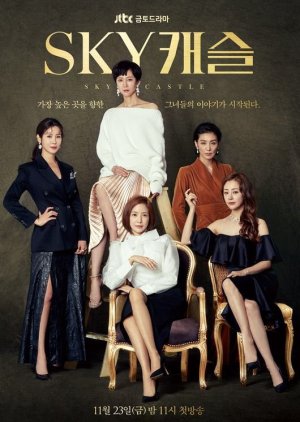 MY STORY RELATING TO SKY CASTLE:
This drama made me cry. I mean, ugly cry because a lot of the moments I watched throughout this drama related so much to many, if not all, moments in my own life.

I'm Korean but American-born. Though I wasn't reared in Korean society, my parents were still very much Korean traditional. It doesn't really matter where you grow up because your parents are the biggest influence you will ever encounter and will dictate a lot of what happens to you. I related really closely with Se-Ri though. Her story was basically my story. I'm an only child, no brothers or sisters. Me and my parents are the only ones in the States we can call family. I had a tough dad that always pushed me to think about the future. There were many many many times that he would force me to sit down at the kitchen table to lecture me hours on end past midnight about life lessons, how important getting an education is, and how hard and cruel life can be if I don't get it. I was only in middle school and he would go on to do this until I graduated high school. My mom was not a strong-willed person and often bent at the strong-arming of my dad.

I also lied for a time in my life about basically the same thing Seri because I feared disappointing my parents. The only difference is it wasn't Harvard but I did get accepted into a good university. I did OK during my first year, but because of certain reasons my grades started to slip and I eventually got expelled. I was no longer a student but I I couldn't bear to disappoint my parents and tell them that their daughter failed out of university and got expelled. I was also afraid of what my dad would do if he ever found out, just like how Se-Ri was fearful of what her father would do. So, instead of telling them the truth, I continued to pretend that I was going to school. I moved in with my friend after moving my stuff out of my dorm to continue the charade that I was still a student to my parents. My parents didn't know how to work social media and didn't really know their way around the internet but I would call them every now and then and tell them about my classes and friends on campus.

But eventually all lies surface in the end. They found out about my expulsion. I pretty much reacted the same way Seri did towards her parents. Of course I felt truly awful lying to them and knowing the kind of grief, sadness, and disappointment they would feel after finding out. But I was also at MY limit. I tried just as much as Seri did in her life to live up to the ridiculously high expectations her parents had for her. I remember a lot of moments in my life where it was suffocating living with my parents because there was no air to breath. But it was heart-breaking knowing that my parents probably didn't love who I was as a person, but loved me for being the kind of daughter who got good grades and did well in school. Anything less than an A was disappointing to them. Even when I got a B, they would always say "You could've gotten an A if you tried a little harder". What broke my heart even more though is that my parents probably couldn't tell me what my favorite color was, or what kind of music I listen to. They probably couldn't tell me what I liked and disliked. Because they never asked and probably didn't care if they knew or not. All they would ask me is "How was school?" or "Did you do good today?".

But anyways, a lot of things happened afterwards. It was a turning point in my life and changed me and how I approached life from then on. What had happened actually broke my family and I ended up moving out but after a year of being apart we were able to reconnect and pick up the pieces again. I think we were quite lucky to have come together because I know that lots of times when families break apart, it's unlikely that they ever have the chance to rebuild it, much less, want to. Me and my parents are together again now but we are still healing from the past and trying to change for the better. It's definitely not been an easy to do, but my parents have gotten much better at being the parents that I always needed them to be in the first place. So, more or less, it's a happy ending. But a bit bittersweet.

FIRST IMPRESSION: I put off watching this drama when it first came out because I judged the drama premise based on it's synopsis. Big mistake. It wasn't until later my curiosity of why everyone was making such a big deal out of this drama that I started watching it a month after it finished airing. This is by far one of the most realistic, gripping, human, relative, and controversial drama I've seen to date. The writing was superbly done with a good steady pace. The plot escalated when it needed to, and declined at the right moments. The cliff-hanger endings of every episode was done flawlessly. The depth of the characters and their development was spot on. The theme of the drama was perfect during these current times. Overall, basically perfect in every way.

STORY: The theme of the overall drama was well suited for how Korea handles the importance of education in their society. Many of the elements and plot points in this drama point to a very controversial yet unspoken side of how Korean citizens treat their children when it comes to rearing them. A lot of the moments told in this dramas related very closely, if not exactly the same, for a lot of children in the real world. Myself included. I got really emotional many times over during the whole span of the drama because a lot of the things that happen to these children, happened to me as well. It made me cry. Truly cry because the drama was not shy to show the rawness of situations like those. It didn't make the issues any more or less than what it really is. The plot itself was very well written.

ACTING/CAST: Honestly, I think this is the first time I'm watching most of these actors/actresses in any drama. There are a few I recognize but most of the main cast I saw for the first time for me. I can't praise enough how extraordinarily talented these actors/actresses were in this drama. It was provoking, touching, heart-wrenching, and amazing. The children cast in this drama also did a fantastic job! But I honestly have to sing gospel praise for Yum Jung-Ah (Han Suh-Jin / Kwak Mi-Hyang) and Lee Hyun-Jin (Coach Kim) for their incredible acting skills. But I have to say that everyone in this drama were just as spectacular with their acting. No matter how small the role, or how little the screen time, every actor/actress made the most of it and displayed their best acting skills forth.

MUSIC: I'm not picky about music and in most of my reviews I don't say more than a few words or a sentence but the music in this drama was well-picked and well composed. Especially the theme song for the drama. It's beautiful, dramatic, and relative to the theme of the drama itself too. The decision and usage of Erlkonig was perfect match to Coach Kim's theme song. The musical choices in this drama definitely sets itself apart from the typical musical choices typical dramas have in their soundtrack. Great job!

OVERALL: This drama was pretty cathartic for me but overall, objectively, I think it was perfect. I really can't poke any holes in it to be honest. Even about the last episode. Some people may have been a bit disgruntled of the lack of going-ons in episode 20 of SKY Castle, but I thought it was a wise decision and a refreshing one to write an easy going episode like that. I especially LOVED the contrast we see from the beginning and ending. This contrast we see from the first episode and the last episode was really beautiful and subtle moment. I appreciate how the writer was able to show us this.

Though the last episode wasn't really eventful it still held a purpose. When a drama ends, I think we can all imagine how everyone exhales after holding their breath for so long, but in most dramas the short sweet happy ending is short-lived and only serves it's purpose of showing smiles and exudes an "all is well" moment and ends the drama. After it's done, sometimes we get a sense of anxiety because after all, we invested 16-20 episodes in watching a situation escalate, then the drama reaches it's peak and drastically cuts down to a happy ending and then THE END. I think episode 20 of SKY Castle served more in the purpose to help the audience take a breather. To better adjust to how things ended. Yea, it's a happy ending but it's also important to know that even after a happy ending, life still goes on and when it does, it's pretty mundane. But usually, mundane moments in life are sometimes the happiest ones.
Was this review helpful to you?