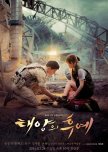 There's a certain phenomenon that happens to everyone that makes them want to buy or have a brand name product, only to find out that it's not all that cracked up to be and end up with buyer's remorse. The same can be applied to Korean dramas. Sometimes dramas are labeled as "the-best-drama-you-will-ever-see-in-your-lifetime" that people are blinded by how flawed the plot is because they can't look past the pretty-pretty faces of our lovely actors/actresses and don't notice the cheesiness of it all, when a ever-so-mushy kiss scene comes across.
People often think that because something is popular, means that it's good. Lots of people don't understand that something being popular doesn't necessarily correlate to the quality of it! Quality is what makes something popular, not the other way around. People are often get sucked into peer-pressure from talks and gossip and buy into the fact that something bad is actually good because people keep saying that it is.
Well, Descendant of the Suns is no exception here. One of the co-writers, Kim Eun-Sook, is revered as a popular screen writer who has written a slew of popular dramas in the past, but most of her dramas are not written very well (IMO). In the early 2000's, her writing style was a hitting trend in the drama business. Writing dramas with the happy-go-lucky damsel in distress with the misfortune of having to put up with a pompous rich and handsome chaebol who has a heart of ice that can only be melted by her cheerful attitude. But these days, the trend of dramas demands a little more realism and a deeper understanding and display of human emotions, instead of superficial dramatics scenes and fleeting emotions driven by the moment. Her characters lack depth, her plots are horrendous (and that's putting it nicely) and her pacing is erratic, if not, very inconsistent. I admit, I find two of her dramas, mildly entertaining, Lovers and Secret Garden. But Descendants of the Sun was just a complete and utter mess.
I don't know what this writer wanted to do with the army and soldier part of it all, because it just seemed like an excuse to somehow squeeze in some action into it, but the relationship development between the two leads were hard to watch. It was like a child pushing a naked Barbie and Ken doll together, and see if they'd make a baby. Kim Eun-sook literally did just this with our two leads, and created no real connection with the two aside from the super cliche bump into each other, hate each other, share a memory or two and (BAM!) fall in love. The feelings that Yoo Shi-jun had for Dr. Kang Mo Yeon felt like it just suddenly appeared out of nowhere when he met her. There was no real gradually (realistic) feelings of romance, it was just WAM, hes sees her across the hall and he thinks to himself "I love this woman!" deal.
I didn't know what this drama wanted to be! A rom-com, a melo-drama, an action movie?! It is possible to combine so many kinds of genres into a drama, but it needs good timing, wit and creativeness to pull it all off. This drama tried to do that, but it all felt very rushed as if it couldn't wait to get to the next drama-filled scene.
Cliches are sometimes a guilty pleasure for South Koreans, and we love a typical love triangle and angst (myself included), and that's fine, but it would be appreciated if you at least TRIED to develop your writing more to grow your talents and maybe realize, "Writing fun dramas is fine, but I think I can do better!". Most of Kim Eun-sook's dramas are very typical, and really boring! REALLY BORING! The Heirs was like nails on a chalkboard. If you're going to ask me, then why watch them? Because of the wonderful and talented actors that are involved. T-T It makes me wonder why they chose her dramas. Because they thought it was a good drama, or because they thought the press involvement would be good for their career. To be honest, I'm hoping it's the latter. After Descendants of the Sun, Kim Eun-Sook is a drama writer that any actor/actress wants to be involved with because lately, by being a part of her dramas has helped dramatically in furthering their exposure and acting career. It's a career move, and we can't blame an actor/actress for wanting to take advantage of that. After all, actors/actresses make a living off our consistent admiration and interest in them.
To be honest, I'm really scared of what she's going to do with Goblin, because it's got some of my favorite actors/actresses in it, and I'd hate to see their talents diminished by such horrible plot writing and lack of character development. I know this review has been mostly centralized around Kim Eun-Sook's writing, but it's been frustrating to see how her dramas, that involve great and amazing actors/actresses, fall so short and end up being a very long and boring 16 or 20 episode thing. I'm willing to give Goblin a chance because of the cast, but we'll see if maybe Kim Eun-sook can bring something new to her repertoire of boring-and-typical-drama, product line.
Was this review helpful to you?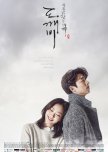 Goblin
16 people found this review helpful
This review may contain spoilers
STORY: This was probably the most inventive and creative dramas/story plot I've seen in the Korean entertainment industry yet! I adore fantasy because it strikes the imagination part of the brain in a fun way and I've seen some fantasy-genre Korean dramas but they don't involve a lot of fantasy elements. Most dramas I've seen that are labeled as "fantasy" or "supernatural" usually use these elements to support a story. They were more tools to carry the story along rather than being the main focus. 'Queen In Hyun's Man' was the closest I've seen to making fantasy as the main focus point, but still lacked emphasis on the genre. This drama really made the "fantasy" element THE main focus and you see the story support the genre rather than the other way around. I'm so proud and happy for Kim Eun Sook. She did a FANTASTIC job writing this drama! The world she created was so vivid and realistic in the sense that if there were such thing as goblins and grim reapers in this world, she made the idea fit into our 'real world' construct to make it believable that they might actually exist. I thought it was unique to have the idea that there were many grim reapers, instead of just one, and that they were organized in a governmental way. The reasons for their amnesia were pretty sound and the search for the goblin's bride was pretty inventive. Kim Eun Sook could've been lazy with the why of everything and make them the most conventional reasons possible, but she definitely took great stride into creating a story that weaved in and out with every action and every decision so that almost everything had a meaning and a real reason behind them. Kim Eun Sook did a sublime job fleshing out the characters too! They definitely aren't the cookie-cutter type of characters you usually see in almost all romance Korean dramas, and I super appreciate that! It gets soooooooo unbelievably boring when I see the same type of character over and over again in every typical romance drama. Especially the male characters. They always turn out to be super mean and only to the main female character, but has a hard time expressing their feelings from their golden hearts. -__- !!
ACTING/CAST: This has been the best casting I've seen EVER! I'm not even joking! My favorite actress (for the current time) is Kim Go Eun and even though she's still young in the industry, she has AMAZING acting talents! She pulled off her character without a hitch. Same goes for Gong Yoo, who is a veteran in the entertainment industry and brings flourishes of experience from his time in the k-drama and k-movie business. Lee Dong Wook also did surprisingly well in this drama, although I still wish he was a bit more expressive. Maybe I'll get some upset comments about this, but he always seems to have this same indifferent look about him in every drama I've seen him in. But still, he did great in this drama, despite this fact. I considered Yoo In Na as a bit of a newbie in the entertainment business, but glad she got to be in this drama because I definitely see good potential to grow her acting talents and be a very talented actress. Also have to give props to Yook Sung Jae and Lee El for their great portrayals of our Gods. Lee El has really good potential to be a great actress as well and hope that after being exposed in this drama, she'll have the opportunity to be in many more dramas as well. Maybe in a lead? She's always been the side character, haha!
MUSIC: I don't really pick on the music unless it's extremely good or extremely ill-fitting. Goblin's soundtrack was ABSOLUTELY PERFECT! It fit the tone of the drama so perfectly and carried the emotional and lighthearted scenes so PERFECTLY! This is one of those rare moments where I want to download the whole track list to my phone so that I can listen to it whenever and where ever! What people don't often notice is that the music of a drama and the story is kind of like two halves of a whole. They really do have to fit well together or else the overall picture/concept of the drama becomes a little....off. But these two fit together absolutely perfectly!
OVERALL: I was going into this drama with big apprehension because the writer was Kim Eun Sook, who also wrote Descendants of the Sun, which I was absolutely bored to tears with. With the awesome cast in this drama but with Kim Eun Sook being the writer, I was worried that she would do the same thing as she did with DOTS. But I was thankfully relieved and pleasantly surprised! I know I sung praises up and down in this review for this drama, but please keep in mind that I rarely ever do this unless it demands that kind of praise. There's really only one other drama I gave a 9/10 or above and that was Liar Game (Korean version). This drama was well-directed, well-acted, and put together so well and so impressively that I really can't help say nothing but great things about it! The only reason why I gave this drama 9.5/10 instead of 10/10 is because of 'the contract' reasoning for our goblin (don't think that's a spoiler because you'd have to watch and know what the contract was) But other than that little lazy reasoning, Usually, I leave about a week to review a drama because I don't want the added hype of my own excitement to affect a review, but I'm very confidant that my thoughts and feelings for this drama will not waver for the reasons I wrote in this review, even as time passes. I would wholeheartedly watch this again and again! The cast, the story, and the music all blend and mesh together so well that it's painted the most beautiful picture I've seen yet!
NOTE: This is a somewhat slow-paced drama, so please understand that before watching. Some people don't like slow-paced because of our tendency to want instant gratification (especially with the younger folks, haha) But to be honest, this drama wouldn't have done so well if it were more fast-paced. I think being slow-paced as it is was the perfect speed for the story. If it were any faster, we'd be left with a less desirable ending and very rushed story.
Was this review helpful to you?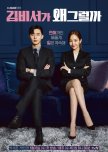 Honestly, I was actually looking forward to this drama because the main character has my job, haha! This drama was......difficult to swallow. At least, for me. I personally think that characters are everything in any kind of story. I think as long as you have great characters with a good amount of depth and development to them, then a simple story can be spectacular. This is the main reason I really disliked this drama. Personally, the characters fell so flat that they would put paper to shame.
KIM MI-SO: Her character was okay......and that's it. But as a main character, being just okay won't cut it and unfortunately, Mi-So had no dimension what so ever. Secretaries are often traited as perfect, detail-oriented, and vigilant of their duties. I get that, and it's fine to put those same qualities towards Mi-So's character, but add something else in that doesn't have to do with her job. A quirk. A weird hobby. Maybe she dances weird but loves dancing anyways. Something to make her stand out from her perfect cookie-cutter frame. Stereotypes are boring because they're predictable, and so was Ni-So, unfortunately.
LEE YEONG JOON: ....................I can't. I just can't. I'm all for a quirky, eccentric character because it makes for an interesting character, but this..........was just way too much. It was almost cartoonish and super unbelievable in terms of narcissism. If you're going to make a wacky, odd character, do it in a believable way. Don't just be crazy for the SAKE of crazy. It's boring and uninteresting. This character was the worst of them all.
ACTING/CAST: I think that Seo Joon Park has good potential to be a good actor but he might have to choose more challenging roles that expand his acting skills. Maybe this role was to put into practice his comedic, light-hearted skills. Unfortunately, the character he played is absolutely ridiculous.
Min Young Park isn't my favorite actress. I personally don't really like her acting. That's just my own opinion. Could be different for others, but overall, I don't think her acting is horrible. I just think her acting skills always falls flat somewhere.
STORY: Eh. It's nothing special really. I figure that 90% of viewers can guess the rest of the story line from the 3rd episode.
MUSIC: I'm not picky about music. It was okay. Standard drama music.
OVERALL: If you don't mind the odd and eccentric moments, and over the top characters and fluff, then you might find this entertaining. This is a typical teen rom-com kind of drama that appeals to younger crowds 18 and under.
If you're looking for something a little more realistic, in terms of characters and storyline then you might want to check out something else, because this isn't really it.
Was this review helpful to you?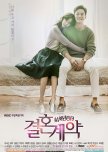 Where to even start! This drama has caused me to write my first review on MDL and for good reason! I've seen manymanymanyMANY dramas in Dramaland (mainly Korean because I'm Korean, haha) ever since I was in Elementary school (not joking about that, haha, anybody remember Huh Joon?). I've seen a wide variety of cliches, typicals and over-used concepts, plots and themes. As I continued watching dramas, my taste for dramas matured over time and dramas that I thought were 10/10 back then are now rated like 5/10 now, haha. For example, one these most cliched and over dramatic dramas, "Prince's First Love". Marriage Contract is no exception here and uses one of THE most over-used melodrama plots ever.....sudden death, aka the Cancer Virus! (Calling it a 'virus' because that storyplot spreads easily!)
Now cancer, in itself is no joking matter, so please don't misinterpret my sarcastic scoff as a laugh to the real thing in the real world! But, in Dramaland, it's a pretty infectious concept. Especially in the melodrama department.
STORY: For the most part, it's pretty well-written and handled the cancer story pretty well too! I appreciated how the cancer was not the most PROMINENT thing that carried this story. Yes, it played a major role in Hye Soo's decision to enter into such a contract. But other than that, you don't see the illness take up too much physical screen time away, until much later towards the end where the illness starts to take its' toll on her body. Here, the illness is shown to take on a low-profile while our main characters carry the story. The soft moments really make this drama stand out, where the story highlights the little things in life that make it exciting and entertaining. In my opinion, it really emphasized how people's lives, as they live it, can be all the drama you really need in a story to make things interesting. This drama played out in a very down-to-earth way and really showed the audience the raw of the emotions, frustrations and conflicts. The only thing I disliked was the father. I was really hoping that they would flesh out his character a little bit, to explain maybe why he is the way he is, but alas, they did nothing, really, with the father. But I understand that not every story is going to be perfect, and stories do need a villain, so I guess I can let that go considering the bigger picture.
And as far as the age-gap between the two main characters, I honestly didn't even notice it until I read someone's comment on it. That really tells me that their chemistry was so flawless that I didn't even notice the age gap when watching this drama! Pleasantly surprised when I realized that they do have quite an age gap, but really made me fall in love with this drama even afterwards!
CHARACTERS/ACTORS: Here, we see flaws in the main characters with a rich/not-so-rich chaebol who is dismissive but has a heart of gold. The quiet and somewhat timid looking girl, who is just trying to get by in life. These two character profiles could've been taken on a wild ride of over-exaggeration and just too much, but our actors (and I'm sure writer) really took off with them and made them both lovable and realistically so. I really enjoyed in the fact that these characters were written with more than one dimension! Ji Hoon, our rich and bratty chaebol, showed many sides of himself that are different. When he's with his mother, or with his father, or with his friend. I've seen Lee Seo Jin only once before in 'The Lovers', and I gotta say, pretty impressed with how he took this character to new heights. He showed a variety of complexity with Han Ji Hoon, especially when he's with his father. I think any characters most complex sides show the most when they are interacting with their parents. In MC, we see Ji Hoon show pretty conflicting emotions when he's with either with his mother or his father, and the way he acts with either of them are completely different. When he's with his mother, he shows his more childish and needy side for the love he was denied from her and yet expresses his aggravation towards her, for that denied love. When he's with his father, he's all business, very professional and very logical and direct, yet still shows an air of bitterness in his interaction with him. Loved how Ji Hoon grew up a little as he became more involved with Hye Soo. Hye Soo and Ji Hoon's mother mirror a lot with another seeing as how they both loved a man that left them, both try to do what they think is best for their child, and both, in the end, are also sick. We can see how Ji Hoon acts out a lot in the beginning towards Hye Soo, perhaps because he sees so much of his mother in her. But we see that love mature as does Ji Hoon's attitude towards his mother as well as
Uee, is a actress I've kept an eye on for a little while now since I watched her drama Ho Goo's Love. It wasn't the best written drama ever, but was mildly entertaining. I skipped High Society because I could just tell, it was not going to be good. But, seeing her act in Ho Goo's Love, I saw real potential. Any actor is going to start off rough as they gain more experience in grasping their characters and showing a complexity of expression and body language, so I don't blame some people saying that her acting was bad in the past. I'm sure any one of us would start off pretty bad ourselves in the beginning of an acting career. But in MC, her hard work has really paid off! I've seen such growth in her acting since Ho Goo's and that ugly crying scene is still leaving me with heart-wrenching feels! I feel that crying scenes shouldn't be pretty if they are coming from somewhere genuine, and if it is pretty, than the director/actor/actress is more concerned with how they look rather than performance. Uee really grasped her character well, and delivered an amazing performance as a single mother, struggling to raise her child in this harsh world. Uee performed Hye Soo with a silent strength of will. Most strong female characters I've seen in dramas, yell pretty loudly to project their strength, and that's not always a bad thing, but I've seen a lot of them do that, haha! Hye Soo is a refreshing take on a "strong female lead" whose strength is measured in her restraint and not her struggles. I really appreciate that Uee conveyed Hye Soo as a very level-headed and calm character despite facing so much struggle.Great job Uee!
A big round of applause to the child actress! It's pretty mind-blowing how old this girl is, and yet able to deliver a realistically believable performance in MC. There were no hints of line-reading, sounding like a robot, or flat-toned acting here. Which still blows my mind! You can tell that Shin Rin-Ah and Uee really bonded while acting and it shows through in their performance together, you really wouldn't believe that they aren't mother and daughter in real life.
This part of the review is sooooooooo long because the drama did so incredibly well because of our actors/actress performance here. Gotta give a shout out to the mother, Lee Hwi Hyang. I've seen her is several dramas, and started calling her the "Dragon Lady" when I first saw her in "Stairway to Heaven" because she often played the not-so-nice step-mother or mother-in-law, and also, she has a fierce look about her too. But really liked that she didn't play one in this drama though. We saw how she can be a very warm, kind and caring mother with an affectionate expression. Kudos to the whole cast as well!
MUSIC: Not really one to pick on the music of a drama, but I enjoyed the selections that they chose to compliments the ups-and-downs of the moments. Other than that no complaints. Like I said, not the kind of person who will pick on the music too much, unless it really doesn't suit the drama, or it did a really good job of complimenting it. Such as Kill Me, Heal Me, which I thought was an edgy decision to make it the dramatic theme song. Haha!
OTHER POINTS: Something I really wanted to point out, that I don't think a lot of people noticed is that the director made a very subtle, yet prominent decision to dress Hye Soo in very frumpy looking clothes and nothing too pretty either. If you noticed the way Hye Soo dresses, outside of work, she dresses in very comfortable and loose clothes because she's a mother. Mothers are usually too busy taking care of their child or paying the bills to be concerned with the way they look, and I think this makes the feelings Ji Hoon has towards Hye Soo all that more genuine and real, because he fell in love with her heart and her inner beauty, not for her outfits or pretty face (although, I'm pretty sure that didn't hurt either, haha!).
All in all, I thoroughly enjoyed watching this drama! It's rare these days for me to find a drama that I look forward to watching every week and get pretty sad when it ends, but also pretty happy that I saw it. I took away one point because of the lack of a need of Na-Yoon as a character and really how unrealistic the father turned out to be in the drama as a whole and how they never delved deeper into his character either, but other than those two factors, I thoroughly enjoyed watching this and would put this as a re-watch drama and do RECOMMEND this drama to anyone considering watching it!
Was this review helpful to you?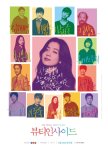 Every once in a while, there are movies like this that make me really giddy! I love movies that create a certain style of their own. It creates its' own atmosphere and stand out from the crowd. And I mean stand out in a "black sheep" kind of way.
STORY: I loved the concept of this story! I'm a huge advocate that you should never judge a book by its' cover, and this movie really conveyed the message that love transcends above all else. I enjoyed the realistic aspects it showed when it came to having this kind of ability of transformation. It treated the issue of transformation with fun and serious moments. The only problem I had with the story was, although it did a good job highlighting the issues and problems these two would come upon when they first started dating, it failed to highlight the simplest idea too. The dating. Yes, the movie did show the two of them spending time with one another. I definitely get that it might have been hard to really show that, when there were so many other elements the movie wanted to get to, but the foundation of Woo-Jin and Yi-Soo's relationship was built on a very typical romantic relationship setup. Two people meet, go on dates, and fall in love. There wasn't a whole lot of depth shown between Woo-Jin and Yi-Soo to really get a deeper feel of how special their relationship was to one another. But, I guess you can only put so much material into a movie, what with their budget, time-limit and all. Overall, I still really loved the story line and definitely appreciated the fact that they included different races, age, and even women and a kid (that was super cute!) as Yi-Soo's counterpart.
ACTING/CAST: I don't even have to note how much I loved the cast of this movie. It was amazing and was super cool to see so many talents rolled into one movie. The acting was great and could see how challenging it would be for all the Woo-Jin actors. I would just critique on the fact that Woo-Jin's personality and displayed character was a little wobbly throughout the movie. In most cases, actors/actresses have one character role and get to make it their own. Sometimes, there are cases where an actor takes on two character roles (reason being the two characters are twins) and do a great job acting out two different people, but it's hard for a cast of 25 talents (varying from gender, age and experience) to adhere to a single character role and work together to show a fluid and smooth performance that gives the audience the feel that they are seeing one person instead of many. I'm not sure how the director or screenwriter was involved in trying to get all the Woo-Jin actors to cooperate in how to show a singular Woo-Jin character, but there were times throughout the movie where I felt like I was seeing a different Woo-Jin then the one previously introduced.
MUSIC: Again, I'm not the type to really pick on the music selection. All I'll really say is that they picked the music beautifully because it really set the tone and created the style of the movie in the most perfect way. The only real reason a "MUSIC" section would be long, is if I felt the music didn't fit the style and the tone of the story of the production, at all. There's only one instance where I felt that in a Korean drama.
OVERALL: Overall, great movie! Loved it, and it left a warm cozy feeling in me when it ended! The actors/actresses, directors and staff members did an AWESOME job creating a very down-to-earth, laid back and almost "indie feeling" movie.
Was this review helpful to you?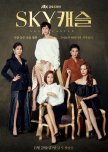 MY STORY RELATING TO SKY CASTLE:
This drama made me cry. I mean, ugly cry because a lot of the moments I watched throughout this drama related so much to many, if not all, moments in my own life.
I'm Korean but American-born. Though I wasn't reared in Korean society, my parents were still very much Korean traditional. It doesn't really matter where you grow up because your parents are the biggest influence you will ever encounter and will dictate a lot of what happens to you. I related really closely with Se-Ri though. Her story was basically my story. I'm an only child, no brothers or sisters. Me and my parents are the only ones in the States we can call family. I had a tough dad that always pushed me to think about the future. There were many many many times that he would force me to sit down at the kitchen table to lecture me hours on end past midnight about life lessons, how important getting an education is, and how hard and cruel life can be if I don't get it. I was only in middle school and he would go on to do this until I graduated high school. My mom was not a strong-willed person and often bent at the strong-arming of my dad.
I also lied for a time in my life about basically the same thing Seri because I feared disappointing my parents. The only difference is it wasn't Harvard but I did get accepted into a good university. I did OK during my first year, but because of certain reasons my grades started to slip and I eventually got expelled. I was no longer a student but I I couldn't bear to disappoint my parents and tell them that their daughter failed out of university and got expelled. I was also afraid of what my dad would do if he ever found out, just like how Se-Ri was fearful of what her father would do. So, instead of telling them the truth, I continued to pretend that I was going to school. I moved in with my friend after moving my stuff out of my dorm to continue the charade that I was still a student to my parents. My parents didn't know how to work social media and didn't really know their way around the internet but I would call them every now and then and tell them about my classes and friends on campus.
But eventually all lies surface in the end. They found out about my expulsion. I pretty much reacted the same way Seri did towards her parents. Of course I felt truly awful lying to them and knowing the kind of grief, sadness, and disappointment they would feel after finding out. But I was also at MY limit. I tried just as much as Seri did in her life to live up to the ridiculously high expectations her parents had for her. I remember a lot of moments in my life where it was suffocating living with my parents because there was no air to breath. But it was heart-breaking knowing that my parents probably didn't love who I was as a person, but loved me for being the kind of daughter who got good grades and did well in school. Anything less than an A was disappointing to them. Even when I got a B, they would always say "You could've gotten an A if you tried a little harder". What broke my heart even more though is that my parents probably couldn't tell me what my favorite color was, or what kind of music I listen to. They probably couldn't tell me what I liked and disliked. Because they never asked and probably didn't care if they knew or not. All they would ask me is "How was school?" or "Did you do good today?".
But anyways, a lot of things happened afterwards. It was a turning point in my life and changed me and how I approached life from then on. What had happened actually broke my family and I ended up moving out but after a year of being apart we were able to reconnect and pick up the pieces again. I think we were quite lucky to have come together because I know that lots of times when families break apart, it's unlikely that they ever have the chance to rebuild it, much less, want to. Me and my parents are together again now but we are still healing from the past and trying to change for the better. It's definitely not been an easy to do, but my parents have gotten much better at being the parents that I always needed them to be in the first place. So, more or less, it's a happy ending. But a bit bittersweet.
FIRST IMPRESSION: I put off watching this drama when it first came out because I judged the drama premise based on it's synopsis. Big mistake. It wasn't until later my curiosity of why everyone was making such a big deal out of this drama that I started watching it a month after it finished airing. This is by far one of the most realistic, gripping, human, relative, and controversial drama I've seen to date. The writing was superbly done with a good steady pace. The plot escalated when it needed to, and declined at the right moments. The cliff-hanger endings of every episode was done flawlessly. The depth of the characters and their development was spot on. The theme of the drama was perfect during these current times. Overall, basically perfect in every way.
STORY: The theme of the overall drama was well suited for how Korea handles the importance of education in their society. Many of the elements and plot points in this drama point to a very controversial yet unspoken side of how Korean citizens treat their children when it comes to rearing them. A lot of the moments told in this dramas related very closely, if not exactly the same, for a lot of children in the real world. Myself included. I got really emotional many times over during the whole span of the drama because a lot of the things that happen to these children, happened to me as well. It made me cry. Truly cry because the drama was not shy to show the rawness of situations like those. It didn't make the issues any more or less than what it really is. The plot itself was very well written.
ACTING/CAST: Honestly, I think this is the first time I'm watching most of these actors/actresses in any drama. There are a few I recognize but most of the main cast I saw for the first time for me. I can't praise enough how extraordinarily talented these actors/actresses were in this drama. It was provoking, touching, heart-wrenching, and amazing. The children cast in this drama also did a fantastic job! But I honestly have to sing gospel praise for Yum Jung-Ah (Han Suh-Jin / Kwak Mi-Hyang) and Lee Hyun-Jin (Coach Kim) for their incredible acting skills. But I have to say that everyone in this drama were just as spectacular with their acting. No matter how small the role, or how little the screen time, every actor/actress made the most of it and displayed their best acting skills forth.
MUSIC: I'm not picky about music and in most of my reviews I don't say more than a few words or a sentence but the music in this drama was well-picked and well composed. Especially the theme song for the drama. It's beautiful, dramatic, and relative to the theme of the drama itself too. The decision and usage of Erlkonig was perfect match to Coach Kim's theme song. The musical choices in this drama definitely sets itself apart from the typical musical choices typical dramas have in their soundtrack. Great job!
OVERALL: This drama was pretty cathartic for me but overall, objectively, I think it was perfect. I really can't poke any holes in it to be honest. Even about the last episode. Some people may have been a bit disgruntled of the lack of going-ons in episode 20 of SKY Castle, but I thought it was a wise decision and a refreshing one to write an easy going episode like that. I especially LOVED the contrast we see from the beginning and ending. This contrast we see from the first episode and the last episode was really beautiful and subtle moment. I appreciate how the writer was able to show us this.
Though the last episode wasn't really eventful it still held a purpose. When a drama ends, I think we can all imagine how everyone exhales after holding their breath for so long, but in most dramas the short sweet happy ending is short-lived and only serves it's purpose of showing smiles and exudes an "all is well" moment and ends the drama. After it's done, sometimes we get a sense of anxiety because after all, we invested 16-20 episodes in watching a situation escalate, then the drama reaches it's peak and drastically cuts down to a happy ending and then THE END. I think episode 20 of SKY Castle served more in the purpose to help the audience take a breather. To better adjust to how things ended. Yea, it's a happy ending but it's also important to know that even after a happy ending, life still goes on and when it does, it's pretty mundane. But usually, mundane moments in life are sometimes the happiest ones.
Was this review helpful to you?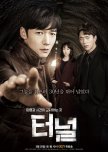 Tunnel
4 people found this review helpful
I think I'm liking OCN more and more. They spawned one of my favorite dramas, 38 Task Force, which was creatively done and very "edge of the chair" entertainment. The cast was phenomenal and did an amazing job in their acting roles, but I digress this review isn't about 38 Task Force, but Tunnel.
STORY:
At first, I hesitated to watch a supernatural/time-travel Korean drama because they can often be a hit or a miss, 50/50 shot. They are either terribly good or terribly bad. The problem with these kinds of fantastical/super natural element-ed dramas is that the writer either over emphasizes on the theme and over does the "drama" part of it. Kind of like trying to reveal everything way too quickly in the story and mistaken it for plot points. Either that, or a writer doesn't know how to properly use the element and just hashes a bunch of popular techniques seen before and comes out with something that doesn't make sense and again, becomes boring.
The writer, Lee Eun-Mi, did a rather splendid job at pacing the story just right and putting in the element of time-travel in the appropriate places. A week ago, I had wished that they extended the drama to 20 episodes, but I'm glad that that's not true because 16 episodes was just right for the pacing.
What I'm even more impressed about this drama though is their accurate use of the psychological side of understanding a serial killer. Lots of people often don't understand that serial killers aren't born killers, they are made and I'm so glad that the writer took the time to properly insert psychological understandings of why people kill. I even hope that this educates people who watch this drama a little bit about serial killers. Not saying that's a full course but definitely a taste. Applause for the writer to go to the legnths to do their research to display the psychological side of this drama more accurately. I've seen some pretty bad impressions and tries at psychology in Korean dramas and I will say I'm less than impressed. (Side note: I studied psychology and am still self studying to this day, so I may be more passionate about it than most, haha)
ACTING/CAST:
What a great group of casts! I have to be honest and say that I have never heard of seen the main male lead (Choi Jin-Hyuk) before anywhere until I did a little research and saw he was in Pasta but as a minor supporting character. But it looks like he's come a long way and say that this drama will hopefully help him along his career! His acting was naturally done and rarely ever thought that a line or a nuance was staged or overdone.
I also have to admit that I have never heard or seen the main female lead (Lee Yoo-Young) before either and come to find out that this is her FIRST drama! Well done Yoo-Young! Her take on the female lead was realistic, not too over the top either with the cold exterior persona and was a believable portrayal.
I have seen Yoon Hyun-Min before in the drama "Beating Again" and "Heartless City" but as the second lead and happy to see him finally getting some much deserved attention and a romantic happy ending. He definitely has talent but might not have been noticed due to previous dramas. I feel that his scripts always kind of kept him back from really stretching out but Tunnel gave him the chance to show everyone what he's got!
MUSIC:
Nothing to complain really. If anything, I thought the music selection was a little too dramatic when trying to heighten the dramatic/cliffhangers moments but other than that, I'm really not the kind of person who picks on the music unless it was an extremely poor choice.
OVERALL:
Awesome drama and recommend others to watch it too if you are interested in a little serial killer - time travelling - mystery - in the future! Haha! Another great drama produced by OCN. Will be keeping an eye on OCN now and have my sights set on 'Duel'.
Korea has always been known for their romance and melo-dramas but SO HAPPY that they are FINALLY branching out and exploring other genres! I cannot tell you how HAPPY this makes me because frankly I've been watching Korean Dramas for a good chunk of my life and with the amount of romance dramas I've seen in my life, I can safely say a lot of the romance dramas seem to borderline tacky, nonsensical, and almost hateful when you see how tragically weak and helpless the lead female characters are. By no means am I a feminist BUT I can't stand to see characters fall into the "damsel-in-distress" pit. For me, it's more a personal thing, and think it's kind of annoying.
But, I'm happy to see that writers are FINALLY giving these female leads some strength and not that fake " I'll punch you in the face, but not really because I'm just putting up a front for my fragile heart" kind of stuff. These days, writers are finally giving characters some dimensions to their personality and not just existing for the sole purpose to ruin someone's life because they secretly love them. The female lead in Tunnel was given a strong persona. Not the best effort in giving a female character some dimension, but it's a good effort on Korea's behalf at least.
I've rambled on long enough and encourage anyone who bothered to read all of this, a thumbs up! Haha!
Was this review helpful to you?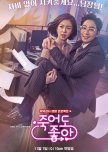 FIRST IMPRESSIONS: I really didn't want to watch this drama and judged the quality of the drama by its' cover, quite literally. I looked at the cover art for the show and immediately swiped left. There is no denying the veteran experience Kang Ji Hwan holds. He's one of the few actors who survived and endured the changing times of Dramaland during the early romantic comedy age in the early 2000s. I noticed that it's hard for actors who held male leads and popular during the early 2000s to hold onto their household celebrity notoriety and continue to be relevant and recognized in the industry today. One such actor that endured and managed to continue to stay relevant is Gong Yoo (at least more or less). Does anybody remember Biscuit Teacher and Star Candy (really weird drama name by the way)? That was the drama that launched Gong Yoo's fame to stardom. Or Lee Byung Hun? Although, he's reached far beyond Korean Drama stardom now and exploded into global stardom.
Anyways, my point is, Kang Ji Hwan has struggled a bit trying to keep his name relevant in the eyes of the audience. One of my reasons for not wanting to watch this drama is because of Kang Ji Hwan. And when judging the drama by its cover art, I thought it was going to be another stupid-romantic-comedy-antic-trope-type of show. Just full of cliches and typical stereotype situations and characters. But I was very bored one day and gave this show a chance and see what it was all about. And, I'm glad I did!
STORY: It's not unusual now to see dramas with some element of the fantasy/supernatural. It creates for a more interesting story, setting, and development of characters, but only when utilized in the right way at the right time. One example is, Black Knight. It had a good set up in it's world building when it came to its fantasy element but the writer seemed to have a hard time meshing the two worlds together (or maybe didn't want to) and continue to keep them separated almost the entire drama until the very end (really annoying). Feel Good To Die had a nice little supernatural element to it where it wasn't too much or too little. It was just the right amount of supernatural shenanigans to create fun chaos and a little push for our characters to spring into action with overdoing it.
While watching the first few episodes, I was worried that the show would turn out be without ANY romance it and be a slice-of-life, comedy, etc. focused drama, for example, Miseang, Angry Mom, Memory, etc. Granted, those dramas did have romance in it but it was more like a splash of romantic antics and was more like a side dish than the main one. I'm a sucker for romance and enjoy a few angsty scenes, haha, but was worried I would be wasting my time. Luckily, I was not disappointed in my desire for romance. It's not the main genre but it co-eds with another genre to create a lovely mix of rom-com life slice. As the drama goes on, you will see a good mix and weaving of comedic scenes, slice of life moments, and romantic pauses. The story definitely develops nicely towards the end but the ending itself probably could've used a little more nuanced touch, but nothings perfect.
Although, one complaint I had was that some of the main/side antagonist characters were a little overdone or completely unnecessary and simply existed for a momentary arc that didn't really push the story forward. But the little gem factor of this drama are the progression of the characters and how they develop and change over time. Especially the main male lead. At first, he's a pompous douche-bag that doesn't really care about anyone except himself and always pushes blame on others and views himself as near perfect when it comes to his work ethic. Often berating his underlings for their lack of effort and not satisfying his ridiculously high standards
ACTING/CAST: The cast did a good job bringing their characters to life and creating a fun synergy among one another. Baek Jin Hee really brought a helpful and optimistic Lee Roo Da to the table, but without being overly cheerful and peppy, if you know what I mean. You have no idea how many times I've seen a super happy, smile and grit, endure through the pain kind of female characters I've seen, only to cringe through it all. Baek Jin Hee's Lee Roo Da is a good example of a strong female lead. And by strong female lead, I don't mean willfully strong 'I-can-endure-and-bear-through-anything', I mean someone who thinks for themselves and takes matters into their own hands no matter what the male lead character or any character does or says. Doesn't just endure through it but does something about it.
Kang Ji Hwan: As mentioned before, he's one of the male actors from the early 2000s drama-times that has survived through all the changes that Dramaland has been through and still stay relevant. Unfortunately, one of the reasons why I didn't want to watch this drama was because of Kang Ji Hwan. If you've watched his previous dramas, you may notice that Ji Hwan had this acting tick that consistently showed through in almost every one of his dramas. He had this head jerk-swaying motion that he always did through intense and/or poignant scenes. I think this is just something that came naturally to him while acting, but it eventually becomes off putting (at least for me) when you see it all the time. He also wasn't the greatest with being nuanced and subtle in scenes that called for it to create a particular kind of moment. He can sometimes over exaggerate his acting as well so when watching this, I was expecting to see some of that when it came to Kang Ji Hwan's character Baek Jin Sang. I am happy to say though that I'm pleasantly surprised by Ji Hwan's efforts in keeping his head jerk-swaying motions at a minimum to portray Baek Jin Sang the way he wanted to. It still comes out every now and then but he's made great strides in controlling it compared to the past. His portrayal of Baek Jin Sang is also very refreshing. Ji Hwan has showed his hard work in delivering a character we never knew he could play and with such subtlety and dynamic nuances as Baek Jin Sang goes on this moral and social transformation. It wasn't perfect but definitely a great first step in improvement. I'm so happy for him!
MUSIC: No complaints. I'm not someone to pick on music unless it's really horrible or amazing.
OVERALL: This drama is about a two people's unlikely partnership to become better people in their own respective ways. Because of the mysterious time loops, they are thrown in some funny and silly situations but as time goes on, they also learn more about the people around them and, more importantly, learn more about themselves and who they want to become. The weird antics of time loops push Lee Roo Da and Baek Jin Sang into weird, wacky, vulnerable and heartwarming moments of life and what they decide to do in those moments.
WHO SHOULD WATCH THIS? This is a drama that mixes several genres together to create a nice blended, feel-good-about-humanity drama with a nice layer of dusted romance on top. Not super gushy but has it's cute moments. :)
Was this review helpful to you?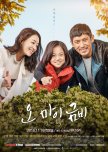 STORY: I love how Korean dramas have expanded farther than the typical romance and melo-drama. To be honest, I was getting sick and tired of all the stereotypical romance dramas because they are just so damn predictable and don't pull on the heartstrings as much as they used to when those kinds of stories were a trending thing. I'm so happy to see screenwriters submitting in new and FRESH drama ideas such as Oh My Geum Bi, which is a human drama. Yes, it does have a romantic element to it, but it's not the main focus of the drama. The main focus of the drama is the struggle of a little girl's diagnosis of a terrifying and incurable illness. It shows the slow progression of how the illness affects her and those around her. How her illness has affected people's lives and how she continuously struggles to cope with herself as it starts to take over her life. I loved the metaphorical representation they gave this illness as seen through Geum Bi's perspective in her mind. Kind of scary, but not terrifying. Not welcoming, but somehow comforting in it's own way. Although, I kind of wished that they didn't rush into the bad times of the illness. For 14 episodes, Geum Bi was a optimistic, level-headed and understanding child but the last two episodes seemed like they just wanted to skip to the struggling times of the illness to make things more dramatic and show a completely different Geum Bi who was more prickly, acted more her age by rebelling and yelling. It's definitely understandable that her illness would causes such behavior, I just wish it was shown more naturally through the progression of the drama instead of fast-forwarding to those hard times to make things more dramatic. Unfortunately, life doesn't have a fast-forward button and neither should representations of illnesses such as Geum Bi's. I think it would've been better to show a more natural progression of Geum Bi becoming more rebellious and behaviorally more difficult because of her illness.
ACTING/CAST: Cast was awesome! Especially Heo Jung Eun who portrayed our wonderful Geum Bi!! Her talent to perform a complex character at her age is more than impressive. Her acting was also very smooth and fluid and gave no hints of being out-of-character in her role. I gotta give props to Oh jI Ho too. He has experience with father-heavy roles in such dramas as "Single Dad in Love" and "My Little Baby" and he's always given a warm and fatherly vibe from his performances. That goes the same for "Oh My Geum Bi". I applaud his ability to mold and show different kinds of father auras though. Being a parent is always a simple yet difficult thing to represent in acting roles. Parents all have the same kind of heart, but they don't all express their affection and emotions the same way. Oh Ji Ho shows a multitude of expressions of fatherly love in 'Oh My Geum Bi' and his past dramas as well.
MUSIC: Loved the chorus song. It fit the atmosphere of an angelic yet tragic feeling of what is Geum Bi's illness. Nothing to complain about here.
OVERALL: Great low-key human drama. It had just enough drama but nothing overly-dramatic either. I like dramas like that because it tends to give off a more realistic view of how illnesses and hardships really are like in life. In real life, when you're going through a tough time, it's not really all that dramatic as you would see on TV. It's slow, quiet and unrelenting. I think drama highlighted that well. The only real "dramatic" thing in this drama was the Cha Chi Soo, our former-protagonist who was involved in some bad things and dragged Geum Bi into his world for a little bit. But other than that, really enjoyed it otherwise! I'm seeing a happy trend of these kinds of slice-of-life dramas becoming more popular in the Korean entertainment industry and really look forward to more.
Was this review helpful to you?