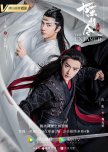 A once in a blue moon treasure that is enchanting, magical and extremely addictive
After being sorely disappointed by the infamous 'Descendants of the Sun', I've learnt that the 'hype' surrounding a drama does not always translate to an enjoyable watch for everyone. So when this massively popular show popped up under my radar, I wasn't sold yet. At the time, I didn't get why 'The Untamed' was so popular and well-received. The synopsis seemed messy, the cast did not consist of any veteran actors, and the production value was not very high. But after digging a little deeper and reading reviews and recommendations, it seemed as if everyone was loving this show. So I decided to give the show a chance to live up to its expectations. It only took a few episodes before I was completely hooked and now, 50 episodes later, I can confidently say that 'The Untamed' is one of the best Asian dramas I've seen to date. This show has cemented a place in my heart and I feel torn having to part ways with Wei Wu Xian and Lan Wang Ji and the cultivation world.
Story:
Not trying to take anything away from the acting, execution or production of the show, but the story is what elevates this drama into the tier of the elites. The plot is complex and the synopsis does not do the story justice. The show is based on the BL(boy's love) novel 'modaozushi' (魔道祖师), with the only major change being the lack of on-screen BL scenes. (mainly because of Chinese censorship. For me personally, this wasn't a particular drawback, because even without the direct display of affection, I interpreted the relationship between our male leads as something much more than just friends. Moreover, there is so much more to the story than just the relationship between the two male leads.) The generous 50 episodes means that the show can set the background and flesh out all of the characters thoroughly. The show may seem a bit slow-paced at first, especially in the few episodes of introduction, but then it rapidly picks up momentum and stays that way for the rest of its run. The show will take you on an epic adventure filled with action and battle, but also goes far beyond just that. There is an emphasis on relationships, whether it'd be friendship, sisterly/brotherly love or romantic love. Although the major focus of the story is the 'bromance/love' between the two main male characters Wei Wu Xian and Lang Wang Ji, the rest of the characters are interesting and layered as well. The storyline is well-paced, exciting and balanced, setting a solid foundation for the show to build upon.
Acting:
The voice actors for the characters were phenomenal and bought depth and emotion that most normal voices just cannot achieve. There are many notable mentions for the cast, but let's first talk about the two male leads. Xiao Zhan who plays Wei Wu Xian brings his lively, playful and good-natured character to life. Wei Wu Xian is portrayed in a way that makes him very easy to like and to root for. Xiao Zhan conveys his emotions through his vivid facial expressions and gives a very natural performance. Wang Yibo who plays Lan Wang Ji may come across as a little stiff and emotionless at the start due to his polar-opposite personality compared to Wei Wu Xian. But he softens up throughout the drama and I found Wang Yibo's ability to convey with his eyes particularly impressive. A standout for me was Meng Ziyi (Zoey) who played the character Wen Qing, a top doctor of the Wen Clan. Her character was strong and independent, and although she has a cold, harsh exterior, she has a good heart and righteous intentions. My view on her character changed drastically throughout the drama and I went from initially disliking her, to her becoming one of my favourite characters. And to top it all off she's very pretty.
Cinematography/Effects:
The visuals of this show are splendid. The production value may not have been very high, but the show was still very aesthetically pleasing to watch. Lotus Pier and Cloud Recesses, the home of the Jiang sect and Lan sect, were breathtakingly beautiful, especially the amazing natural landscape. The special effects were nothing exceptional but they served their purpose and did not look exaggerated or choppy. The decorated robes worn by the characters gave them a noble, majestic look. The editing and directing was done well and the show was consistent and smooth throughout. In terms of the overall viewing experience, this show is very beautiful to watch.
Soundtrack:
The soundtrack of this show is easily one of my favourites. The obvious highlight is the duet by Xiao Zhan and Wang Yibo "无羁 / Unrestrained". I really liked the use of traditional instruments in this track, especially the bamboo flute. It was also a nice touch to have a solo, duet and instrumental version of this song. Even though the three versions are similar, the duet felt more powerful and emotive, whereas the instrumental was less pronounced and more of an accompaniment. I also grew to like the bamboo flute as an instrument because it can bring out so many different emotions, especially the sad and reminiscent ones. The sheer number of tracks released also prevents the soundtrack from becoming repetitive and allows different tracks to be used generously to establish the mood and enhance scenes.
Sometimes the best things in life creep up on you unexpectedly, and all it takes to discover them is a bit of patience and an open mind. Just like how one shouldn't judge a book by its cover, before you decide this show isn't for you, give it a watch. It only took a few episodes of 'untamed' magic to shatter my assumption that the show wouldn't be to my liking. 'The Untamed' is a rare gem that lives up to the hype. Definitely give this drama a shot and discover the wonderful world that awaits!
Was this review helpful to you?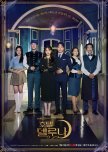 An aesthetically pleasing, original fantasy drama
When I saw that IU would be cast in this drama, I felt that I had to give it a shot, and I'm glad to say that for the most part, it did not disappoint. Without a doubt, Hotel Del Luna is my favourite kdrama of 2019. There is plenty to love about this drama, ranging from its stunning cinematography, decent storyline, excellent cast, oh and how could I forget: the most beautiful OST in kdramaland.
Plot/Storyline:
I thought that the writing was pretty solid throughout the drama. It is refreshing to watch a drama that ventures into foreign territory and breaks free of the traditional kdrama tropes and cliches to explore the less commonly visited genres of horror (though I wouldn't really consider this drama to be scary at all) and fantasy + romance. The plot is layered and has some depth, with plenty of twists and turns to keep you on the edge. The main character Man Weol's story captivates you right from the get-go, as the show uses flashbacks very well to reveal small snippets of her past at a time, causing you to be curious about her past, and eager to find out more. The generous use of humour also helps to balance out some of the heavier, more emotional scenes, while also allowing the drama to be easy and fun to watch throughout its lengthy episodes. Personally, the ending did not play out exactly how I had hoped it would, but it was fitting to the themes of this drama and very beautiful to watch, as well as very emotional. The drama explores the themes/ideas of 'letting go', 'resentment', 'unselfish love' and 'forgiveness', which are all very meaningful, thought-provoking ideas, not just in the context of this drama, but these themes also have a place in our lives as well.
Elaboration on themes for those that are curious:
For example, the drama shows that it takes a greater act of love to let go than to hang on, which the same can be said about many situations in life. Suppose this: a severely ill person is given a few months to live. His family can choose to convince him to receive the surgery that would extend his lifespan by a significant amount, but which would also drastically reduce his quality of life (place him in a vegetative state), or let him die naturally of his illness. One may argue here that the greater act of love is to let go and allow the man to live out the rest of his days to the fullest, eventually dying a dignified death, rather than trying to desperately hang on and cause the dying man even more pain. Don't quote me on this sketchy analogy, but this is my best effort at trying to explain the themes that the writers explore in this drama.
Cinematography:
the cinematography of this drama is frankly top-notch, and can be compared to the likes of dramas such as Goblin. It is that good. The elements of fantasy were conveyed by great camerawork, skillful use of special effects, and excellent editing. The drama truly bought the supernatural fantasy world of ghosts to life, creating a vivid and charismatic viewing experience. It is difficult to describe in words, but once you see it for yourself I'm sure you'd agree that it is spectacular. The production team also did a phenomenal job of picking out Man Weol's outfits. IU looked absolutely incredible in pretty much all of her scenes, and I've lost count of the number of unique, beautiful outfits that she wore throughout the drama.
Acting:
the cast for this drama is a highlight for me. After watching IU's brilliant performance in 'My Mister', she was one of the main reasons I came across this drama in the first place. The drama is largely centred around her character Man Weol, and she absolutely nails her performance. She plays her character like it is second nature to her, effortlessly conveying emotions through her facial expressions, while also managing to bring out the complexity of her character. Her character is the focus of the drama, and IU does an excellent job in portraying her character's growth arc in the drama, all while making it seem very believable and authentic. And as a bonus, she looks absolutely gorgeous flaunting her giant wardrobe of high-end clothing. Furthermore, this drama exposed me to Yeo Jin Goo, who also delivers a very commendable effort and holds his own against IU. He appears to be much more mature than his age (considering he is only 22 years old), and the scenes of him breaking down emotionally feel raw and sincere. The chemistry between IU and Jin Goo both on and off the screen is also evident, and the relationship they develop seems to be very natural and genuine. The supporting cast also complements our two leads well, providing some comedic relief and some interesting side-story.
Soundtrack:
Although the soundtrack is supposed to complement a drama, Hotel Del Luna's soundtrack is far from ordinary and deserves a shoutout. Not only does the OST include big-name artists including the likes of Taeyeon, Punch and Heize, the tracks also have excellent synergy with the drama. The OST helps to effortlessly set the mood of multiple scenes and makes the emotional scenes even more powerful. There are many excellent tracks in the OST, but the standout for me is the special, unreleased OST by IU that is used at the end of one of the episodes. This track only plays once throughout the drama, but it merges into the emotional scene perfectly and elevates it to another level. (end of ep 12, )
Overall, this drama performs strongly across the board and ticks many of the right boxes for me, other than a few imperfections here and there. Although I wouldn't call this drama perfect, it comes pretty damn close in my books. I think I'm already experiencing withdrawal symptoms having finished the final episode an hour ago. It has been one heck of a ride, and now that it's over I feel like there is an empty void within me that's not going to be easy to fill. But giving credit where credit is due, hats off to the Hotel Del Luna team, as they have created something quite special and unique. Worth a watch, especially if you're an IU fan, as this drama is all about her.
Was this review helpful to you?