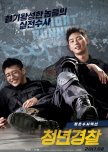 I recommend watching this movie absolutely!
The plot is simple, dynamic, captivating and fun!! Overall the movie is satisfying and leaves you with a smile especially for the amazing collaboration between Park Seo Joon and Kang Ha Neul! I laughed in some scenes only because of their expressions and their way of doing things, they interpreted the character well! They are a really great team, a perfect bromance! Their friendship seems real and not acting!
I think this gives a big score to the movie! In addition there are also serious, sad and scary scenes with regards to villains.
It's a very good movie and I would like to see another movie or a drama with them!
Was this review helpful to you?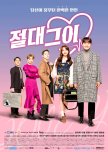 This review may contain spoilers
40 episodi possono sembrare esagerati (il numero degli episodi è la prima cosa che vado a vedere in un drama!) Ma è davvero piacevole vederli tanto che alla fine ne vorremmo anche di più!
C'è un giusto equilibrio tra alcune parti un po' noiose e i colpi di scena pronti a spingerci a vedere subito l'episodio successivo!
Pensando alla trama è strano vedere un robot come protagonista della storia d'amore e il meraviglioso attore famoso come second lead! Soprattutto perché anche se in un primo momento risulta egoista in realtà ama veramente Da Da. Ma il rapporto e i ricordi che si creano con il robot sono così semplici e speciali che è solo questa la parte più importante e significativa!
Mi è piaciuta molto la recitazione di Yeo Jin Goo e Bang Min Ah (non avevo ancora visto un loro drama)
Young Goo sembra proprio un robot che diventa umano, inizialmente le sue espressioni e i suoi movimenti appaiono finti e statici per poi diventare più naturali e spontanei.
Da Da nei primi episodi non mi è piaciuta tanto ma poi mi sono resa conto che ogni volta che piangeva, sorrideva o era preoccupata faceva cambiare il mio umore e mi sentivo pure io triste o felice! (In realtà mi capita spesso di commuovermi guardando un drama ma qua ho pianto troppo davvero troppo!)
Gli altri protagonisti sono più o meno sopportabili, anche se certi comportamenti in generale per ogni personaggio sembrano scritti per forza, solo per aggiungere qualche scena in più!
Mi sento di consigliare la visione di questo drama! L'unica cosa che manca è la fata turchina che trasformò Pinocchio da un burattino a un bambino! LOL <3
Was this review helpful to you?