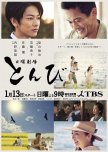 Tonbi
30 people found this review helpful
I decided to watch this purely for Sato Takeru, I had little interest in the actually story but I was pleasantly surprised at how brilliant this series was!
For me the story was nothing special, a single parent raising his child with the help of his friends. It's not a plot that stands out to me but boy how wrong I was! The story was emotional, sweet and touching for beginning to end as we see the characters grow and learn through the course of their life. I loved the setting and the time period of the plot as it wasn't something I had expected - covering the childhood and adulthood of Akira. It gives the chance to bond with the character as you watch him grow into an adult and in turn grow to love them. For me, the story was executed flawlessly, there weren't any plot holes and any questions were answered. It's a slow paced and a slice of life kinda drama but there is never a dull moment.
As mentioned I watched this for Sato Takeru he was brilliant throughout the whole series. He played his role perfectly as such a complex character, who had experienced many downs in his life, in such a simplistic and innocent manner can be down to the actor. The child actors that played Akira were also brilliant as it can be difficult to carry the same character through various people, but these actors made it feel like they were all the same person.
But as the story develop my focus turned to Uchino Masaaki. He was wonderful playing the "dumb" dad he portrayed his character beautifully and realistically I've never seen any of his dramas but he was incredibly in this! He made me cry, laugh, cry, laugh, crying and laughing at the same time! His acting draws you into the story and despite my bias towards Takeru, Masaaki brought this story to life. A round of applaus to the supporting cast as well because without them the series would lose it's spark. The support from his friends are enviable when watching it you think "wow, I want friends like him." The whole casting had great chemistry and bonding there isn't much more I can compliment on cause it was simply brilliant.
The music is very simple and nothing memorable but does well in emphasising the emotions of the characters.
I will definitely be rewatching this series again because it's just beautifully made and well executed. For me it's a absolute gem! The story and acting ticked all the boxes for me parenthood, friendship, loss and growth through a genuine and realistic story. The bonding between friends, father and son was exceptionally beautiful. There was never a dull moment and before you know it you've already finished it and wanting more. The story was simple and geunine along with great characters and acting this is really a must watch! It makes you appreciate the things in life you take for granted.
Was this review helpful to you?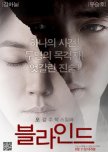 Blind
28 people found this review helpful
I wanted to watch this because of Seung Ho even tho the plot seemed intriguing it wasnt the main reason why I wanted to watch it. I AM SO GLAD I WATCHED IT!! It's a movie that makes you think about people with disability and introduces various emotions through the acting and music. It touches the problems with society and I really enjoyed it!! MUST WATCH!
Story: for me the story was really different and unique. A blind person's testimony versus a normal person's testimony. Which do you trust? I felt the story was really well written. It was intense, exciting, heartwarming and thrilling. I loved and hated the baddie at the same time because he was beautifully performed but what he did was creepy, chilling and ever so hateful!
Acting: The dog alone should get an Oscar, she was just brilliant and beautiful! Once again Seung Ho shows us his brilliant acting skills, although he has played a troubled teen before the acting and character he played this time was different and I thoroughly enjoyed watching his character grow. Also the chemistry with Ha Neul worked well. Standing ovation for Ha Neul tho! She did an excellent job, you felt her pain and sadness plus her fear. She did a really good job - in You're My Pet she didnt realy stand out and her character was a bit flat so in this movie I was really impressed!! The acting was really touching I cried many times throughout the whole film. The acting really pulls you in and I thought the actors did an excellent job in expressing the emotions and it sucked me into that world. Before I knew it I was rooting for the leads, becoming really protective of the characters (I wanted to kill the stalker myself!!) so if a film has such effect it's bound to be good. 
Casting: there was no problem with the casting I thought everyone was perfect for the role. And as i mentioned earlier Ha Neul didnt seem fit at first but she pulled the role off really well. 
Music: the music accompanied each scene perfectly. It effectively made the scenes tense and thrilling, sad and heartbreaking. The music made me on the edge of my seat and at the same time curl up in my duvet because it was frightening plus the acting I felt like I was part of it. 
Overall: I would definitely watch this again. It provokes a variety of emotions pulling you into the movie. The acting was superb and the story was well written and developed. The only downside would be the ending, I loved the ending but I would have liked to see more! 
Was this review helpful to you?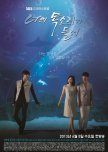 This drama touches on love, friendship, hatred, and mentality. It also heavily focuses on morales through a beautfiully shot and poetic narrative that is not one bit slow or boring.
The story can be said is average, the characters learn about truths and humanity through court cases and thus grow as human beings. But what really interested me was the supernatural element that was perfectly incorporated into the storyline. I loved the talent that Soo Ha had it fitted well with the story and it worked. It didn't seem out of place and it was consistent. His mind reading wasn't the main focus and thats what I love about it even more. It also made the voiceover justifiable and enjoyable as we get to understand his mind as well as the depth of other people's minds. The story had elements of everything without being overwhelming and confusing. Supernatural power, court cases, personal scars and fears along with a light but solid romantic development this drama balanced it all out well. Really well.
I loved the development of the romance as it was just so sweet and honest - none of the typical kdrama setout. The legal aspect of it also impressed me a lot! Sometimes the main story can overshadow court cases but this didn't happen - whilst there wasn't a great deal of time focused on the court cases and the characters it did however focus on the process behind each case as well as incorporating some humanity into the justice system.
I don't want to reveal too much of the story but it definitely isn't stereotypical. The characters surprised me in many ways and I absolutely loved watching their interactions and their subtly and believable grow and development. It showed me that people aren't robots, personalities can change, hearts can change. Enemies can become friends, one-sided love can be heard and not every drama needs an evil backstabbing second female lead.
The acting was incredibly from all of the cast. There is not one that I can criticise. The perfect leads and supporting cast. When I first heard Lee Jong Suk, Lee Bo Young and Yoon Sang Hyun I thought it would be awkward and lack chemistry. Boy was I wrong! There was not one moment that I doubted the love the characters had for each other - it all made sense, it was realistic, hence without such a talented casts this would've have worked. Lee Bo Young who impressed me as the rude, strong and somewhat heartless Public Defender. Her character is comedy gold - her antics are just the funniest and I enjoyed watching her become a better person. I never noticed her before but now she's definitely on my radar. Her acting is definitely one of the best I've seen.
Lee Jong Suk, well his name says it all. He ain't the hottest actor in South Korea for no reason and damn right he deserves that, he made that character come to life. I can't see anyone else who could've done a better job or him doing a better job it really was done well. He made me smile so much and cry so much too that bad man! I love Yoon Sang Hyun as the loud, naive and trusting lawyer his character brought light into the drama and he made me smile (not as much as Lee Jong Suk though) with his awesome persuasion skills and definitely brought much laughter to the audience I'm sure.
The supporting casts are just as amazing as the leads. The most impressive was Lee Da Hee. This might have been how awesome her character was (surprisingly so!) but I thought she played her role as the Prosecutor so well. She's on my radar too!
The music was great the perfect companion to the emotions that this series showed. Now that this drama is finished it's the perfect medication to stop me from missing this so much. reliving the memories.
Yes I will be rewatching this because it's not sooo heavy that it's burdensome but not so light that it makes no connection with the audience (i.e. me) so I plan to rewatch it. Not soon but I will.
Overall, this is a well executed and written drama that continuously impressed me with the plot and character development. All the characters were unexpected and I loved every moment. I try to be as objective as I can, although it doesn't sound it this review is me being objective. The story and side stories were great. There is not much I can criticise about this drama. For me it had the perfect balance of everything. It made me smile, envious, cry, learn and grow essentially to be more understanding of people. All in all I loved and enjoyed this series so much. A must watch!
Was this review helpful to you?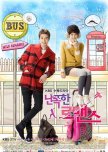 After WBDS had finished I found it difficult to find something interesting to watch and had been bored for a long time. The synopsis for this drama doesnt do good for how great this show actually is - an arrogant baseball player (Lee Dong Wook) meets a subborn and partially violent bodyguard who isnt very good at being an excellent boyguard (Lee Si Young)...due to an incident Si Young is forced to protect Dong Wook and through that brings great entertainment!!
The acting by Si Young is great and pulls off the character really well...never really likes her before but because of this drama I now love her :) she really does have great acting skills and Lee Dong Wook = umphhh :) think enough said there aha. Due to the synopsis I was reluctant to watch this but it was the funniest thing Ive seen in ages and pulled me in from the start. Im waiting every week refreshing the page waiting for it to be uploaded its addicting. The plot isnt the most original and its quite predictable but its worth it - such great laughs and its so cuuuute as well :) also there is a 'twist' in this drama that I didnt expect and Im dying to see how it turns out! Overall this drama is soooo worth watching - HILARIOUS stuff :)
It also has one of the best endings Ive seen in a long time it just makes you melt!! Lots of people have complained that there wasnt enough romance between Eun Jae and Mu Yeol and I'd have to agree. The plot sidetracked during the middle and focused too much on Jang Hee and Mu Yeol which was a bit boring. It also made the love Mu Yeol have for Eun Jae half-hearted therefore this drama has a major flaw. Even so I still have to say this was a GREAT drama then ending scene saved the show from its flaws and I really loved and laughed at every bit of it!!
Was this review helpful to you?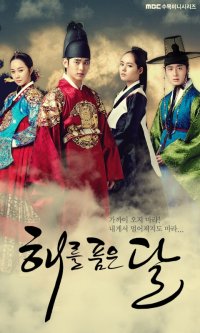 This review may contain spoilers
This series was so popular for a reason - defeating all the other dramas. Reading the synopsis it wasn't that interesting but I had heard it was good and on top it was a historical drama so I gave it a go and boy I am so glad that I did.
Story - I thought the story was different and unique in some ways. We have the conventional love triangle but its really different to the usual kdrama plots, from beginning to end the relationships do not change giving the characters more depth and life(SPOILER: although it did annoy at times when Jung Il Woo's character wouldnt let go) also it shows that love doesnt change which I thought was really admirable and inspiring.
The fantasy gives a great twist to the story because you don't usually get historical and fantasy working well together but this worked out really really well. It played a subtle but significant role giving it a different dimension. And most importantly, the love between the main characters were just heartbreakingly beautiful - it had made me cry and ache over the fictional couple many a times - the love was simply just....speechless. Thinking about the pain the characters go through just makes you cry. Although there are many sad parts in this series, there are as many laughs. For many episodes I have cried and laughed repeatedly - the heartwarming humour which dissolves the tense scenes making it easy to watch. The only thing I didnt like is probably how some of the characters were killed off, though justifiable I felt that they could have approached it in different ways or not kill them at all. This drama focuses on romance heavily with a some elements of politics and power - even though the struggle for power and status could have been explores further, the focus on romance was more than enough. If they explored those element then the show would have been too cramped and rushed (20 episodes would not have been enough - would have made it drag also)
Acting/Cast - well it was perfect. Seeing how I cried over this series and the heartache I felt for the characters you could probably guessed that the acting was simply phenomenal especially Kim Soo Hyun did an oscar-winning performance - no exaggeration. I was unsure of him at first but WOW he took my breathe away. Also the young actors/actresses deserve a lot pf praises as well because if they didnt do such a good job the adult actors wouldnt have been able to pull it off and bring the characters to life. Even if the story was not good the acting is well worth it - best acting I've ever seen in Kdramas. Personally I thought they could have casted someone else other than Jung Il Woo - I cannot stand the man so he ruined it a bit for me but thats my own opinion.
Music - again, perfect. The music fitted with all the scenes and enhanced the performances even further making it even more awesome than it already was. The music was just right. Love the OST, have it on repeat on my iPod ever since the series started.
Rewatch value - of course its worth watching again and again. I want to restarting watching it now and its only just finished!! I'm definitely going to buy the DVD and watch it on TV to get the full impact of its awesomeness!
Overall, this drama was fantastic - everything was perfectly executed that even if I wanted to I couldnt fault it on anything major. Not one moment of disappointment and in my opinion the ending was great - although I thought it was a bit rushed but even the PD's couldn't do anything about it since there was a strike. I love how every episode counts, usually missing an epsiode or so wouldnt be the end of the world but with this missing an episode was the end of the world aha (slight exaggeration). Throughout the drama I was on the edge of my seat, like a leopard ready to pounce. Outstanding performances was the highlight of the show and I am definitely following some of the actors past and future dramas without a doubt. It is soooooo worth losing sleep over!
Was this review helpful to you?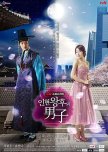 This has to be one of the best dramas I've seen! Everything was so consistent and even though it's a fantasy drama, it was realistic. It ticks all the boxes. Romance, Comedy, Action, Politics, Fantasy, Historical. Although there are many genres for this I feel that the writers balanced them out really well! The Casts were A-MAZING!!! The chemistry between the leads was just phenomenal.
The story isnt the most unique and it isnt the best. But its strong. Throughout the whole series there was no messing about. It was straight forward and straight to the point - no fillers or anything. Some dramas have over dramatic storylines and they simply arent convincing, while this one is. It is another time travelling drama but the mechanism of time traveling in this series is very different to the ones we have seen, so you can't really compare it to Rooftop Prince because both are very very different. It's an incredible fluffy drama but not over the top. It has the more serious and heavy element that plays a major part in the series, which was balanced really well with the lovely romantic scenes.
The Acting. Just WOW! Yoo In Na's first lead, and she did a REALLY REALLY good job. Ji Hyun Woo, also was amazing. Ji Hyun Woo isnt the best looking actor out there, but he shows intelligence and charisma through his character that I havent seen before and I fell for him. Just shows that looks arent everything really. Hee Jin, also is your typical ditsy lead but one thing that is unexpected is that she's actually clever and strong. She's really outgoing and bold, and this shows throughout the whole drama. She doesnt suffer from the typical i'm-oh-so-bold-but-after-episode-10-I'm-suddenly-unable-to-fend-for-myself sydrome. She can pull of the serious and heartbreaking scene extremely convincingly, before I know it, I am crying with and for her!
Both of these leads are definitely going to be within my radar from now on. The chemsitry between them are so realistic and sweet. My heart has suffered many palpitations because of these two! None of the shy touching-lips-slightly kisses but full on mouth-open kisses. HOT! They are so good to watch together. If nothing peaks your interest, then these two definitely will, I gaurantee it! The rest of the casts are flawless and pulled off their characters. What more can I say? A lot but I'm not going to bore you with how much I love Yoo In Na and Ji Hyun Woo right now :D! Be warned, you cannot stop smiling when watching this.
The music compliments the acting and the story really well and relate to the theme of the series. I have downloaded the full OST and I will enjoy it because it was one of the reasons that got me hooked from episode one.
I'm buying the DVD when it comes out so I will definitely rewatch this :)
Although some things aren't explained it's pretty much up to your own imagination to figure it out. And most probably you will be right. If you are looking for a romantic comedy with strong non stereotypical leads this is definitely the one. For me it was perfect in every way and I really cannot fault anything.
Was this review helpful to you?