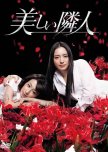 I hadn't watched a J-Drama since a long time as I was into K-Dramas lately. So, I picked up 'Utsukushii Rinjin' randomly when I was going through the Drama database of MDL. I read the plot and it seemed to be kind of... interesting. As I was only watching romantic stuffs and stories about the young generation, I decided to give this one a go as the story was different. And I am so glad that I picked it for watching.
You should definitely watch this drama if you are a fan of the suspense genre. The story is UNIQUE and UNPREDICTABLE, and it kept me wondering what was going to happen next.
The cast is awesome. Nakama Yukie and Dan Rei have done great acting there. The supporting characters are also pretty good. Nakama Yukie, especially, impressed me. She literally gave me the creeps!
The music is decent and suits with the drama. The occasional 'tik-tok' of the clock gave it a 'horror movie' feel as if at the strike of 12, a ghost would pop out of somewhere!
The reason why I gave this story a 9 is because I was not quite satisfied with the ending. I won't say I was disappointed but it's just that several questions that I had in my mind were remain unanswered. Also, I gave rewatch value a 4 because although this is a good drama, you probably won't feel like watching it again as you will already know what's going to happen next, and it is no fun that way as the suspense won't be there.
Overall the drama is a good watch. The story doesn't drag and it keeps you hooked.
Was this review helpful to you?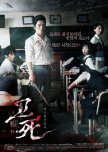 I came across this movie when I was going through a list of dramas and movies starring Nam Gyu Ri (I liked her in the drama '49 Days'). I realized that this is a horror movie and its synopsis interested me so I thought about watching it as I didn't watch horror stuff for a long time (and I'm a great horror movie/shows buff).
This movie has an interesting plot and it actually creates the anxiety in you that not every horror movies does. The story is pretty unpredictable, making you wonder what is gonna happen next. The ending was totally unexpected (at least I didn't expect that kind of ending). There is definitely blood and gore- feature of a typical horror movie but I don't think to the extent that will make you go 'Ewwww' and quit the movie.
The cast is fairly good. But I don't remember the music. Did anything really play in the background? I don't know. I was probably too busy watching people die one-by-one that my ears didn't pick the background music.
The reason I gave the rewatch value 8 is because this movie is highly thrilling and even though I will know what's going to happen next when I watch it again, it is fun.
To sum everything up, I would say that if you are a horror buff, then this movie is worth giving a try.
Was this review helpful to you?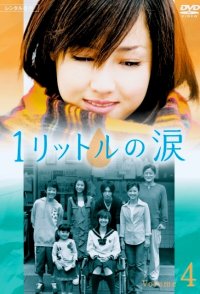 This review may contain spoilers
This is my 2nd dorama! I watched it this year in January during my winter vacation. Prior to watching it, I had read the story in Wikipedia so I knew how it was going to end up as I have seen and heard several such stories. Yet I was curious to watch it because it seemed to be inspiring. I had lost inspiration to do my work and was in urgent need of it. And needless to say, this drama did inspire me a lot.
I love the entire cast. Whether the main leads or the supporting characters, all of them act brilliantly. There are many things about this drama that I love. Seeing the happy moments that Aya-chan (Sawajiri Erika) and her family have are a treat. Those moments made me smile. Not to mention, Nishikido Ryo has done an awesome job. In the beginning, I kinda didn't like him because he didn't show any emotions at all but later on, I just fell for him. The romance between Sawajiri Erika and Nishikido Ryo is simple and sweet. Romance doesn't need to be portrayed by hugs and kisses always. This drama also brings forth the low mentality of some people in our society, and how physically disabled people are looked down upon.
I gave this story a 9 because I was not satisfied with the ending. The last few minutes, I feel, were rushed. Also there is another fact about the ending which I dislike but I don't think it is correct to mention it here as it maybe considered as a spoiler.
The music is a full 10/10. I love the OST and whenever I listen to it, I become emotional.
I'd re-watch it someday but probably not now because every episode is fresh and vivid in my mind. I'll probably watch it again a year or two later when I'm in need of some inspiration.
Overall, this is a great drama series and it certainly should be in your list. Even if you hate tragic stories, you should give it a try.
Was this review helpful to you?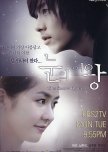 'The Snow Queen' can be defined as a romantic tragedy and slightly equivalent to 'A Walk to Remember'. I recently finished watching this drama. I picked it up because its story interested me. I expected it to be an intensely sad story and sure enough it was sad but contrary to what I expected, I didn't cry buckets. I remember shedding tears in the first two episodes. In the episodes that followed, I felt pain but not to the extent that I would literally start crying. So I started wondering- Were my expectations too high? Or am I now strong hearted enough to control my emotions? Surely, the latter one doesn't stand a chance. I am a person whose tear glands are in action once I see anything depressing on the screen. But for some reason it was different while watching 'The Snow Queen' and that's what surprised me. Then again I thought that maybe because I have read and seen somewhat similar stuffs before- a love story in which the female lead suffers from a disease- I became used to it. The drama is such that halfway through you would pretty much have an idea as to how it would end and some of you might as well guess it in the beginning as it happened in my case.
Nonetheless, this is a very good drama. And while according to me it could have been shortened from 16 episodes to 10-11 episodes, it is fine as I got to see the main leads and the supporting characters' hidden personalities. I liked it how the female lead- Kim Bo Ra, initially arrogant and cold hearted, slowly begins to transform into a better person and understands the true meaning of love and friendship. Sung Yu Ri plays her role as Kim Bo Ra really well. Not to forget, I liked her closet. Her hairstyle and dresses suited her character.
Hyun Bin has done justice to his role as the male lead- Han Tae Woong/ Han Deuk Gu who has gone through a lot and has been suffering from guilt. I liked his shabby, ruffled hair! And every time tears rolled down his eyes, I sympathized him and asked myself, "Why him? Why does he have to suffer so much?" Yeah, this is a drama in which the male lead sheds more tears than any other character. On a side note, I'd say that the concept of mathematics is well used here. For the first time in my life I felt like 'Yeah, maths can be interesting at times' but at the same time I felt like I am dumb because of all the complicated stuffs the male lead spoke and wrote. The drama portrays the love story of the two leads beautifully and in a very realistic manner though I have to admit that it does have a few clichés but that's alright because nothing is completely 'original'. There are some cliff hanging moments which makes it interesting to watch.
The OST is pretty good. I love the instrumentals more than the vocals; especially the main theme. It is simply beautiful and gives a 'fairy tale' touch to the drama.
To sum everything up, I would say that overall it is a beautiful Korean drama and if you love dramas with a mixture of 'rom-trag' (romantic tragedy), you should watch it. The story has potential and a good cast that won't disappoint you.
Was this review helpful to you?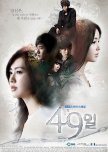 49 Days
4 people found this review helpful
"Live amongst people in such a manner that when you are alive, they crave for your company and when you die, they grieve over your death." ~ Imam Ali
After I finished watching '49 Days', I remembered the beautiful quote by Imam Ali mentioned above. It very well relates to the drama. This entire series was very thought provoking and it actually made me wonder about, well, a lot of things. It made me wonder about the people in my life- do they truly love me? It made me wonder about the people who might be backstabbing me while pretending to be caring and concerned for me. It made me wonder about my own life and death- am I living my life in the right way? What will actually happen to me after I die? These thoughts stayed with me long after I completed this drama, and I just HAD to jot them down here otherwise I would feel like my review is incomplete.
Speaking about the drama, there has got to be just one word to describe it- BRILLIANT. I had read the synopsis a long time back when this drama began to air but I was not quite interested in watching it because I was looking for some rom-com kind of stuff. After the drama was finished, there was a great hype among its viewers, following the reviews in its praise. So I decided to follow the crowd and gave this drama a try. And lo, I was hooked the moment I saw about the first fifteen minutes of episode 1 and I knew at once that I was going to keep watching it till the end because I believe in 'first impression' and do not continue watching any further episode of any drama if its first episode doesn't impress me no matter how good it is claimed by others. I believe this drama is truly a masterpiece. Hats off to the entire team who contributed in producing this drama.
The STORY is a perfect 10/10. It is not your ordinary love story. It is not even an exaggerated comedy or an annoying melodrama. It is a beautiful story with very realistic elements and human emotions although claiming it to be a fantasy. There are a lot of cliffhangers and twists that will have you glued to your chair/couch/bed/whatever! Throughout the drama, I used to make mini predictions in my mind about what's going to happen next but most of my predictions were proven wrong by the screenwriters. Just when I thought that 'okay, so this is how it is', something unexpected would happen which would leave me gaping at my computer screen and muttering, 'oooh~ I didn't expect that'. And yes, unlike a few people, I liked the ending very much. I don't think there could have been an ending to this drama better than this.
The CAST is a perfect 10/10. The two main actresses' performances are worth praising. I was really impressed by their acting, especially Lee Yo Won who had to put on two contrasting personalities and needless to say, she did it quite well. Nam Gyu Ri, as cute and pretty she is, her acting is also amazing even though we don't get to see her much on screen. Jo Hyun Jae is too good to be true. He had a great on-screen chemistry with Lee Yo Won and I wish to see these together in many other dramas. The antagonists are also pretty good and I actually found myself feeling bad for them in the end when I was supposed to hate them for all that they did. Oh, and how could I forget the handsome scheduler, Jung Il Woo? He was perfect there as a reaper. I liked how he was portrayed as a modern reaper, driving on a bike, listening and composing music- it was fun watching him.
The MUSIC is a perfect 10/10. I have the entire OST downloaded. The music is refreshing and goes very well with the drama. It adds to the enjoyment of watching this drama.
The REWATCH VALUE is 7/10 because if I rewatch this drama, the excitement I had when watching it the first time won't be there as I will know what's going to happen. But still, this drama is not completely non-rewatchable because it is very pleasing to see the character development, the on-screen chemistry between Lee Yo Won and Jo Hyun Jae, and the consequences of the antagonists' actions. So, I will be watching this again later on when I would feel like.
Overall this drama is very entertaining and thought provoking as I said earlier. It is definitely something to be watched. So, I would say that it is HIGHLY RECOMMENDED. I am glad that I watched this drama and I hope you would too if you haven't yet.
On a side note, I would like to say that I love the DVD cover of this drama. It is simple and has a magical feel to it.
[Phew! This is probably the longest review I have ever written till date]
Was this review helpful to you?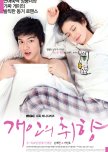 'Personal Taste' is my 2nd Korean drama. I read its synopsis and felt it was worth giving this series a try. It was pretty enjoyable. The comedy is light and not exaggerated. A few remarkable scenes made me giggle, and I clearly remember, I cried twice. The cast is good. Son Ye Jin, Lee Min Ho, Kim Ji Suk and Wang Ji Hye fit their respective roles. Han Chang Ryul (Kim Ji Suk) is supposed to be hated as he is the antagonist but I liked him instead as towards the end, I developed a soft spot for him regardless of the fact that he made the protagonists suffer. I liked the character Park Gae In (Son Ye Jin) because I could somewhat relate myself to her- clumsy and being taken advantage of. Lee Min Ho's good looks are a treat for the girls. Initially, the drama kept me hooked and I was like 'I wanna watch the next episode NOW' but midway, it lost its charm though not completely. But basically, I didn't feel the urge to move on to the next episode and complete it in one single day if I could as I felt during the first few episodes. I wanted to see the ending (though I somewhat had an idea as to how the ending would be) and that's why continued watching it despite feeling utterly bored and annoyed during some parts. I would say I was not completely satisfied with how the drama ended. There were many things I expected to happen in the concluding episode but they didn't happen.
This drama series has a few good soundtracks. I like 'Can't Believe It' by Younha the most.
On a side note, I would like to say a few things regarding the outfits of the actors. The ladies were well dressed as per their character. I especially liked Wang Ji Hye's hairstyle. But the problem seemed to lie with the men- Lee Min Ho's slightly-above-the-knee length coat looked kind of weird if you ask me. I don't know if that's the fashion among the men in Korea but whatever; I didn't like it. Also he carried this handbag while going to his office which made him look girly. I couldn't help but notice this. Talking about Kim Ji Suk, his coat and pants occasionally had funny color combination. Like in one episode, he wore a black coat and red pants!
Overall, this is a good watch if you are a rom-com fan. It has a good story line, a bunch of funny moments to make you smile and moments which will make you go 'awww'. However, I don't think I will re-watch it.
Was this review helpful to you?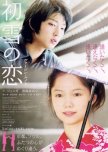 This movie is a hybrid of Korea and Japan. The male lead is a Korean who has moved to Kyoto in Japan, and the female lead is a Japanese who lives in Kyoto. The synopsis of the movie interested me and I was eager to watch it. I expected a lot but they say, 'The higher the expectations, the bigger the disappointment' and that exactly implies to me after I finished watching the movie. In the end, this is just another story of two people meeting each other and falling in love but then they separate due to some circumstances. I didn't find any 'cliff hanger' or something that would make my eyes glued to the screen. Occasionally, I found myself considering the idea of quitting it and watching something else but then I was a bit curious to watch the ending even though it was a bit predictable. I thought that perhaps the ending would make me say, 'I don't regret picking up this movie.' But that didn't happen. The ending wasn't any better. It was just OK and exactly to what I had predicted. I didn't quite like the romance between the two leads.
The ONLY aspect of this movie I liked is Lee Jun Ki and his acting as the male lead 'Kim Min'. He did some good acting there as a Korean guy isolated in Japan, coping with the language barrier. But I didn't like Aoi Miyazaki as the female lead 'Sasaki Nanae'. She looked like a kid there, and she and Lee Jun Ki didn't look much good together. I won't say her acting was anything great either. She pulled it off somehow.
I don't remember the music though I watched it just today afternoon. I think the soundtracks were just fine and suited with the scenes in which they were played. Nothing special or worth listening to by downloading the OST. At least I won't.
If you are looking for a TYPICAL love story, you may watch this movie. But if you are looking for something unique, I don't think you'll enjoy it much.
Was this review helpful to you?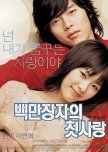 This is not the first time that I have come across a story in which a guy and a girl fall in love and the girl has some kind of disease. 'A Millionaire's First Love' has traits of a typical tragedy- the leads- one is rich and spoilt and takes things for granted, the other is poor and lives, coping with the severe hardships of life. At one glance this movie is a cliché. Once you read the synopsis somewhere, the movie will start playing before you and you can easily predict the ending. The same applies to me. However, since I am a fan of tragedies and like to torture my eyes by bawling them out, I watched it. This was one reason. Another reason was the movie's popularity. I have heard a lot in its praise.
I liked the cast. The two leads did brilliant acting, especially Hyun Bin as Kang Jae Jyung. Lee Yeon Hee as Choi Eun Whan was perfect. This was my first time seeing her on screen and I was impressed. 'The Snow Queen' is a Korean drama with a similar story starring Hyun Bin but his character in it is completely the opposite of what it is in this movie. The music is pretty good and it fit into the scenes well. The only thing that bugged me was that the male lead realized his feelings for the female lead too quick. There was hardly any interaction between the two and the next moment, they were in love! It felt as if the director just wanted to make the two fall in love but didn't give a thought to show HOW. So yeah, it was kind of a turn-off from the point of a romantic stuff watcher. But the positive side is that the two leads were successful in touching my heart. I could relate myself to them and feel sympathy. At the end, I couldn't help but cry. As I said earlier, the ending is pretty predictable once you read the synopsis or watch the first half of the movie but still I couldn't help but feel the pain as if it was not how expected it to end.
As for the rewatch value, I don't think I'll watch it again for now but perhaps after a long time when I would feel like watching something sad.
To sum everything up, I would say that this movie is for you if you like tragic love stories (and if you are another Hyun Bin fan!)
Was this review helpful to you?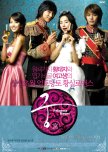 Goong
0 people found this review helpful
Okay, so I have been thinking about writing a review for 'Goong' since a long time but for some or the other reason, I always tend to forget about it, and it is only after shutting down my laptop that I remember that I was supposed to write it :\ Ah, well, let's move on now that I am actually writing one!
'Goong' happens to be the first K-Drama I watched :D I started watching it because I had read the manhwa and was curious as to what the drama is like. And I feel, the drama is better than the manhwa. That's just my opinion. Yoon Eun Hye (Chae Gyung) and Joo Ji Hoon(Shin)'s acting impressed me. Overall all the actors, whether they are in the lead roles or in the supporting roles, have done a great job. But I especially salute JJH considering he was formerly a model and was not much recognized in the field of acting but his role in this drama as the Crown Prince- Lee Shin gained him many fans (including me). Among the supporting characters, I liked Chae Gyung's mom and dad the most.
Speaking of the story, it is unique and interesting. I mean, I could never have thought of using the setting of modern day Korea where monarchy still exists for producing a drama series if I had to. Since the drama is based on the manhwa, the credit goes to the author of the manhwa. There are parts which I did feel like skipping. Maybe that's because of my disinterest in politics, but other than those, I enjoyed watching each and everything this drama gave. I liked the romance between the two main leads. Not to forget, the comical situations which made me giggle. I learned some stuffs about the Korean culture. Speaking of the Korean culture, this drama portrays it quite well even if it is not a period drama. The characters are such with whom you can laugh along when they are happy and feel sympathy when they are disappointed.
The OST is good as well. The traditional sound tracks are just perfect and I often listen to them on my iPod. My fav sound tracks are 'Perhaps Love' and 'Ice Pond'. The latter one is heard in the last few episodes. Every time I listen to it, there is a tear in my eye because it is just too heartbreaking.
I feel if you love K-Dramas, this should be in your list because it is a good watch. It may not be your favorite by the time you finish watching it, but you won't be disappointed either.
Was this review helpful to you?