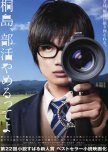 This movie is just awesome.
The story is not an outstanding one, without any action scene and a plot-twist. It is a brilliant coming-of-age movie and shows perfectly which impact the disappearance of a guy, named Kirishima, on people has, directly and implicitly. The character development was the center of the movie .
I like the cast , these are the most talented young actors I've seen over the last years, especially Kimiki Ryunosuke and Higashide Masahiro. These two stood out. Kimiki Ryunosuke did such an outstanding performance.
Higashide Masahiro did a wonderful job too. His character Hiroki was for me the personification of the movie, he had the biggest development, and the way how Masahiro portrayed this was distinguished . These two young actors have a bright future..
But the rest of the cast was awesome too.
I think it is the best cast in a high-school movie.
The music. I loved the music, the combination of classic music and "alternative"-music was just great. The credit-song "The Sun also Rises" by Takahashi Yu, is very beautiful and the musical interpretation of the movie,
It's not a movie which you can't watch it a second time because you will know what will happen.I think you have to watch the movie many times , it will help you to understand the meaning of the movie and you will discover every time something new .
Overall this movie is just a masterpiece in the Japanese movie industry. Many people don't like it, because it is a bit hard to understand and not everybody's favorite kind of movie.
Although the movie was put in a high school-setting, I think this movie is about life, about the changes in your life and what it means to grow up. Even if you're a adult you can relate to this. If you're having a hard time, this movie is a great help.
And another topic is the social hierarchy in school which is easily found in our society too.
Another reason why I love the movie was the ending scene , when everybody was on the roof. The ending was just awesome and one of the greatest scene I've ever seen.
Great cinematography, screenplay and editing. And the director was brilliant.
A True Masterpiece.
Was this review helpful to you?