The website is currently undergoing maintenance. Sorry for the inconvenience.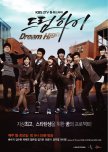 This is a great music based school drama. It carries just enough comedic breaks to not make the romance over whelming. I found most of the actors/actress to be picked perfectly for their parts. The music score as well as ost's that are used in the show are catchy and touching. I find myself wanting to re-watch it again even though all has already been discovered. I consider this one of my top 5 dramas.
Was this review helpful to you?