The website is currently undergoing maintenance. Sorry for the inconvenience.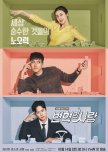 When it takes ten episodes for me to not completely despise every single character then you know its probably not worthwhile... As an advocate for dropping dramas as soon as you cba, I only ended up completing this because I was watching it with my mom.
My biggest problem with this drama wasn't the blatant lack of chemistry amongst the three leads (I would've been content with the romantic storyline being dropped all together), but rather how uneventful and contrite everything felt. I felt like the writer expected the viewers of this drama to be imbeciles like it's character and thus tried to throw together a bunch of cliches and call it a functioning story. It moved so slowly while also managing to feel extremely repetitive.  I felt like I gained nothing from the sixteen episodes that I watched.
I believe its hard to criticize acting objectively, especially when you have a bias towards a certain actor. I was disappointed by the extremely weak performances of our leads. I do genuinely believe its not entirely their fault, but the characters felt so one dimensional that no amount of sad music in the background could evoke any kind of emotion from me. I was a fan of Choi Si Won in She Was Pretty and looked forward to this being his project fresh out of the military, I'm not sure if its because he's out of wack due to his scandal amongst other things, but I was left so underwhelmed. Then we have Kang So Ra, whom I first watched in Doctor Stranger and never felt like she was lacking in anything, however her character here always had her walking around with a question mark on her face that I wonder if the directors note was to always look confused.. Gong Myung, I had never seen before (I never made it long enough in Bride of Habaek to see his character) and with him I can say that I can see potential in his acting, but as for the character here? Always looking like a sad wounded puppy and that's it. The secondary characters seemed like they were just doing the bare minimum. Side note: Lee Jae Joon literally plays one of two characters: the painstakingly sweet guy or the vengeful evil guy.. kind of a one dimensional actor it seems.
Now I wouldn't say this was the worst drama I've ever watched and its not particularly terrible, its just aggravating, plain and goes around in a circle. The only thing I enjoyed was the OST and that the main leads were good looking. I would never rewatch this unless someone is offering me a million dollars to do so. I wouldn't recommend this to anyone unless you're a huge fan of the leads and even then it might still be difficult to get through.
Was this review helpful to you?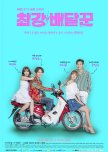 Perhaps I feel differently than most because I'm 23 and feel a connection to most of the characters in this drama. For me personally, this drama really grew on me to the point where I was a little disappointed that the end came so quickly. I didn't expect to enjoy it as much as I did.
The first few episodes were kinda meh to say the least, not terrible, but not amazing. However, I always had an affinity for slice of life dramas and I continued watching. I think the shift happened right around when they decided to become 'Strongest Deliveryman' and that's when it started to feel like I was watching a whole new and exciting show. I will have to disagree with the majority and say that i absolutely loved Kang Soo and Dan Ah's relationship more than I did the second leads. Don't get me wrong though, the second leads were lit and sooooo funny but the first leads were more impactful to me, because I wasn't sold on their compatibility as a couple initially. In the earlier episodes I never felt the chemistry, but as the episodes progressed I fell for how well it was portrayed as a realistic relationship.
What I really enjoyed in this drama was how it made me feel as young adult who often felt like the world and everything was against me. Dan Ah calling Korea hell resonated with me so much because I feel that everyday here in America. I'm not rich, I'm not even "comfortable" in that sense. I have student loans and car payments and rent and its hard to not feel discouraged at times. Kang Soo was relatable to me because I'm the type of person that would give the clothing off her own back if it meant someone else was comfortable. Min chan, I saw myself in the way he was trying to live up to his parent's expectations; i also saw my friends who have graduated from college, but still cab't secure a job. This drama really was like a breath of air and a word of encouragement for me (so corny, I know!).
I appreciated Kim Sunho's portrayal of Jin Gyu so much because brought such depth to his character that it was ridiculous to even think that he was supposed to be a "villain" earlier in the story. Honestly, Ji Yoon's character was comedic, but that's really the extent of it which wasn't bad in the least.
I'm kind of rambling now, but yeah, I really digged this one. And I'll definitely miss it.
Was this review helpful to you?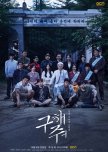 Save Me
6 people found this review helpful
I'm biased as hell. I really don't care. I LOVE LOVE LOVE this drama. This drama, really truly, made the episodes of frustration worth it in the end. Typically, I find dramas lose their appeal to me once we get to the half way mark, so I was very nervous that this drama would do the same. However, I just found myself so immersed in the story that I never once felt bored.
I'm basically just gonna post what I had written about it on my blog when I was only ten episodes in...
This drama was an unexpected surprise for me. I'm a fan of Seo Ye Ji ever since I watched her in Moorim School and I wanted to see more of her, but I'm gonna be honest Hwarang wasn't going to get my view (it looked boring and there were better things I could and did watch) and I wasn't interested in any drama where she wasn't the lead especially if I was gonna have to see ant face. I had made a note that I wanted to see this drama without virtually any clue what it was about. I eventually found out that Ok Taecyeon was also going to be in this drama and he's pretty easy on the eyes so yeah… I didn't read the synopsis on the drama until I was midway through episode one because I immediately thought to myself, what the actual
[email protected]
have I gotten myself into? I was equally repulsed and obsessed by the time I finished the second episode and waited anxiously for every new episode.
The drama absolutely captivates from the acting to the symbolism to the scenery to the background music. The funny and relaxed moments, although far and few in between, are as believable as the thrilling and spooky moments.
As someone who was a fan of Seo Ye Ji, I must say that Im Sang Mi has easily become one of my favorite kdrama heroines of all time and that was because of her. There was strength and courage inside this character that had felt so much pain and to come out of it with everything still in tact? I AM FLOORED AND PROUD.
Of course we know that the rest of the cast did amazing as well and truthfully there is such a satisfaction that i am feeling right now that I can't explain.
Give the drama a chance. It may surprise you.
Was this review helpful to you?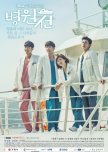 Let me start off by saying, that there is so many cliches and absurd plot devices  in this drama that you would think it was a makjang drama.
This was by no means a perfect work of art and I get the distinct impression that the writer kind of lost her way when it got to the end of it. However, I liked this drama and I'm not sure if it's because I've gotten soft when it comes to dramas or if I'm being blinded by my new love of Min-Hyuk. As someone who always scrutinizes stories and will drop a drama in a millisecond if I'm displeased, I never once felt the urge to drop this drama even though there were quite a few "are you fxkjncvkkj serious?" and "fx!!k this crap" moments. I even fell behind and usually when I fall behind on episodes is when I realize I don't miss them and drop, but I still managed to get caught up with this one.
I think Ha Ji-won did an excellent job at portraying her role of Dr. Song Eun-Jae.. She was especially good when it was the emotional scenes because I thought that was when we got to see the strength of her acting. Kang Min-hyuk surprised me a lot. I have never seen anything with him in it before (i never made it long enough with The Heirs to even notice he was in that.) I think Min-hyuk did a pretty good job at portraying the Dr. Kwak Hyun.. I enjoyed how .. for lack of a better word.. "sweet" Hyun was. He always was genuine in whatever he did and I felt the sincerity every time. A lot of people have complained that he is the weakest part of the drama and I wholeheartedly disagree. Min-hyuk may not have been playing some revolutionary character, but he definitely got the job done. This brings me to the people who said there was a lack of chemistry.. I truly believe chemistry is subjective because I can tell you that I did not feel an ounce of chemistry between a certain kdrama couple that everyone and their mama loves which have a similar age gap that I thought was painfully noticeable. I guess when its top stars yall have different standards. Truthfully, I wasn't even aware that there was a 13 year age gap until I tried to find out who Min-hyuk was.
Another thing I liked about the drama was the moments where we got to see the Hospital Ship really shine as a family. I felt as though those scenes were far and few in between and would've been more impactful if they were more frequent. Nonetheless, the cast worked well together and the few things that I found to be amiss were generally the points where everything felt overly saturated with nonsense. Like the dentist was listed as a main (on wiki), but I literally cannot tell you a darn thing about him. I also felt some of the plot lines existed for no reason and feel kind of half done? The last two episodes felt like a bit of a "we forgot to really sell the romance, lets do bullcrap." /I/ would've done this a different way but I am not Yoon Sun-Ho so I mean whatever.
Is it the best medical drama out there? No. Is it the best storyline ever? No. However, I think Hospital ship was a quite pleasant drama.
Was this review helpful to you?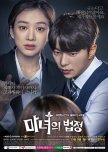 What to say about this one?? This drama is one of the better ones that I've watched this year and that's simply because of Ma Yi Deum. She was honestly one of the best female leads, I've ever come across throughout my years of watching dramas. She made every part of this drama. Jung Ryeo Won OWNED THIS ROLE. She is the reason this drama is being recorded as one of my favorites.
I can find a lot of flaws within this drama, I wouldn't have to look very hard but I'm willing to overlook these for the sake of how much I enjoyed Ma Yi Deum and the initial premise of the story. I was hooked on the first episode cause it felt like I was watching the Korean version of Law and Order: SVU. I enjoyed the episodes that focused on a different individual each episode because it did well at showcasing that many sexual crimes are about power. For a majority of the earlier episodes, I found myself yelling at the screen saying that 'Men Are Trash'...
I was not a big fan of the overarching storyline only because it just felt moot point whenever they caught him for something in the earlier episodes because we knew it wouldn't have amounted to anything and then it made me feel annoyed because at the end the solutions seems so easy and efficient that it was like "why wasn't this done episodes ago." I will say though, it was kind of satisfying but also not with the way the overarching storyline ended. I'm equal parts satisfied and dissatisfied, probably because I kinda wanted something a little more sinister, but I mean it went with the theme of the show so good for it.
I would not recommend this drama if you're looking for something that is  romance heavy which if we're honest was kind of a waste of Hyun-min and Ryeo-won's chemistry. The romance was hinted at, pushed forward, fell off, creeped back, ignored then put back again. Honestly there was nothing that convinced me of why they even fell for each other but like i said the chemistry was lit so I'm not even mad.
Side characters? Didn't care about them. Matter of fact i didn't care about anyone that wasn't Ma Yi Deum and just wanted her to get her happy ending. I was very confused because I felt like the last few minutes of the finale made it seem like these were people we've been invested in and i'm like huh? I literally knew more about Gap Soo's secretary than the other members of the prosecution team.
So the story was okay in some aspect. Acting was superb. OST was beautiful to an extent (really enjoyed Solji's voice and the pump up one). Would I rewatch this? Definitely. I would probably skip a few episodes or at least fast forward scenes that don't feature Ma Yi Deum.
Was this review helpful to you?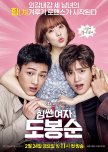 My favorite drama of the year so far. I love the cast and the way everyone works so well with each other. The chemistry between Bo Young and Hyung Sik really got me shook to the core. I found certain aspects of this show lacking, but honestly I was willing to overlook it because it wasn't anything that I found extremely alarming. I will say though, these damn drama cops are really f*cking stupid?! But also I had another issue with how it seemed like they suddenly dumbed down the culprit to get to the ending. Especially as he was working them and deceived them so well. Also [redacted] was kinda frustrating because [redacted] eventually happened therefore I find it so unbelievable that it even happened in the first place. But whatever let's talk about how Ahn Minhyuk is THE PERFECT boyfriend! Ugghhh I love him. JiSoo baby, you'll get to be the first lead one day and you'll get the girl but at no point was I rooting for you to get Bong Soon in this series, not even remotely. SUCH A GREAT DRAMA THOUGH. WATCH IT.
Was this review helpful to you?