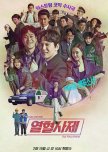 Typically I am not someone who would do reviews but today I have to review this Title.
To me, this is one of the best Crime-Comedy Drama that I have watched for 2019.
Cast members are absolutely fantastic. Comedy and humour are really effective. The Writer has taken time out to basically referenced Kim Nm gil's movies, which is great! As a fan of him, I have to say that this is one of the dramas that sparks his talent.
This drama brings all emotions into the audience. From Laughter to tears and to anger. It is such a unique piece of work.
I highly recommend anyone who has not watched it. Watch it and enjoy :)
Was this review helpful to you?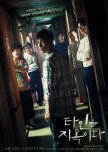 Okay. First #Bloodtriggerwarning. This series contains blood, violence & gore. Not into this kind of stuff? Then probably look away. But if you are, then this is the right drama for you. Can not deny but at first it's a tough pill to swallow because it involves the introduction to the world & characters. Once it hits the high road this is when it gets rather interesting & tense. The more we go through the story, the more chilling details will be revealed.
This drama shows the ugly side of humans, to be exact, not understanding what a man is truly going through. (Judging a book by its covers) so it shows the consequences of it.
Give it a try! It's awesome!
Was this review helpful to you?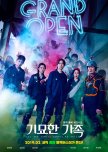 This review may contain spoilers
Okay, so this movie...
Out of the left field, I would say that...People might not like it and that the humour doesn't really seem to be effective enough for me to burst out laughing. (I watched it in the theatre) But the idea of the story is unique. I would recommend people to watch if you are a fan of anyone in the series. I wouldn't say I would recommend it on a normal basis but you can try...haha. It's a take it or leave it movie.
SO SPOILERS
What so unique about this piece is that it sets us up in a world of zombies and that starter zombie eats only veggies (vegan) that are unique in my opinion. They referenced Train to Busan which I think it's okay too. What I love is the marriage chaos scene. The way it was shot is very interesting.
But one thing that I do not like is that the time jump at the end. Cast has a different hairstyle, which to me it's a bit impossible. Like how the virus has already been spread and there are still people doing perming services?? HEH?
Was this review helpful to you?