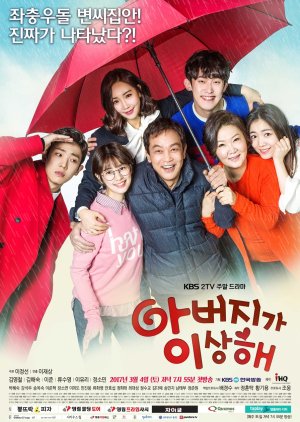 If we talk about this drama the first thing that comes to mind that it is a family drama. So many people will judge it only by that. Plus it has 52 episodes...
What they will miss at first glance is this most amazing story told by this amazing group of actors.
It is beautifully written and produced. It gives really good feelings for the heart to experience.
The story is different. It isn't the typical family drama we see. It has a unique story line to it. And from the very first episode it has you hooked, lined and your done. It's funny, it's relatable, it's super sweet and romantic (ah my heart). When I watched this I kept on thinking this is how families should be, siblings should be and relations. This drama shows how much the little things means when your with the people you love. It doesn't only resolved around the family but the people around it. We see this different age of people from the grandmom to Min Ha (high schooler) and couples, parents, siblings, in-law's with their struggles and how they over comes it. It's a story that's written for everyone to enjoy. And the ending was so beautiful!
The actors are amazing. All of them deserves a round of applause. I love them all and they did such an amazing job with their respected roles. But my special call goes to the amazing actress Lee Yoo Ri who was just damn right AWESOME. I love her! I love her! She was great. She is great. I love others too (Lee Joon - God he is so cute!) they were all awesome and to the point with their acting. I can't even think those character's being played by others.
The music is so so sweet. Love them all!
Totally going to re-watch it. More then once. I have to because I miss them already!
It's an amazing drama. Don't let the "52 episodes and family drama" stop you. Because at the end of it you will wish it had 100 or more episodes. Because at this moment I do and I know you will too.. So please give this a try!
Was this review helpful to you?