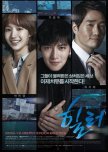 Healer
227 people found this review helpful
Perfection. That is the only word I can use to describe the absolute treasure that was Healer.
Funnily enough, I almost passed by this drama and, had I not been practically forced to push the play button, I would have missed out on the best drama I've seen in my twelve years of drama watching experience. Even the fact that this is my first drama review on MDL shows how highly I think of this drama and how strongly I feel that the overall rating of #2 and popularity of #1 is completely well deserved. Healer has become my top favorite drama, dethroning my previous favorite, which had held onto the top spot for the last seven years. That's the power of Healer.
If strong characters all around, both male and female, are your thing, watch it. If a solid love line without stupid, nonsensical love triangles and noble idiocy break ups are your thing, watch it. If you enjoy a good action, romance, political, and gripping-the-edge-of-your-seat-intense drama, then this is definitely, definitely for you. Watch it.
The acting by the ENTIRE cast is flawless. The OST is amazing and so well suited to each scene that its played in. Healer will make you experience the widest range of emotions throughout its 20 episodes and you'll still feel like you didn't get enough. Heartwarming, touching, beautiful, intriguing, heartbreaking, action-packed, downright hilarious, and so perfect! That's Healer.
In fact, I don't think there are enough words in the world to describe Healer and the effect it has on me and this is coming from a writer. The plot was solid, the pacing was perfectly balanced while never slow, and the characters were so natural and realistic. I walked into this drama unfamiliar with the cast and walked away a fan of all three leads and then some.
If you've ever fallen so in love with someone or something to the point where your heart hurts and throbs with the pain of overwhelming emotions, then you'll understand what Healer has done to me. But, quite frankly, it would hurt more to never experience this drama than to deal with the withdrawal of a perfect in every aspect drama.
Was this review helpful to you?