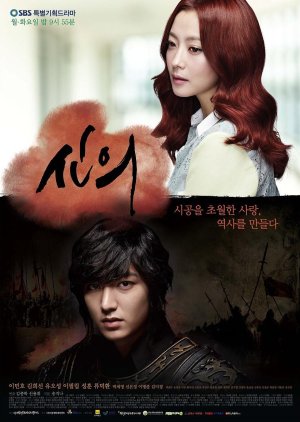 Faith is by far the most mature drama I've seen. The romance was so subtle that at times I found it frustrating. I went in expecting tropes and instead I was hit with an understated and subdued relationship. A rather shocking find in dramaland. At first I didn't know how to handle it. I wanted to shake them both and scream for the first 12 episodes. However, once I realized that Faith didn't play by the traditional drama rules, which happened to coincide with the romance plot picking up speed, I was so pleased. I really enjoyed this drama and people may question why I've only given it a 7 overall but allow me to explain.

First the romance, my favorite part of the drama and the aspect of it that saves Faith for me. The relationship between Eun Soo and Choi Young was breathtaking to witness. The subtlety with which Lee Minho portrayed Young's emotions made me truly respect him as an actor. He conveyed so much feeling through the tiniest of gestures, and Kim Hee Sun replied in kind to Minho's every glance, sigh, and emotional flicker. It was like watching a dance. Never once throughout the entire drama did i question Young and Eun Soo's love for one another. There were none of the tried and true tropes found in the more adolescent love stories that rule dramaland. In this way the romance in Faith reminded me a lot of Emergency Couple: mature, mutual, dedicated, and responsible. If the drama was nothing but this romance it would receive a 9 from me in a heartbeat.

The plot is where I lay many of my criticisms. While Faith lacked many of the romance tropes that plague dramaland it was rife with them in the main plot. I found myself frequently bored by the side characters (not the king and queen who were both lovely but some of the lesser characters) and constantly questioning the villain's motivation. I did not understand the need for the fantasy/supernatural aspects of the main plot (barring the time travel); this aspect of the drama was in my opinion its weakest point. It undermined an otherwise very serious portrayal of life's difficult choices and great triumphs. The plot could simply have been better constructed and the drama cut down by at least 4 episodes. So much time I would rather have spent on the beautifully constructed romance was spent instead on bad plot. This is the main reason for my rating.

I hope this was helpful. Faith was a beautiful drama but not one I would recommend to those that require constant stimulation. It is slow and subdued. I do, however, recommend this highly to anyone who loves Lee Minho; this is, in my opinion, his best role.
Was this review helpful to you?