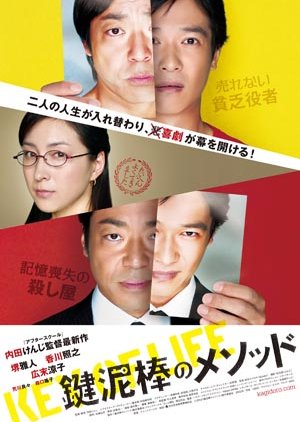 This review may contain spoilers
My faith in Japanese movie is back! Actually I'm kinda lost interest in watching movies from japan I know there are many great movies from them especially classic ones but just recently or these several years it was just a hit or miss or just acceptably great. Okay, I think "Key of Life" was the most enjoyable Japanese film that made from the last 3 years that I encountered as for now and i will see some more and hopefully just as satisfying. The movie itself is a combination of comedy/crime/slice of life. The comedy isn't exaggerated and relies on coincidence circumstances that really works well and funny. The story is minimalistic and easy to relate. No overly complicated plot but simply complex enough and i find it smart w/ smile on my face. The two main characters are very good actors (you are familiar with them and you often see them in dramas). The interaction is the strongest point. There were not much talk unlike other comedy but shows more character action for situations. I will not say anything about the music since there was only few in certain scenes but sometime silence is effective. Try this movie and I think it's not that hard to like and very relatable regardless of taste. You may find it not groundbreaking but I'm sure its impossible to hate. 100% spoiler free and I didn't say much but see it for yourself.
Was this review helpful to you?