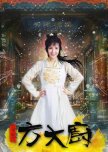 This review may contain spoilers
CUTE FLUFFY ROM COM SHOW WITH HAPPY ENDING
Loved this show so much and hope that it will be more popular its so funny and light hearted. Love the characters especially his parents and his relationship with his wife.
he loves his wife so much and she thinks hes the best person ever even when everyone else thinks hes a bully.
plus the food looks delicious.
its a good show to rewatch for the couples scenes.
the mystery aspect was a little dull to me but I def reccommend this show plus the 2 songs they use are so cute and catchy
Was this review helpful to you?