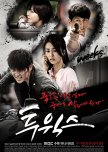 Two Weeks
16 people found this review helpful
i enjoyed this drama so much, and i'm writing a review because i want everybody to watch it.
the story is exciting and different and the pace is just right, for me the amount of romance was suitable for the story, but maybe the ending was a bit lacking but it was good enough.
as for the acting every one was just perfect, i especially loved the little girl and her chemistry with lee jun ki was great. they were so cute together. i loved the action scenes they were impressive
i really hope people will give this a chance it's a very good drama.
Was this review helpful to you?