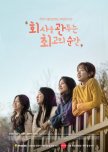 This was a short and different drama from anything out there these last few years. In simple words it was real. If you unemployed, looking for work or you are working at a place that you don't like or you have quit your job or maybe just thinking about quitting. I guarantee that you will find something that you will be able to relate to in this drama. As this drama follows 4 young women at the start of their careers and the ups and down's of that. The hardship, the struggles, those following their dreams and others discovering themselves. I enjoyed it a lot and I found myself relating to the girls stories as well.
Story - I felt the story was realistic, very accurate and I feel as though a lot of young people who finished University can relate to this.
Acting/Cast - All the actresses played their roles exceptionally. I can't fault anyone.
Music- Music was good. Matched the scenes.
Rewatch Value - Yes.
Overall - I enjoyed it because I could relate to it a lot but if you are looking for a romance filled drama then probably this isn't for you.
Was this review helpful to you?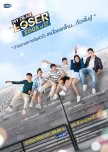 I'm surprised how much I enjoyed this drama as a whole, I went into it without any expectation but was pleasantly surprised. I liked all the characters in this. I tried it for the bl couple but I also enjoyed the main couple as well.
Story - I thought the story was good, it was interesting to watch and the pace was at a good speed.
Acting/cast - I rated it a 10 stars because I feel as though the chemistry between Insun, the bl couple was amazing. The way they drew me in, the way they teased each other, it was so natural...I will just say there was a cafeteria scene with them when they were teasing each other and the directors said it wasn't part of the script. Sun's acting I have to say stood out for me a lot, it was really good.
Even the main couple, I think the casting was good, I liked everyone in this drama which made it more enjoyable.
Music - The theme song was pretty good.
Rewatch Value - I have already re-watched the show but just the bl cut and I can see myself rewatching this show again. Their chemistry was out of this world.
A season 2 with Insun would be amazing. But if you are on the fence with this I will say give it a go, it's quite good.
Was this review helpful to you?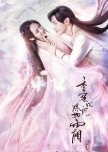 Story
The story was interesting and different, they were parts that were kinda similar to ten miles of peach blossoms but for me it was mostly a storyline and a world in it's own standing. I rated the storyline 8/10 because the first 45/50 episodes or so I was excited to know what will happen next. It was thrilling and then it goes down hill, the storyline becomes underwhelming and messy as if their trying to come up with anything to stretch the drama to 60+ episodes.
Acting/Cast
I rated it 8/10 because I felt as though something was lacking with the male lead. He is good looking and don't get me wrong he can act but he wasn't captivating enough for me personally. I felt as though something was missing. But for some people a good looking guy saying his lines is enough. But with that said the casting for everyone else, was brilliant.
Music
Really good, set to tone well.
Rewatch Value
Honestly, i cannot see myself watching this again, considering I started skipping the last few episodes.
Overall
I think it's a decent drama, if you like c-drama's or liked ten miles i think give it a go. The beginning half was actually quite good, there might be a few boring episodes here and there but carry on it will pick up.
Was this review helpful to you?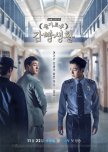 I'm writing this at 5am in the morning, that should give a little bit of insight on how great this drama is, it really is on a level on it's own. If you are thinking of watching this, just give it one episode and I guarantee you will be hooked.
Story was exceptional, the way they told the story of the main character, the other prisoners, officers and more and what occurs in prison was entertaining and exceptionally done. Even the writing, the relationships build, the humor that was placed in all episodes was out of this world.
Acting/Cast - Every single person cast in this drama, it was as if they were made for the role. Great acting from the main leads and supporting roles.
Music - The music helped to set the theme and tone very well, I even liked the theme song a lot. But something that I really liked was when someone would sing a song for a scene and then they wud play it after. I liked those moments for some reason. Great song choices throughout.
Rewatch Value - Yes,  I would watch this again.
I really enjoyed this drama, before I started it, I didn't think I would enjoy it so much. It even made me cry, which is hard to do. I will miss it.
Was this review helpful to you?