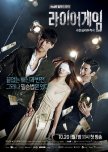 Liar Game
42 people found this review helpful
I haven't watched the Japanese version or read the manga, so I'm not going to make any comparisons and focus on the drama itself.
This is literally one of the best dramas I watched this year, starting from the first episode, I was already hooked. It only took me a day to finish and wow....so many things happened, it was amazing.
Story: The story is interesting and really pulls you in. It's about regular, everyday people who are given an opportunity to earn millions of dollars in this show called. "Liar Game". The game itself is unrealistic obviously, they even mention how it ruins ethical guidelines and morals of a person. However, to some extent this shows perfectly illustrates greed, mistrust, manipulation of the media, and how far people will go just to earn money. The story itself will blow your mind with the game's guidelines and how Ha Woo Jin (Le Sang Yoon) and the others perform throughout them with psychology...but is left with some unanswered questions in the ending.
Acting: Acting is amazing. Everyone was amazing, I can't express enough how Shin Song Ruk was born to play the antagonist/bad guy.
The only downfall I had was Kim So Eun's character (Nam Da Jung). Her character is supposed to be a naive, innocent, and kind girl, she does a good job displaying them, but it was irritating to watch her half of the time. There is a difference between being naive and being stupid. Throughout the drama it gradually disappears, but her character had a weak and a "damsel in distress" image left upon her. However, I can understand that her personality plays an important purpose throughout the story so it didn't annoy me a lot.
Music: I didn't pay attention to the OST, but the soundtracks made the scenes intense and keep you absorbed in the story.
This is a must watch, especially to those who are into psychological and suspense!
Was this review helpful to you?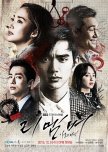 If I could summarize the whole story in one sentence, it would be a sadistic story that really plays with your emotions.
Story: Is there a love story in this? Yes, but it's not the main focus of the story. I thought a love story was unnecessary, because the main focus was Jin Woo fighting against a hugely corrupted company / judicial system that falsely accused his dad, which I thought was 10x better.
This story is depressing, melodramatic, and I experienced a lot of moments where I was frustrated with the writers for making the story so sadistic and sad. But this frustration did not prevent me from enjoying the show; every episode was thrilling, intense, and played with my emotions wholeheartedly. There is so much satisfaction when you see injustice turn into justice and how the downfall of the villain is executed. There is always something happening in every episode, and I thought the story was well paced for a show with 20 episodes
Acting: I feel like in this case everyone's perspective on each character will be different based on your own morals, preferences, etc, but I found the cast to be amazing, but a little frustrating to watch as I questioned some of the characters and their significance to the story
Major props to Nam Goong MIn as the evil guy, he really knows how to make the audience's blood boil. I enjoyed Park Sung Woong as Dong Ho, not only did I love his Busan accent, but he is a very rational character that knows what's right and what's wrong, regardless of how the show/audience portrays him. To be honest, I found Seung Ho's character kind of annoying due to his stubbornness, but he is very passionate and ambitious. Park Min Young's character is very civil and determined, and at the same time she also was Seung Ho's emotional support. I felt the chemistry between Seung Ho and Min Young was amazing, but not in a romantic way at all.
Music/Overall: I haven't really payed attention to the music cause the opening theme song kind of overpowered the rest of the tracks and it constantly plays in my head (LOL), but pretty decent OST collection.
I am giving this a 9 for minor reasons (love story, over usage of flashbacks, frustration of characters, etc.), but If you like thrillers, want to take a rest from all those romance dramas, and cry from sadness you should definitely give this a chance.
Was this review helpful to you?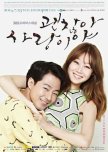 I watched this because of Gong Hyo Jin which I found her in Master's Sun and my interest in psychiatry, and decided to watch this drama. This is one of the most unique, interesting, heartwarming and yet realistic dramas I ever watched. I enjoyed every moment of it.
Story:
The story plot talks about reality and sensitive topics that most dramas usually avoid. This story is based on psychiatry and gives you a reality of how mental disorders can affect a person's life and people around them. It also is a slice of life drama which focuses on love life, forming relationships and even about sex life.
To make things short, this drama focuses on people who try to overcome their mental disorders while trying to understand love and building relationships.
Acting/Cast:
The characterization was amazing. They made you laugh or cry.Each character had different personalities that formed a love-hate relationship with each other, you could say that they're an interesting group of people who treat each other like family.
The main pairing's (Gong Hyo Jin x Jo In Sung) relationship started naturally and wasn't overly exaggerated or expressed. Jo In Sung's character was the most interesting to watch, I really recommend keeping an eye on him throughout this drama. Although I'm not a big fan of idol actors, D.O has chosen a really interesting role for his debut as acting and has done a really good job
Music:
From soft ballads to songs that have a happy vibe, their OSTs are amazing to the point where I downloaded all of them onto my phone. My personal favorites are The Best Luck - Chen, It's Okay That's Love - Davichi, I Love You - Yoon Mirae, And I Need You the Most - Hey, and Sleepless Night - Crush. It also contained some old classic songs
I was satisfied with the ending too, so I really do recommend this drama, I hope this reviewed helped~
Was this review helpful to you?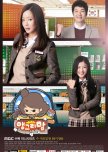 My first impression when reading the story line of this drama was a bit skeptical, I thought the idea of a mother fighting against bullying was going to be a serious yet comedic drama. Boy I was wrong, this was more than just bullying.
Story:
This is one of these dramas where one problematic situation that leads to another, where secrets are revealed new problems show up. The story starts out as it focuses on bullying and it slowly develops into focusing about corruption in school and politics. In response to this, Kang Ja (Kim Hee Sun) challenges the higher officials and is devoted to bring them down. Although she takes an extreme approach to the situation by pretending to be a high schooler, I can understand her intentions.
What I really liked about this drama is that it shows that people with power and wealth can help you get out of any situation even if it's unmoral. The drama challenges this idea by arguing that it is possible to defeat those kinds of people.This story really pulls you in by playing with your feelings tbFh. There are many scenes that will make you laugh, feel depressed, and even make you angry, but once it's over and the situations are all resolved it gives you a sense of relief, justice, and happiness (at least that's what I felt) Overall, this drama will make you feel like your emotions are like a rollercoaster and addresses corruption.
Acting:
If it's a drama that heavily focuses corruption, then you would expect that there are a hella lot of corrupted characters in this drama that will make you really mad, but considering that these actors are playing as the antagonists, they did an amazing job portraying their characters that can piss the viewers off. Kim Yoo Jung and Kim Hee Sun were amazing throughout this drama, their mother-daughter relationship really touched my heart. Lizzy, Goo Su hee and her minions were so funny. And Jisoo.....is bae af. He has a lot of potential and I'm looking forward to seeing him again in the future.
The only downfall I had with this drama was the characters. Some supporting characters were just irrelevant or plain stupid. There are some characters who annoyed me at the beginning of the drama but character development throughout the drama helped redeemed themselves such as Park No Ah (Ji Hyun Woo), Hong Sang Tae (Baro) and Ahn Dong Chil (Kim Hee Won).
Overall, amazing cast
Music:
The music really gives off an old school, "ahjumma" vibe to the drama lol idk how to explain it, but there was lots of jazz and soul OSTs. Although I wouldn't download their OSTs, they suit the drama's atmosphere overall especially "Crying Crying Crying" Ali
To conclude, amazing story plot and cast and would highly recommend this drama
Was this review helpful to you?