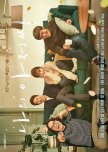 My Mister
49 people found this review helpful
A picture is worth a thousand words, and they fully expressed that as profoundly as possible. This is my ultimate, most favourite Kdrama of all time. It might not suit everyone's tastes, but it was the first time I cried because a drama ENDED. Finally a drama that is beautiful and breathtaking from start to end.
I guess if you're the type to prefer fluffy, lovey dovey, Kdrama cliche type of dramas, then this won't be for you. My Mister is completely different in terms of the "Kdrama formula."
After watching each episode, it's fulfilling, yet you are (extremely) hungry for more. This drama gave me the biggest comfort whenever I feel down. Ironically, the drama itself, is depressing, gloomy, and melancholy. You know how whenever you feel sad you want to see things like rainbows, and puppies, or eat good food in order to make you feel happier, yet none of that truly comforts you; or sometimes it might even irritate someone even more. My Mister is that person that would sit by your side, cry with you, hug you, and allow you to release your emotions so you truly feel comfort. It's not a stress reliever, it's something that makes you embrace those emotions and let you move on from them.
I've never seen a drama that portrays depression as realistically as My Mister, heck, I've never seen a drama that actually has depressed leads. Between each and every character, there is a special bond that is strong and meaningful. The relationship between PDH and LJA is not family love, nor romance, nor friendship. It's a different form of love that it's hard to wrap the head around, but the best way to describe it is human love. Human emotions, comfort, and acceptance. Personally, my favorite parts are the interactions between Lee Ji An and her grandmother. I cry in every single scene because it's so beautiful.
Honestly, during the painful scenes, you cry. The touching scenes, you cry. The silent scenes, you cry. And the happy ones, you cry. Maybe I'm just overly sensitive when I'm watching this drama... It's painful but heartwarming.
I think many people who don't like this drama probably thinks: the brothers are annoying or the drama is too slow. You can't really fully immerse into the drama unless you learn to appreciate the brothers, and what they symbolize. Although it feels slow paced in the beginning, trust me, 1 hour 20 minutes feel like 30 minutes.
The cinematography is stunning. Just like how many people said, it's like you are watching a movie within each episode. It's stunning in a way that is effective to convey the story and mood, and the beauty of each character. There is not one character I dislike, not even the bad ones, because they are all so compelling.
Edit:
For anyone who aren't feeling up to expectations, a little disclaimer. Don't dive into the drama expecting to be blown away or be on the edge of your seats the entire time. I watched it week by week, so the drama itself felt like it was very well paced. If you try to binge watch the beginning episodes, it might feel very very slow, eventually losing interest. But the best way to experience the high expectations, is for sure you really need to immerse yourself in small details, and focus on every single aspect in each scene. Sometimes it might even get a bit mentally intensive. As for me, watching it week by week allowed some breaks in between before fully going into analyzing mode. It's kind of like you have to critically analyze every detail in order for the viewer to meet its expectations. If all else fails, then it might just not be your taste and that's all okay :)
Was this review helpful to you?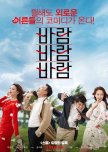 This review may contain spoilers
I purely watched this because I'm a big fan of Song Ji Hyo. This was an enjoyable movie. Somewhat lighthearted and funny. There are a lot of "sex" scenes, but no nudity, still it's probably not safe to watch it around your parents because of the profanity and sexual jokes lol. There is mild nudity, but it isn't from the actors.
THE GOOD:
I really liked the style and directing because it was pretty creative in a couple scenes. I think Lee Byung Heon did a great job at delivering the movie. The cinematography is pretty bright and refreshing too. I didn't like Ji Hyo's character at first, but all of the other characters were interesting and they grew on me later on. The acting was pretty decent, not the most outstanding and impactful, but they were all refreshing to see. Due to the shortness of the film, the movie was prettt well paced, no slowness but that also could be its fault.
THE CRITICISM:
Okay, here is where we will go on a train ride, buckle up your belts my friend. My number one biggest criticism for this movie is the plot and writing itself. I hate how they pretty much glorify the affairs like something that people can leisurely perform without much consequences after. I get this is suppose to be for the main characters to find love on Jeju island, but honestly, (SOMEWHAT SPOILER: the cheating is excessive and they don't ever condemn cheating in a way that discourages having affairs. Instead, they make it look fun. At least from how I grew up, I condemn infidelity.)
The ending was alright, I wish there would've been something more.
The acting again, was fairly decent, but I definitely don't think it's the strongest acting from any of them. Maybe from too many main characters and too short of time, the screen time mainly goes to the 2 male leads (which is fine), so the rest of the cast don't get to prove themselves their true potential in their characters.
I honestly wish there would be more in depth explanations and scenes to show to progression leading to certain events. The sex scenes were in a way comical, nudity or not, I felt like it was there purely for the genre of sex comedy. It would've been better if they used those scenes to help develop the characters motivation or emotions, or move the plot along.
Overall thoughts:
I won't stop anyone from watching it ( unless you're too young) because it won't leave you with a big impact, but it's quite entertaining. It doesn't change your life or anything, just pure entertainment. I mean that's usually what it is for sex comedies, but I wish there was more. The writing could've been stronger and it would've helped if the film is a little longer. I think mainly due to time they couldn't fit all of the detailed development of some characters.
Was this review helpful to you?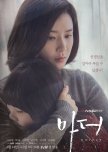 Mother
2 people found this review helpful
Yes, this drama is definitely one of the most well executed drama the whole Korean entertainment industry has delivered,
Brace yourselves, this will be an essay.
THE STORY:
From the beginning to the end, I can effortlessly say that every second of the drama has placed great thought and effort into the its production. No filler episodes, no unnecessary subplots. You can pretty much expect to be on a roller coaster of emotions throughout each episode.
I've watched the Japanese version long ago, and I loved it as well. But It's pretty safe to say that the Korean version well surpassed it.
The Japanese version didn't show as much characterization between the abuser and the child, (probably mainly due to fewer episodes and less time) but the relationship between the boyfriend and mother of the abused child in the Korean version was heavily emphasized.
I absolutely love how the writers gave more back story to the ones abusing Yoon Bok because it gave the story just so much more depth. The abusers were written so well that I was able to in a way "sympathize" with them despite all the shitty stuff they have done.
The only thing I'd do without would be the slight romance between these two characters (not going to say who, but you probably already figured it out.) It felt slightly awkward but still, I don't mind it being there. It was still very enjoyable.
And omg, there are so many strong characters in this drama I'm cryingggg. I love seeing characters that fend for themselves, and not be a pussy relying on others all the time. Each and every one of them are well rounded, complex, and dynamic.
THE ACTING:
I cannot put this into words, you just gotta watch it for yourself how amazing the acting is by every single person in the cast.
The dynamism of Soo Jin's journey as a mother was very satisfying.
I especially loved how Kang Young Shin (played by Lee Hye Young) portrayed her character, and I think she is one of my favourites in the drama. I love how she is not perfect as a mother, but you can see her love towards each and every one of her child. She absolutely killed her role.
Yoon Bok (played by Heo Yool) is so wonderful and smart. Both Mana Ashida and Heo Yool are amazing child actors. The looks in Yoon Bok's eyes are so innocent and bright yet there is always that touch of melancholy hidden from the traumas she faced.
The emotions and relationship between characters are done so humanly and realistically, you'd start to wonder whether or not Heo Yool and Lee Bo Young are actually mother and daughter.
MUSIC:
I don't actually remember lols, but it definitely made a big impact on the mood when you are watching.
CINEMATOGRAPHY:
Expensive lenses. Love it. The washed out colours that are dull and gloomy really sets the mood.
Very high budget production that really gave out the cinematic touch which affected the emotional appeal a lot. Gave the whole drama a higher value with high quality cinematography.
The director, writers film crew, and actors worked so hard to deliver such a compelling piece. Definitely worth your time to invest into the story, and it's a heavy one for sure. No matter what type of drama watcher you are, this drama won't leave you without an impact on your emotions.
Was this review helpful to you?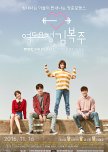 I think this is one of my first dramas that I can say I am 90-100% satisfied (*abs*) with everything.
This drama in one word: REFRESHING.
It's just great if you want something light, simple, fluffy(but not cringy) and heartwarming after all those heavy business politics or chain-deaths of characters in one episode kind of things.
To be honest, the first couple of episodes I expected this to be one of those same old typical romantic comedies but rest assured, you get a lot more out of it than the romance. You have the stereotypical characters that make up a typical kdrama (like the ex girlfriend, bully etc) but at the same time they all deviate from their stereotypes into something more complex. (At least they didn't make me want to rip my hair out unlike other ones where they should belong in a daycare center so ppl can supervise their immature behaviour.)
All the characters were well developed and well rounded, AND NOT TO MENTION NO ASSHOLE MALE LEAD. I felt like finally the main characters are people who are considerate of one another and behaving like mature adults. Unlike other dramas I've watched, any stupid miscommunication or misunderstanding gets resolved quickly and efficiently. No crazy lie that falls deeper and deeper until you get so tired of the main leads constantly misunderstanding each other.
One of the most important things I love about this drama is how they spoke about issues like eating disorders, mental health, and body issues.
Quick note of the cinematography: definitely very bright, light and something that's very "korean" like colour grading. I love the subtle aesthetics in the drama that's somewhat casual.
This drama is so freaking cute and lighthearted. It doesn't have those cringe cliche kdrama scenes where you go "omg," instead it's fresh and light and great for a bad day coming home.
Lastly, I love some of the hoodies Kim Bok Joo wears in the drama.
Was this review helpful to you?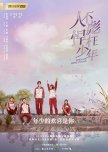 This review may contain spoilers
I don't usually like 'contemporary' CDramas (like ones that arent history or war based) because I tend to find them too cliche and sort of cringy at times. But this drama had a simple, common premise on youth and high school, love, friendship etc yet it is unlike anything I've seen before.
In a way it's like the Reply series and A Love So Beautiful combined, but this drama shined through with its own colours successfully despite the similarities.
I AM IN LOVE WITH EVERY SINGLE CHARACTER. I love the amount of change and maturity they go through. And their friendships are so precious it makes me envious about how I spend time with my friends. There are so many life lessons and different perspectives of the parents, teachers, adults, teens they present that it really opens your eyes to seeing the good intentions of everyone.
Hua Biao is legit one of my favourite male leads ever now, he has such a beautiful, mature yet playful and caring personality. And his relationship with everyone especially with his grandmother makes my heart warm.
Yang Xi's development is very satisfying, and her caring, bubbly personality made me fall in love with her immediately. At first I thought she was a bit obnoxious, but as she matured she just became more and more lovable. Honestly, everyone in this drama has such a compelling, and caring relationship with each other.
There are no bad guys, no evil second female lead trying to steal the male lead, no ridiculous characters that are in the extreme. Everyone learns respects their own boundaries, which is something so refreshing to see. Just realistic, compelling characters living their beautiful lives.
Not to mention the cinematography. Stunning, and does justice to all locations and people that were filmed.
I really liked how this drama also tackled the common issues with highschool youths in China, and East Asia, because they were able to present these issues through different perspectives of adults. I personally really liked the ending, because it gave more openings rather than it closes them, as their lives take on another journey.
If you enjoy slice of life, and a focus on friendship and family dramas, this is a MUST WATCH.
BTW SEASON 2 IS COMING SO YE.
Was this review helpful to you?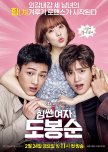 The only thing that kept me distant and disappointed from this drama is the story and the writing. I'm a sole believer that the writing is pretty much the most important aspect of a film (next to acting).
STORY:
It's just all over the place. Sometimes I felt like the writers tried to make the story unpredictable but it's super predictable. They try to build up suspense and made me anticipate some sort of extraordinary plot twist only to be let down, failing the turn of events. There are some parts that just don't mix together, and there are a lot of holes in the plot. It's like the writers forgot half of the story an began to drift somewhere else. I started this drama because I love strong, badass female leads. Not that I was disappointed by Bong Soon, but more like I wish I could get more out of her. There is just so much potential in her character, but if you take away the strength of her, she would've been any other female lead in a romantic comedy. But other than that, the romance and the comedy aspects can be quite enjoyable.
ACTING:
I LOVE JI SOO. He is what kept me going throughout this drama, and he is why I started the drama also. I'm also a fan of Park Bo Young. The acting is fairly decent. I think they all did a great job. Definitely lots of eye candy in the drama.
Music: I really liked it, I listen to them on my free time too XD.
Cinematography: Very pretty and high quality scenery.
OVERALL THOUGHTS:
I think this drama would be great if they pre-produced it. There is a lot of potential because of the female lead. She can bend all the Kdrama cliches due to her strength (like wrist grabbing), but even when she did, why did it still feel like it's a cliche?? A lot of ideas were introduced later in the story which is why it made the plot messy. The whole drama itself is quite enjoyable, if you overlook the plot and stay for the romantic comedy. (Though, you'd either find it cringy or cute)
Was this review helpful to you?