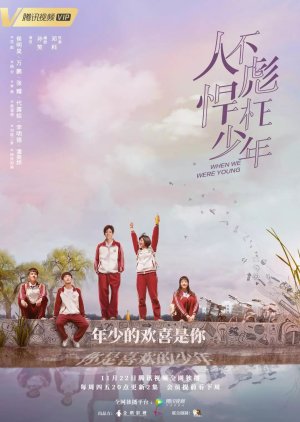 This drama was soo gooooood!!!! I really recommend to new c-drama fans!! It's definitely one of my top favorite dramas of 2018! It has similarities with "Itazura na Kiss" series and their remakes as well as "A Love So Beautiful"

Yangxi, main female character, is actually quite smart when she puts her mind to it. Although she seems to not have enough confidence or believe in herself, she is still able to do it with motivation from those around her. She is typically very positive and energetic. The usual happy-go-lucky female lead. I really like her personality. She initially wanted to depend on cross country running to help with her exam points but that changed so the drama focused on her in class with her friends - studying, reading, etc. She is obsessed with wuxia romance novels and dramas its her way of de-stressing or happiness. Its also a distraction so she gets in trouble for it. Don't worry though because her tutor is quite strict yet charming.
New transfer and intelligent student, Hua Biao, is usually her tutor and very strict. Its adorable watching those two together! They have such great chemistry; I just couldn't stop smiling when they stare at each other, care about each other or have subtle movements with one another. Hua Biao tends to do things on his own or prefers to not bother anyone until his friends figure it out. However, Hua Biao is also friendly with others like Yangxi so he's quite loved by his peers. His personality is typically very nonchalant but in reality he has his troubles. I was very heartbroken for him in episode 23. I felt his pain, Hou Ming Hao (actor) did a great job portraying the character.
Liyu is Yangxi's neighbor and childhood friend, he is also smart and cares deeply for Yangxi. He tends to do things for Yangxi because he likes her, however, Yangxi is quite clueless and thinks its just part of his personality. He is able to do a lot of things on his own and he cooks very well according to Yangxi. He is usually alone, like Hua Biao who only has his grandma. Liyu only has his dad while his mother is living in another country. He is a mama's boy and wishes to see her and be with her. There was one time when he was upset with her, and that's the episode I disliked the most because he was very stubborn. Other than that, I do like his relationship with Yangxi, its very precious!
The drama focuses on other supporting characters' stories as well and it's not boring at all! I can resonate with a few of them. You may end up being heartbroken, or sad but not mad or anything. Although there are some parents I wanted to slap because they were quite selfish. At the end of the day, this drama has almost every issue families deal with in reality.

I love the editing of the drama especially when someone does something for another without their knowledge, it transitions back to show us how that person did it. The last episode was one of my favorite edits because it shows when Hua Biao took notice of Yangxi, quite earlier than we thought haha.

The ending wasn't exactly how I wanted to happen but I'm satisfied. Its not a bad ending. It was, in a way, sad but I'm happy that everyone were able to do something they dreamed of or hope to do. I wish for a season 2 of the same cast but I doubt it will happen. :( IT NEEDS A SEASON 2!!!

Overall this drama was very sweet, cute, refreshing and a must watch! It deals with typical school stress, teenage crush/romance, dementia awareness, depression, families issues such as divorced parents, expectations from parents, job lost, etc. I could re-watch it all over again! I kept re-watching the episodes as I waited for new episodes to come out each week, it is very good!

Was this review helpful to you?