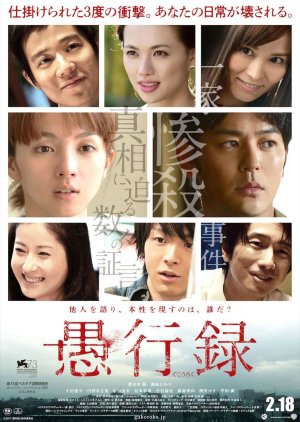 The film was a roller coaster ride, truly. It was interesting and while it is not something I would define as 'exciting' at first, it was done in a pace where the viewers won't be able to pull away from their seats. The pacing was done similar as to when you're reading a book - chapter by chapter, flipping through each page and absorbing all the details that were being provided to you by the characters themselves. Its plot depicted some, if not most, of the problems the Japanese society is facing up to this day - inequality and hierarchy, just to pick the most significant.

For me, something remarkable in this film is its deliverance wherein lies which molded the beings of two characters that were said to be or known to be the 'perfect' couple on the surface were slowly peeled off of their facade ( when re-investigation came about for the homicide case ). And slowly, we as the viewers get the chance to see the perspective people had of them, their 'real' characteristics or who they are while trying to uncover who killed the family. BUT at the same time, hearing more perspective gets you confused. It is the same with reality, we hear various sides and ideas to a story and it just keeps piling up until the truth is even more covered. It is a film that will make you think until the very end.

I wouldn't say this as something I completely dislike because I decided to pick the film knowing the circumstances, but the theme was dark or heavy for me and can be triggering. So, that's a heads up for those who wishes to try.

Overall though, the acting of Mitsushima Hikari and Tsumabuki Satoshi is always on point and will pull you along the tides of emotion. No doubt about that. The lighting, music, and cinematography were also a great choice for adding to the 'suspense' atmosphere of the film. Also, this is a the type of film you would need to re-watch a couple of times to understand and perhaps get to the answer you're looking for.
Was this review helpful to you?