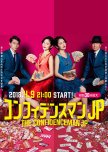 Without much expectation nor anticipation for the drama , I decided to check out the said drama as it was available on one of the App I was using for viewing. Truth to be told, episode 1 gave me a hesitant feeling whether or not to proceed with the drama. it was fun and an enjoyable ride however it made me question its 'purpose'. BUT wait, don't ever think of dropping this one. J-drama fan or not, it is the type of drama anyone can sit back and enjoy. No lies there. Don't question at all, Confidence Man JP is not the type of drama where you need to do much thinking but instead it is the type of drama you should pick up when you're totally exhausted, stressed, or depressed.
The cinematography is something you'd see in Fuji TV Dramas? Nothing exceptional however the lighting helps with the 'feel' or 'atmosphere' of the show, giving it a warm and lighthearted feel. Music-wise, it is a drama where nostalgic songs such as GreeeN's Kiseki would play..why? You'd have to find out for yourself.
That's right, this drama isn't just about the entertainment and thrill the three characters may give you on screen but it also displays a lot of morals for the viewers. What's true happiness? Does Money really matter? and so on.
Actors? The likes of Konihata Fumiyo is someone you will typically see in all sorts of drama but his portrayal of Richard leaves an impression! Truly, I do not think Richard will appear as a seemingly 'gentleman' if it weren't for the tone of his voice and his image. This is followed by Higashide Masahiro who has been gaining much popularity in the Japanese Acting Industry as of late, well.. what do you expect, Higashide will make a character as charming as he is! The gullible Boku-chan is one of the highlights of the show so do look out for him. Last but not the least ( as you'd have to consider the wonderful guests each episode offers), Nagasawa Masami. She has never been in my list of favorite actresses as her previous acting skills did not 'wow' me at all despite her long stay in the industry but if you have seen her acting or state back then, then you could pretty much see how much she's grown over the years. With that said, I can finally say Dako won't be as fun as Dako without her cheeky and bright portrayal. She truly shined in this role and she fits it 100%. No overacting from the three at all. so rest assured.
Overall, it was fun.. it was fun to the point that once the drama hit its final episode, I was too sad to bid goodbye to the three characters. The ending was well-played too.
Was this review helpful to you?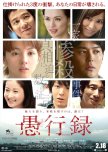 The film was a roller coaster ride, truly. It was interesting and while it is not something I would define as 'exciting' at first, it was done in a pace where the viewers won't be able to pull away from their seats. The pacing was done similar as to when you're reading a book - chapter by chapter, flipping through each page and absorbing all the details that were being provided to you by the characters themselves. Its plot depicted some, if not most, of the problems the Japanese society is facing up to this day - inequality and hierarchy, just to pick the most significant.
For me, something remarkable in this film is its deliverance wherein lies which molded the beings of two characters that were said to be or known to be the 'perfect' couple on the surface were slowly peeled off of their facade ( when re-investigation came about for the homicide case ). And slowly, we as the viewers get the chance to see the perspective people had of them, their 'real' characteristics or who they are while trying to uncover who killed the family. BUT at the same time, hearing more perspective gets you confused. It is the same with reality, we hear various sides and ideas to a story and it just keeps piling up until the truth is even more covered. It is a film that will make you think until the very end.
I wouldn't say this as something I completely dislike because I decided to pick the film knowing the circumstances, but the theme was dark or heavy for me and can be triggering. So, that's a heads up for those who wishes to try.
Overall though, the acting of Mitsushima Hikari and Tsumabuki Satoshi is always on point and will pull you along the tides of emotion. No doubt about that. The lighting, music, and cinematography were also a great choice for adding to the 'suspense' atmosphere of the film. Also, this is a the type of film you would need to re-watch a couple of times to understand and perhaps get to the answer you're looking for.
Was this review helpful to you?