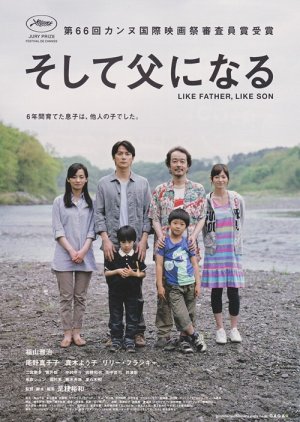 Aside from amnesia, the story of mistaken exchange babies is perhaps one of the most used in drama history especially HERE WHERE I LIVE (PHILIPPINES). So it is mind-boggling how the director makes it FRESH if this was done by some Filipino director there will be lots of crying families cursing each other children became delinquent etc. etc.

The movie is slow, but it is so realistic that you feel you're not watching a movie. I love how the family handles the situation and how the parents realize about themselves when they exchange the child.

IF you don't like a slow artsy movie then it's not for you.
IF you want something different then it's for you.
IF you want to relax and stop thinking about your daily work then it's for you

I don't cry in this movie..this is NOT a tearjerker movie...but the effect will last long.

The scene when a father was holding a camera and browsing at the pictures taken by his 6 yr old former son is what HITS me.

[ koreeda style is this......he will make you walk calmly slowly THEN a f*cking truck
came and hit you in the end, the damage will stay with you for months ].


Check my Blog for other reviews & other JDramas stuffs. (。◕‿‿◕。)
https://thatjapanesedramaguy.blogspot.com/
Was this review helpful to you?