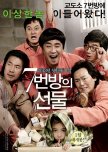 I have seen so many different korean movies and this was definitely one of the best movies out there. It's incredible. It can make you laugh out loud and the next moment you will cry like a baby. The actors were perfect for this movie. I never thought a little girl could pull this off. Kal So Won is absolutely amazing.
There were moments where i could feel my heart break. Even now, 20 minutes after i ended this movie, i can still feel tears in my eyes. I have never ever cried like this while watching a movie. At the end, there was this moment where i cried so much i thought i was going to break down.
I'd love to watch it again but i don't think i can. I already have a headache because of crying so much.
10 points out of 10.
Was this review helpful to you?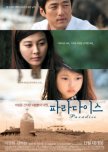 Paradise
4 people found this review helpful
This movie seems to be a bit different from others. It's a really good story about new beginnings. And i definitely recommend it to everyone! I was really surprised when i didn't find any reviews or comments about this movie.
All the actors were amazing. Kim Haneul is one of my favorite korean actresses so probably she's one of the reasons why i watched this movie in the first place. And i wasn't disappointed. I also have to mention Kim Yoojung. She's young but amazing!
And about music.. All the songs were also really good. They were better than i thought they would be.
Rewatch value is 7/10, because usually i don't rewatch movies. But if i were bored then yeah, i would watch it again because it's a nice movie.
9 points out of 10.
Was this review helpful to you?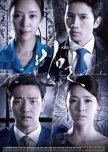 Secret
21 people found this review helpful
I'm not going to lie. At first i thought about watching this drama because of Ji Sung. He's my favorite korean actor. But after i read the plot i just felt like i definitely need to watch this drama.
I get bored easily while watching a drama and then i just drop it after an episode or two. I have seen 6 episodes of Secret Love and i didn't felt bored even for a second.
The story seems different from others. I haven't watched anything with similar plot yet. And i'm happy Secret Love is my first.
The actors are absolutely amazing. I'm really happy that Ji Sung and Hwang Jung Eum are the main leads in this. They look good together. And it's my first drama with Bae Su Bin and i don't have anything else to say than that he's a great actor.
The music they used in this drama is also really good. I love the OST and it really fits the drama. I have never actually felt like this. I usually have a hard time liking the music they use in dramas, but this is really really good!
I don't have anything else to say right now. I definitely recommend this to everyone. You won't regret watching this.
Right now it's just 10 points out of 10. And i don't think it's going to change.
Was this review helpful to you?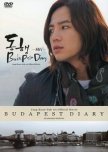 When i first found Budapest Diary in mydramalist and read what it was about i wasn't sure if i should watch it. The same thing happened while i was watching this. But i'm really glad i didn't stop and watched the movie until the end.
At first i was really surprised how short it is- only 40 minutes. But that was enough. The story was good and different but Jang Geun Suk made it work. And the songs they used in this movie were also surprisingly good.
If you feel like watching something different then you definitely should watch this. I recommend!
9 points out of 10.
Was this review helpful to you?