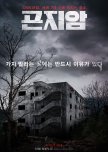 It's rare for horror movies to get much of a rating. When you look at their ratings, you look more for anything above a 5, because if it has 8 or above, it must be a unicorn or something. While this wasn't a unicorn, it hit all the buttons for me in terms of creepy.
I tend to not like supernatural stories that much, as I find that people can be far scarier than ghosts. This story managed to balance a line with the aspect of a haunted place and not feeling so focused on this abstract supernatural being. It was a haunting. Not a martian or a big bad wolf. The movie also played with timing, which I appreciated. In typical horror flicks, you have a 1-2 reaction with something popping up. There were points in this where the image held and so if you closed your eyes for a second and opened them expecting it to be done, you'd be wrong. Even at points when there was looking away and back again, it didn't follow a 1-2-bang punch. You kept thinking this would be the time, and so when it finally was, it was like being grabbed by the throat.
The music was just right to get an eerie feel and add that essence of "this sounds sweet and playful while also sounding ominous and like I may lose my head." The acting was solid, and while the story is not original, it was done in a way that didn't feel like I was watching the exact same movie with different actors. What really shows that the images held up for themselves is that the subtitles were less than perfect, and yet the aspect of terror was still projected.
Horror movies are incredibly subjective, but this one definitely had me covering my eyes for a minute and is something I would rewatch with a friend.
Was this review helpful to you?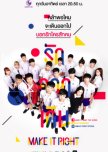 This review may contain spoilers
MAKE IT RIGHT is a mixed bag for me. In general, once the story lines got going a bit, I was more involved, but I found myself skipping through some of the side aspects and not feeling invested in most of the side characters, which for me is not the greatest sign.
I also struggled a bit with the first act of intercourse between Book and Frame. You may consider this to be "spoilerish," but the truth of the matter is it's something that you should know going in, as it could be difficult to see for some (and it tells you nothing about what happens later). While I wasn't triggered by it, and I have heard that the intention was not for it to come across as it did, I can see how it could end up being horribly triggering to others. I was uncomfortable with it, and I wouldn't have kept watching if I didn't know it wasn't the intent (as opposed to in another drama here the intent is for it to be portrayed a particular way).
The music often jerked me out of moments, and this drama used some of the silly little noises at times that always make me feel like I'm watching a cartoon. I was invested in the main two characters, and the acting wasn't terribly poor (though it is possible I just got accustomed to it as episodes went on), but I still didn't fall head over heels for the show. I'll watch the second season, but I'm not sure I'd rewatch this.
Was this review helpful to you?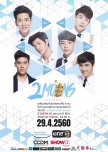 I'm not sure why I put this off for so long, but I did. As it turned out, some stressful things had happened at work and I needed something light and fun, and finally it clicked. So I watched... and watched... and watched.
The show captured me pretty quickly. It isn't a deep, in-depth love story. At times, I found myself face-palming, particularly with Ming and Kit, but in the end, it made me smile.
I don't remember as much of the music, which says to me it wasn't anything grand, but also didn't drive me insane. I did like the two songs that I do recall, and they were just generally sweet songs.
The cast is adorable and has a lot of great energy. I would be deeply disappointed if they don't continue with a second season, as I really feel there is so much more to tell, particularly in terms of the side couples.
I'd watch it again when I need something light and silly.
Was this review helpful to you?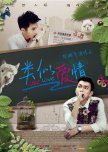 When I first started LIKE LOVE, I was not terribly impressed. Mai Ding was annoying and the story was seriously lacking. I still have no idea how they became "kinda friends" and it started the ball rolling for more. For that aspect of the story, I was left scratching my head. It had a middle, but the beginning (and honestly, the end) were lacking a bit. The reason the end doesn't irk me is mostly because I know it is continued. Some of the transitions from scene to scene were quite choppy and made me feel like I missed a part of the story, but I was enjoying myself too much to care at that point.
For part, I took the story more as a bit of a romantic comedy, and I found that allowed me to slide into it much more. If I saw it as a silly, romantic build up, I found myself less irritated. When we get to the middle of the story, Mai Ding became stupidly endearing (though still annoying at times). The comfort between the actors and their sweet interactions felt natural and easy. The music itself was nice and I appreciated that there weren't the weird side noises (like a thought bubble bursting... it tends to make my own thoughts burst into a weird series of what on earth was that.)
I also thoroughly enjoyed seeing the growth of An Zi Yan and the subtle ways he melted into a much more loving person (while still retaining his edges). I believed him when he put his feelings out there, despite the no-frills way he expresses himself.
Some of the side characters were also lovely too. I enjoyed that we didn't get a spiteful ex and the best bud next door played a hand in the love. Despite the rocky start, it's a show I'd likely watch again when I want something light and sweet with some heat and a dash of drama.
Was this review helpful to you?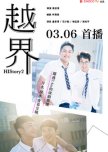 As I was going through and rating, I wanted to be picky. I was trying to figure out what I could take half a star away, simply because this isn't my absolute fave... and so I thought and thought and... dang it, I couldn't fault anything.
I've seen it said that BL has a lot of tropey-ness (what doesn't?), but this seemed to weave within tropes in a way that created an original pattern--something sweet and just fresh enough to keep me intrigued. The actors/actresses all fit their roles to a T, and when you look back, you can easily see the development. They aren't two-dimensional and bland, and even barely there side characters like the twins are memorable.
The show possesses two separate love stories in it, and the one thing that does make it fall slightly is that it is just too short and could stand to be expanded. I wouldn't say that's a complete bad thing, as I would easily watch the same season expanded just as I would absolutely adore a sequel (for both couples.... and possibly co-captain and #7? Bahaha).
I struggle a lot with the cheese factor in BL dramas, but BOUNDARY CROSSING was able to balance it quite well. There were moments that had me smiling and excited and others with the right amount of angst and others that were just plain sweet and endearing. The interactions between the characters felt organic and naturally awkward when they were supposed to be, which is hard to pull off. The music fit the scenes (which is a HUGE pet peeve of mine... who wants an upbeat song when something tragic is happening? Not I.)
While I know HIStory is more of a bunch of short stories, I really, really would give my kidney (...or probably not. I like my body parts) for this portion of it to have a continuation. I feel it would be a shame to not give it more, which it (and I...) so deserve.
So major kudos.
Was this review helpful to you?