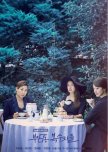 This review may contain spoilers
Avengers Social Club: The drama you think you won't need but you'll look for more, crave for more once you started it.
Revenge dramas has been a household staple of dramas ever since. It's difficult to thread the waters of the typical and cliche. But, ASC, didn't swam through those waters. They flew right above it. They made the sky their mold. ASC broke all the conventions of revenge dramas. I won't even dare say this is a revenge drama after finishing it.
The first outstanding part of this drama is the story. Yes, the plot might sound albeit funny and unusual but that's what makes this drama great. Almost none is left out of hand. Every event is cohesive and is connected. The story helps the characters develop whilst gaining interest. The drama also tackles societal issues without being too exhausting or overbearing. It's truthful on it's characters and on it's audience. It's been proven difficult to describe this drama's relentless charm and wit without any spoilers.
The characters- I have never been so engrossed and engaged with characters as I did here. I salute the writer for taking the risk of putting different facets of personalities in one group and making it work well. Mind you, everyone on this drama is all rough on edges and might make you feel perplexed for a bit and watching these characters' adventures on  developing into their ideal selves is the most rewarding aspect of this drama.  The actors did well with their roles too. None of them feel disconnected with their characters. They brought their portrayal to life. It's as if you've had forgotten their names and remembered them as their characters here. They are that good.
The music and scoring fits and blends the drama. It help convey scenes in an almost subconscious manner.  No annoying or over the top sound effects present on this one.
As for rewatching the drama, I WILL DEFINITELY DO IT AGAIN. This is the type of drama that won't lose it's personality no matter how many times you've watched it. Everybody is lovable. The story is definitely worth the time.
This is the powerhouse drama of 2017. It's a gem the light is worth striking. 
Was this review helpful to you?