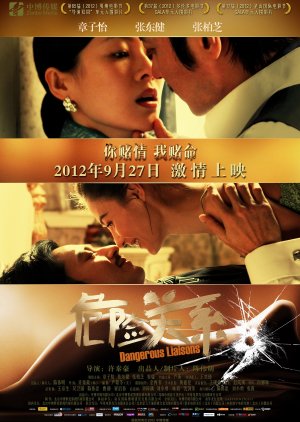 Guys... I don't understand why this movie has a 7.7 rating?? It is so good!!

Story: I've never watched any other versions of this story so I'll rate the story solely based on this movie itself. The storyline is wonderfully written from beginning to end. Everything happened for a reason and flowed well throughout the entire movie. I've never actually watched a storyline like this so it was quite new to me. The characters were all well developed. We have a playboy as the main male lead, an innocent widow that isn't into playboys, and a super cunning lady whose wittiness actually ruins her life and everyone's around hers. Needless to say anymore before I start spoiling--- this movie is GREAT and you should definitely definitely try this out.

Cast: I'm more of a drama fan so 99% of the time I am watching a drama, not a movie. However, movies are great if you don't have a lot of time to waste--- so I tried this one out. First of all, I've never watched Cecilia Cheung or Zhang Ziyi before. What I have to say right off the bat is: EYE CANDY. They are so beautiful!! Esp for ladies in their 30s-- just STUNNING. Not only eye candy but their acting was on point. Zhang Ziyi was good at portraying the innocent widow, but my eyes were set on Cecilia in this movie. She NAILED her role as Madam Mo. Her eyes, her smile, her actions, everything just gave off that cunning vibe to her. She definitely killed it. Jang was good as the playboy also. Out of the entire cast, everyone did a great job but Cecilia had me sold 100%.

Music: It was fitting.
Rewatch Value: A great movie, why would I not rewatch?!

Overall: HONESTLY I RECOMMEND THIS MOVIE! IGNORE THE 7.7 RATINGS. The story is great, the cast is great, there is eye candy, phenomenal acting, no plot holes, everything makes perfect sense, great justified ending... what is there about it that isn't worthy of a watch??? Def don't miss out on this gem!
Was this review helpful to you?