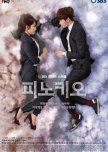 STORY
I found the first half of the show fresh on its own merit. The conflict of the first arc got me hooked that I even found myself thinking about it before I sleep. I ask myself questions how, why, what will happen next? It was a thrilling ride for me because of its fast pace. Until the second half/arc comes in. I could care less about the evil moms lurking around than the poor tragic brother Dal Po has. I nearly dropped the show because of the plot and the constant "i must tell the evil truth about this some because i care". It slowed down on the second half. Good thing the cute was still there, but it was less angst. I love the family's bonding and love for each other. That's the best thing.
ACTING/CAST
The actors in this drama should be given a standing ovation. The drama's execution kind of cured some of the plot holes and "not so incidental" information gathering.
Park Shin Hye's character was refreshing. A heroine who was honest (because she has no other choice that is), and understanding is a nice project for PSH.
Lee Jong Seok's acting was superb as always. An acting which gets you right through your heart. Kim Hae Sook is another notable actress though her character here undermines her acting ability. She could have done more in the earlier episodes.
Beom Joo's character was a little inconsistent. Though it was a nice resolution for him.
Yoo Rae! All she did was pout. That's kinda sad.
REWATCH VALUE
With the story laden at hand, the twists would give a lesser effect already. But maybe I'll rewatch it. If I miss Dal Po's finger guns. HA.
Was this review helpful to you?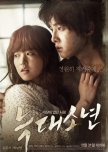 This is one of the most memorable Korean movie of all time for me. It offers a good balance of humor, thrill and heart. What I like the most is the fact that this movie is not just for the sake of executing a written script.
STORY
As far as I have watched Korean movies, the story is not cliche. Set in the past, it gives the audience a nostalgic feeling. With a lovable heroine and innocent hero, the story was well balanced. The villain is driven by jealousy which is familiar with Korean audience but the way it was executed was excellent (especially the resolution). Some might not like the ending, but I definitely loved it. With the hero's character overcoming all the struggles just to fulfill his promise, it was superb.
ACTING
I love Song Joong Ki. He gave Chul Soo a color no other actor could give. It's not easy to standout in a film with a very few lines yet he managed to do so. Park Bo Young's acting was heartfelt.
REWATCH VALUE
Definitely must re-watch.
Was this review helpful to you?