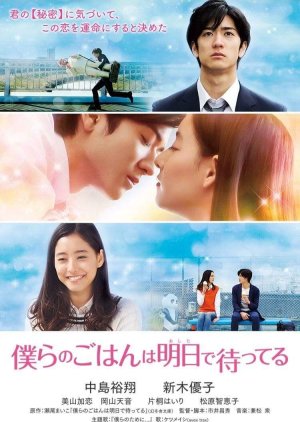 To sum up the two leads.  Koharu (lead female) is holding the flickering beacon of love in Ryota's (lead male) dark tunnel to bask in an endless black hole of love.  - now I sound like Ryota.

The film is a coming of age story that best sums up "YOLO", you only live once.  You enjoy the little things and remember that time waits for no man, be happy that you have today because you might not have tomorrow.  Be happy you can remember who you love and celebrate them because who else will the following day.  

Therefore, despite this pervasive sense of doom in the dialogue; there's a battle at the same time.  The battle is coming from the brightness in the cinematography and it's also in the speed in which they have Koharu (female lead) deliver her lines.  She delivers it so fast as though she wants to be done with these discussions on death and gloom.  But she talks on family and growth you see her speak in a softer tone.  

So we have her a bright light falling in love with someone who is dealing with serious issues.  Someone she's loved for a very long time. In almost every scene he (Ryota) comes across very dark. Ryota's hair is very dark, his clothing is very dark, he speaks in a monotone, he speaks very slowly, and he's not engaging. He's unapproachable. His nickname is Jesus Christ and I sat and wondered why, then I realised it's because it seems that he carries the weight of the world on his shoulders. 

As the movie progresses, you barely see that you've already fallen in love with the couple and the story line.  You've fallen in love with the regret and pain.  
----------------------------------------------------------------------------
I'm going to end this review with a reason why I gave this Jfilm a 7.  It will start off with a quick caveat on what Japanese dramas/films mean to me and then what happened here.  I love, love, love, love, love Jdoramas and Jfilms.  You can go to my profiles and see me waxing poetics.  Thanks dad.  I was raised on them and so I love them.
I normally give them high scores, this could be because of pure bias (WHICH IT IS NOT!).   It's actually mainly because I know I'm going to get quality.  ALWAYS, quality.  

   By the way, make no mistake, there was quality here. That wasn't why it was a 7.

The other thing about Jdoramas and Jfilms and this unlike the always compare Kdramas - (not Kfilms ---those are good). You know what you're getting.  If you are going to get family, romance, tragedy, human, work, coming of age, bromance, sisterhood, etc. drama.  You know you will get that in a drama.  Even in a kdrama, they find some kind of way to put some kind of tears and sadness in a damn romantic comedy.  Why? Why?  It's a bloody romantic comedy.  Keep it light.  Keep it light.  Sorry...my rant.

This wasn't any of those things. I knew I was signing up for sadness and tears.  I knew I was going to have my moment in the sun where it would be to hard for me to bare.  I accepted, welcomed, and wanted that.  I felt cleansed because the actors were brilliant.

-----------------------------------------------------------------

What's the problem and they scored so low? Damn soundtrack. What kind of music was used for this drama?  It was sort of rocky and stuff and I hated it. This is such a sad story and then they put such a shitty song.  Ugh, have mercy.  Yup, the song was ranked so low (4.5) it brought down the whole thing.  Not to mention, I don't really put sad stories high on my re-watch list. I'd have to be in a really depressed mood for that to happen. I ranked that at a 7. 



Was this review helpful to you?