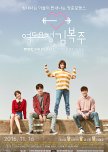 How to describe my love for this series in words? How? Weightlifting Fairy Kim Bok Joo was a breath of fresh air. It was refreshing, comfortable, adorable, heartwarming, hilarious, and I just felt myself get so attached to the characters and story.
It has so many lovely messages and takes you on a rollercoaster of emotions staying consistently good each episode. The acting was beautiful and the characters are extremely relatable. The story focused on a variety of things without being overdramatic or all over the place. It also really delved into the characters background stories without focusing too much on one lead over the other.
You will not only adore main leads Kim Bok Joo and Joonhyung but also sob over their amazing chemistry. You will love the weightlifting team, family, and friends. You will find yourself laughing so hard, smiling over fluff, and getting upset all in the right scenes.
I would find myself watching this drama over again for sure it just made me smile through every single episode ;_;
Watch if:
You LOVE fluff/cuteness
You like slice of life pacing
You like awesome female leads
You like non-jerky/aggressive and adorable male leads
COMEDY "WHAT?" (you'll understand the reference if you watch)
You love feeling emotional
You love heartwarming + family scenes
Don't watch if:
You don't like coming of age/everyday/youth dramas
(I can't think of any other reason not to watch)
Was this review helpful to you?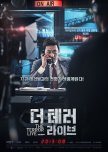 WOW! After watching a number of disappointing movies on my search for thrillers, I was happy to have found The Terror Live. This is what I call a THRILLER.
Let me start by saying, this one wasn't too high up on my to watch list because the description made me go? One room, a guy reporting = thriller?? No thanks. But boy was I wrong.
If you liked the 2002 film Phone Booth, then you will definitely will love this movie. It has everything a thriller needs - the suspense, the twists, the build ups, and a story line that keeps you on the edge the from the very beginning to the end.
The movie also makes you question a lot and there's a really blurred line between good/bad, right/wrong, which will keep you conflicted about "justice" the whole time. The style of the movie is great because I couldn't really predict the sequence of events or what action the main lead and the criminal would take.
I think I need to take a step back and applaud Ha Jeong Woo because I don't think another actor could have pulled it off the same way as him. His acting really added to the intensity of the movie, and I was pretty much pulling my hair out alongside him. (going to be on the lookout for this actor now...)
If I rewatched this after a while, I feel like I would have the same intense feelings, and that's how you know it's a good thriller. Watch if you're looking for an interesting, fast-paced, and non-traditional thriller!
Was this review helpful to you?