If you're still experiencing technical difficulties, please report it
here
.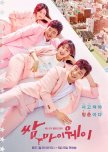 If there is one thing that you should really pick up this drama for, it's the characters. Not only will you fall in love with the main characters, but they also have a very realistic sense to them. No character is perfect, but that's part of the reason you love them.
The story itself isn't really much, but like I said, this story is one that almost strictly works for the characters. The plot works best in the first half of the show and I will admit towards the later episodes it doesn't have as strong of a grip on things as it once had, but I never considered dropping it because I did love the characters that much. I think this drama might have worked better if if were 20 episodes instead of 16 in order to pace out the plot a little better.
The cast, of course, makes the show. Ae Ra and Dong Man have great chemistry, dare I say some of the best I've seen in kdrama. You can't help but love them and love them together. Sul Hee is another stand out performance, but the whole ensemble works very well together.
Not everything in this drama happened as I would have liked it too, but I still think I will count it as one of my all time favorites. It's honest, it's funny, heartbreaking and heartwarming all at once. I will miss Ae Ra and Dong Man a lot, and I hope to see more dramas with the feeling that this one had in the future.
Was this review helpful to you?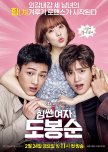 Okay so first things first is that this drama is probably not what you're expecting it to be. Things got way more... intense you could say than I ever expected. Was this drama perfect? No. Did I throughly enjoy it until the very end? Yes!
Some people say the plot didn't work very well together, and while I agree there were a lot of different elements to this, I still found it very compelling. I can definitely say I've never seen anything like it before in kdrama. At a glance this drama seems pretty light, and for the most part I'd say it is, but there are some very intense sections. Some people, like me, enjoyed both of these aspects but I can see how others were turned off by it.
Whatever the plot might have lacked, the cast made up for in spades. I was in love with the leads from day one, and the more the side characters were introduce the more I found them fun and charming. Do Bong Soon was someone I empathized with and had no trouble rooting for. Min Hyuk was BEYOND adorable and often times stole the show. They worked so well together and made the whole thing worth watching.
I understand how this can be a hit or miss for some people, but for me it was a hit. I can't wait to see Park Bo Young and Park Hyung Sik go on to do even more things. I think I'll eventually rewatch this one, just because there's so much more to catch a second time around.
Was this review helpful to you?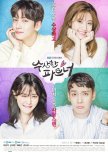 I've never been the biggest fan of crime dramas, but I can say I really did enjoy Suspicious Partner. What drew me in and kept me in was the chemistry between the characters. Every character's relationship with the others all have interesting dynamics to them. I even found myself being excited by the plot at times, something that usually falls by the wayside when I watch crime dramas.
I was drawn in by the mystery of the plot. It was very intense at first and did leave me at the edge of my seat. As the show went on, the plot did feel a bit tired and drawn out. This drama probably could have wrapped itself up with a few less episodes, but I was always in it until the end.
Like with most of the dramas I enjoy, it's the characters that do it for me. Ji Wook and Bong Hee have a very addictive dynamic and they're very interesting characters inside and outside of their relationship. There was just the right amount of angst and fluff to keep me satisfied (though as someone who watched the show as it aired, the angst could get to be a little maddening). They're good people and they're people that you want to watch succeed and be happy.
If I were to rewatch Suspicious Partner, I'd probably skip over a few episodes towards the end, but it would be worth it to see all these greta characters again. The side characters are interesting and complex and aren't put in boxes. Characters you may not like in the beginning, you start to love in the end and I really like that in a drama. I'd recommend Suspicious Partner to anyone who'd want a drama with a lot of layers, but was also digestible and fun.
Was this review helpful to you?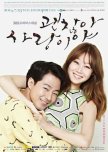 There's simply no other drama like it, at least that I've seen.
The chemistry between the two leads feels so real and genuine that I often forgot that they were just characters. The story is compelling and unique and a majority of the supporting characters are interesting and help move the story along with providing their own depth.
(On a side note, as someone who is a huge huge fan of Weightlifting Fairy, being able to see Lee Sung Kyung in her very first drama was a treat as well and really shows what a versatile actress she is!)
There isn't a lot to say for this drama because I think it really speaks for itself. I think it's a must-see for the genre. It's unique and follows no cliches, though it does certainly get very heavy at times. I wouldn't want every drama to be like this, because I'd for sure be emotionally drained, but it's still a gem and worth the watch.
(The soundtrack also showcases a lot of songs in English, much more so than any other drama I've seen, which I found to be pretty exceptional and gave me a new playlist to visit when I'm missing this drama!)
Was this review helpful to you?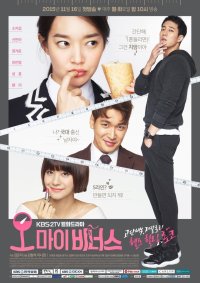 I have been putting off watching Oh My Venus despite the fact that I knew a lot of people liked it because I just didn't think I would vibe with the plot. Luckily, I was really mistaken! This drama was addicting and had me falling in love from the first episode.
The plot itself worked a lot better and was a lot healthier than I imagined it to be. It was a little ridiculous to me that they considered Joo Eun to be wildly overweight when she was just a little chubby to begin with, but it is Korea. I did find that with all the characters that there were times, especially towards the end, where their plots didn't feel entirely cohesive and that I was watching three different dramas in one. The plot got a little fuzzy in the later episodes, but the cuteness of the leads certainly made up for it.
I ADORE this entire cast. The side characters were interesting and I cared about them. Joon Sung and Ji Wong were the most lovable pair and I couldn't get enough of them.
Overall, I get why this drama is highly recommended. It's not perfect, but it's something a little different that is refreshing and fun to watch.
Was this review helpful to you?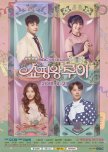 I definitely liked this drama more than I disliked it. If I had to sum it all up in one word it would be: CUTE. I was constantly whispering to myself "that's so cute" pretty much every episode.
Even though the plot is pretty trope-filled (but I do love myself a good trope) it still feels particularly unique and not overdone at all.
The two leads were great and very lovable. Louie could definitely be a bit annoying at times, but I think he made up for it in the later episodes. Bok Sil was a fantastic leading lady and it was very easy to root for her.
My main complaint about this drama is about the supporting characters. I either didn't like them, or felt like we didn't spend enough time with them. Good supporting characters in a drama mean a lot to me and I just don't think SKL really delivered on this.
Overall, SKL is a nice watch if you're the right type of person. I did consider putting on hold a couple times during the middle episodes, but the need to find out what would happen to Louie and Bok Sil kept me hanging on until the end.
Was this review helpful to you?