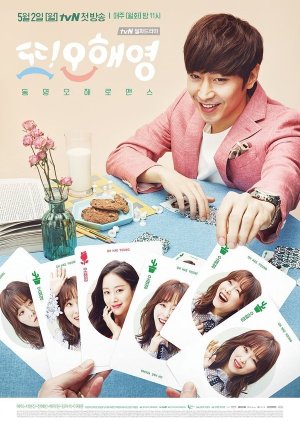 I'm very glad about my drama trade I did with another MDL user because it made me watch this little gem, that I surely would have never touched on my own. The summary and the promotional covers never piqued my interest before.
 
There are so many things that I love about this story. First of all is the idea in itself. They did a pretty good job with explaining the visions, making them convincing without making it look too much out of space. With the same pace Do Kyung was getting an idea of what was actually happening to him, it made me understand it step by step, too.

The way the romance was emerging. From the original setup to the new one. Well explained and real. I got a pretty good feel of how deep their emotions were growing and I liked the idea of "fate" here. I loved how that whole relationship was developing, even though they sometimes seemed a little foolish. But that's what love actually is, right? Acting against all logic and not getting bothered about other people's opinions. What makes you really happy and how do you want to spend that one life you got?

I was dying with pleasure seeing all that skinship. It felt comfortable and real and made me very, very happy. When it seemed like their pent up emotions were finally exploding, I felt the same. I'm a sucker for hugs and here are so many tight embraces that I wish I had someone near me who would hug me just at the same time, lol. And their kisses... Don't get me started with those. All these things are one big part of what made this romance so intense and beautiful.

The acting was very impressive. Eric blew me away. His character drew me in to a point where I couldn't stop but root for him all the way, no matter what he did. I saw his remorse, I felt his misery and I enjoyed his approach to slowly change himself and become happy, no matter the outcome. Same goes for Seo Hyun Jin. Her despair, her hunger for love and her feeling of betrayal of life itself were crushingly unfeigned.

There is some really strong writing in this drama. Some dialogues had a big impact on me and made my heart flutter all of a sudden so many times. The story did a pretty good job at riling up my emotions in every way possible.

I also loved the side stories. Interesting characters even though some of them were a little exaggerated. I enjoyed them nevertheless. Do Kyung's sister was one hell of a person. Her on/ff modes were hilarious but what I loved the most was that no matter what, she stuck to her family, supporting them in her own way whether blood-related or not and was always like a guardian. I also loved Hae Young's parents. Although her mother was really, REALLY stubborn towards the end, I enjoyed the time when she was silently giving in, showing that she truly loved her daughter and wanted her to be happy.

About the two second leads here...
Well, I didn't really care for their stories while watching the drama. Now, at the end... Well, of course they had their reasons for behaving the way they did. The other Oh Hay Young... as the story went on, her character became more palpable and explained some things, but it didn't change the fact that I couldn't care less. She had her chance, she blew it. End of story. Han Tae Jin... same goes for him and on top of that he was a petty loser. He couldn't accept the facts, acting all childish, throwing one tantrum after another. Do Kyung and him both did wrong. But at the point where Do Kyung realized his mistake, Tae Jin blamed others and continued his raving, staying blinded by his anger.

The ones I disliked till the end were Do Kyung's mom and Chairman Jang. No further explaining. Just stating that fact.

If there's one thing to complain about, it would be the dragging in the middle and until ep 16. I know that every scene and every moment were important for the story and can't be considered fillers. But I still think that they could have made some things a little shorter and not putting me in such agony >.< (although it makes you wonder if I would have gotten riled up about it with the same intensity, if they HAD made it shorter, right? Haha...)

In the end a very, very enjoyable roller-coaster with many memorial moments. Lots of emotions, lots of ups and downs and very satisfying in the end.
Was this review helpful to you?