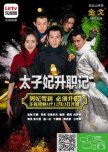 Story
A long time ago i watched the first episode but ended dropping it bc i thought it was boring but when ii watched it for the second time i was addicted. I liked the men switching in a woman body bc he started to understand the womens life. There wasn't only romance but also comedy there are really funny scenes. There are 3 endings I personally didn't think the drama was ended yet bc there are things that aren't explained yet.
Acting
Zhang peng peng did a great job i really liked her acting when she had to act as a man she was doing really wel. Qi peng was really handsome but his face was always the same i know he played the icy cold character but his face was a bit stiff this was his first drama so he still has to learn a lot. The rest of the cast was good. There was only one person i wanted to punch in the face jian ying yue really annoyed me but that was her character.
Music
I really liked all of the ost chinese music are always beautiful also there lyrics are special.
Rewatch
I will rewatch this bc every episode is only 20 min which is not much and there are only 35 episodes!
Overal
I really liked this drama i recommend you to watch this the leads are great and it is also funny
Was this review helpful to you?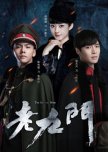 Story
The story is a prequel to The Lost Tomb so there will be a lot of scenes were they are in a mine if you loved The Lost Tomb i will recommend you to watch this. Also the drama will focus a lot on the bad guys so they will appear very often like they are the main character. There is not an end yet because there will be a season 2 so it won't be sure that the original cast will stay. The drama will be a lot about action,adventure,mystery and romance. Also the love story of William and Zhao Li Ying was great you will love that couple but Zhao Li ying wasn't really a main character she appeared in a few episodes.
Acting
The role of Fo Ye was perfect for William Chan he did a great job and Zhao Li Ying did a great job as Yi Xinyue with her stubborn role. What i also liked was that she wasn't scared to tell Fo Ye that she liked him and that she knew what she wanted. Lay acting was good as well i really liked him in the scenes with Ya Tou there scenes were very emotional. The rest of the cast was great too the only character that annoyed me was the white guy when he spoke chinese it annoyed me and he talked very slow.
Music
I loved the Ost especially LJM - huan hun men and the beginning was of William Chan and the ending song was also great chinese music are usually really good.
Rewatch
I don't think i will rewatch everything but i will rewatch the scenes of Zhao Li Ying and William Chan because of their great chemistry
Overal
Good drama with great couples i would recommend you to watch this if you like The Lost Tomb or you liked the main leads.
Was this review helpful to you?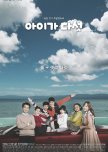 Story
I really liked the story you will think 54 episodes are a lot but it really isn't i really liked if there were more episodes. There was a great love/family story i cried and smiled watching this i really recommend to watch this drama you will not be disappointed.
Cast
The cast was great i liked everyone especially the 2 older brothers from Lee Yun Tae and i loved her with Kim Sang min.
Music
Really liked the Ost
Rewatch Value
I don't think i will rewatch everthing but i will definitely rewatch some cute scenes back
Overal
Really great family drama about having laws and a lot more.
Was this review helpful to you?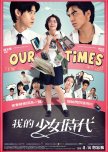 Story
I watched this movie without reading the plot i was waiting especially for the modern time part. But i really liked the highschool part. I didn't like that the end was a bit of a rush and i really hoped that the highschool actors would be the seem as the modern part but they changed the actors. I wished the couple kissed each other ;(
Cast
Vivian and darren had great chemistry i really fell in love with darren in this movie he played a great badboy type. And i love andy lau he is so handsome
Music
There was perfect music for the scenes
I would rewatch this again this movie really made me cry
Was this review helpful to you?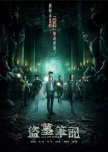 Story
I love mystery action dramas so i likes this one but don't watch this at night there are a few scary scenes. The drama includes a little bit of romance but more adventure/action i kept watching this because i was interested. What i also likes is they are not all the time in the tomb so i won't be boring and there will be a second season so the last episode is like a cliffhanger.
Acting
I love all the main leads Tifanny Tang is a great actrice she was the badgirl in this drama. Li yi feng often plays the kind/ innocence guy so his face was a bit stiff but i still liked him. Yang yang was the mysterious guy what i really liked and he was really hot. But the director cut a lot of his scenes in the drama so he didn't appear that much.
Music
Nothing really special.
Rewatch
Yes i'd definitely rewatch this again because it only has 10 episodes and it was really interesting.
Overal
Great drama can't wait for the next season i'd recommend this if you like the main leads or you like adventure/action/mystery dramas!
Was this review helpful to you?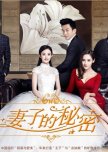 The story
is a typical mother of the son hates his gf and don't want them to get married especially when the gf doesn't have any money anymore. It is most about romance the story was oke i'd recommend it if you are bored and love the main leads.
Acting/cast
I love zhao li yang she is a great actress so i liked her in this and hawick is a good actor especially when he has to play the rich type. The rest of the cast was oke i didn't like the brother (li tian ) and the girl (ning xia) they were annoying.
Music
Was oke nothing really special
Rewatch
I don't think i will rewatch this because it was a bit draggy but i think i will watch some cute scenes back.
Overal
The drama was good i think you will love it more if you like the main leads
Was this review helpful to you?