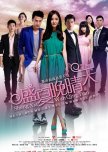 I started this drama after reading the reviews and thought I was ready for anything, Whoa what a surprise whoever wrote this has serious writing issues, director has issues as well. The plot who knew what would come out next and how it would be dealt with rational or crazy. The only thing I enjoyed was the chemistry between lead couple. The writing was to put it mildly bad. Asian women in these drama are portrayed as money grubbing or crazy. It speaks very poorly for all the educated wonderful young Asian women in the world. I realize it's a drama so I cut it some slack and made a commitment to see it all then judge. So here my review if you want crazy nonsensical stuff go for it. But if you do not want to question your sanity don't watch it.i am a writer not in dramas but I write and I can unequivocal say this was bad.
The flaws and wrong things are to many to mention. The actors were good with what they were given,
If lying, backstabbing, cheating is your thing than this is your drama. I am just keeping it real. Needless to say I would not watch this again if it was the last drama on earth.
Was this review helpful to you?