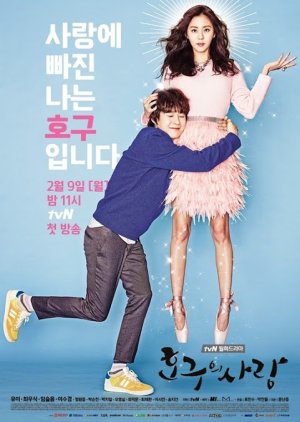 Ho Goo's Love Recent Discussions
Reactions
Do hee is a member of national swimming team, and for me she look a little rebel. The history is about romance between Ho Goo and Do Hee that in a day met again after a long time.
This episode has o lot of funny scenes and I loved the secondary actors like Ho Goo sister and friends.
The fact Ho goo and Do Hee studied together in the past made a connection between them, even Ho Goo have see do Hee he thinks she don't remembered about him, but will happen the school reunite and Ho goo stay totally excited thinking Do Hee go but in the end she don't apper. Until he forgot his bag and go back to the restaurant and Do Hee be there, this was a funny scene when he try to talk to her and a others girl confuse him being a waitress and instead Do Hee calls him and he thinks she don't know him and thinks he jobs there.
In the he recognized him and they go out, when the walking in Ran river park the stop to talk and drink juice and there Ho Groo teach to Do Hee how fort memories she don't want more using a juice box.
After it they go to their home, but when they stop in a traffic light Do Hee says she wants go to see the sea but Ho Goo don't understand and she go to take a bus, but Ho goo go behind her and says for they go to see the sea, but the better part is the end when a ajusshi go throw a away the box juice and divorce in it a thing ..... I don't go say what is it! But it was a very unexpected thing for me! I really go see the next episodes.
Was this review helpful to you?
Ah! I already liked Hoo Go, he the time of chapter who gain your heart quickly! He such a fool and naive guy, who never dated hahahaha in the first scene of this episode I was already laughing.